Supporting a Recycling-Oriented Society
Reduce Waste Discharged Externally from Manufacturing
Targets and Results for Fiscal 2012 (Waste Discharged Externally from Manufacturing)
Konica Minolta pursues activities related to the Green Factory Certification System
The Group is reducing the amount of waste discharged externally from manufacturing by improving production efficiency and increasing the percentage of internal recycling at each business unit in accordance with its Green Factory Certification System. In fiscal 2012, five business units became the first to attain Level 2 and waste discharged externally was down about 10,000 tons, compared to a fiscal 2005 baseline.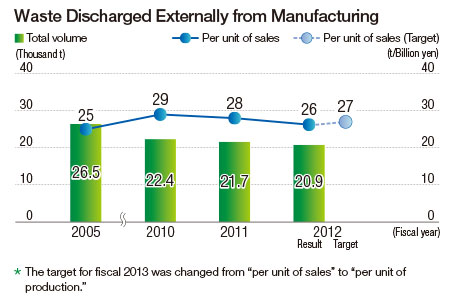 Fiscal 2012 Targets and Results (compared with fiscal 2005)
Self-assessment *** Achievement more than 100% ** Achievement more than 80% and less than 100% * Achievement less than 80%
| Objectives | Fiscal 2012 Targets | Fiscal 2012 Results | Self-assessment |
| --- | --- | --- | --- |
| Supporting a recycling-oriented society | Waste discharged externally from manufacturing: +8.1% (per unit of sales) | +3.3% | *** |
Feature: Developing Recycling Technology for the Rare Earth, Cerium Oxide
There are only a few supplier countries of rare earth materials worldwide, leading to concern about risks such as limited supply and rising costs. Also, rare elements must be used efficiently to realize sustainable human societies. Cerium oxide is a rare earth element used as a polishing material for glass. There has been a need to reclaim cerium oxide from waste liquid left after polishing, but the challenge was how to remove the glass particles. Building on the advanced materials technology gained in the development of films and toners, Konica Minolta has successfully developed recycling technology able to extract high-purity cerium oxide from polishing waste. The recycling rate for the polishing process overall now exceeds 90%, thanks to the new recovery and recycling of cerium oxide also from the waste liquid left over from washing products after polishing. Konica Minolta is currently installing this system at lens and HDD glass substrate production sites in and outside Japan, and it will also sell the recycling technology to contribute to the broader industrial world.