Supporting a Recycling-Oriented Society
Reduce Petroleum-Based Resource Usage
Targets and Results for Fiscal 2012 (Petroleum-Based Resources)
Adopting recycled materials, including recycled plastic developed in-house
Konica Minolta is reducing the use of petroleum-based resources via initiatives targeting each of the following phases of the product lifecycle: development, production, and sales and service. The Group is emphasizing the reduction of resources used in products, especially plastic material—which accounts for over 60% of total petroleum-based resources consumed. In its Business Technologies Business, the company is aggressively using recycled materials, releasing the bizhub C554 series and bizhub C554e series, both of which contain a good balance of two environmentally friendly plastics: a recycled PC/PET developed in-house and a plant-derived bioplastic.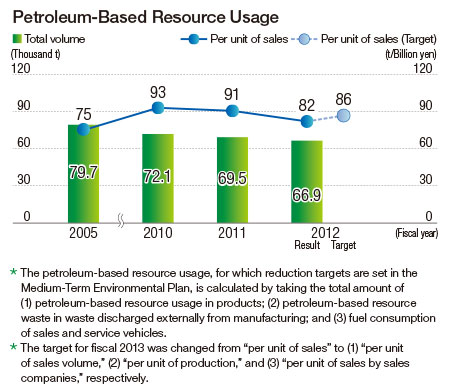 Fiscal 2012 Targets and Results (compared with fiscal 2005)
Self-assessment *** Achievement more than 100% ** Achievement more than 80% and less than 100% * Achievement less than 80%
| Objectives | Fiscal 2012 Targets | Fiscal 2012 Results | Self-assessment |
| --- | --- | --- | --- |
| Supporting a recycling-oriented society | Petroleum-based resource usage: +15.7% (per unit of sales) | +10.3% | *** |
Reduced resources used in products
Example: Using Originally Developed Recycled Material in Products
Konica Minolta uses recycled material in products in an effort to make effective use of resources. The bizhub C554e series of color MFPs, for example, uses two kinds of recycled material in 20 locations that make up nearly 40% of the outer casing. One of those materials, recycled PC*1/PET*2, is a mixed recycled material made using Konica Minolta's original chemical processing technology. The material was developed by evenly mixing materials from recovered one-gallon water cooler jugs and plastic drinking bottles to create a material that has the required strength and .re-retardant properties to meet safety standards and that can be mold injected.
*1

PC: Polycarbonate, a type of thermoplastic resin

*2

PET: Polyethylene terephthalate, a type of polyester