Supporting a Recycling-Oriented Society
Reduce Packaging Materials Usage
Targets and Results for Fiscal 2012 (Packaging Materials)
Redesigning packaging and making packing boxes returnable
Konica Minolta is focusing on its office equipment, which accounts for more than 90% of its usage of packaging materials, in its efforts to reduce that usage. It has reduced mass by improving the shape of packaging and made other efforts such as reusing toner cases that are used to send toner between production sites and making packing boxes for service parts at sales companies returnable.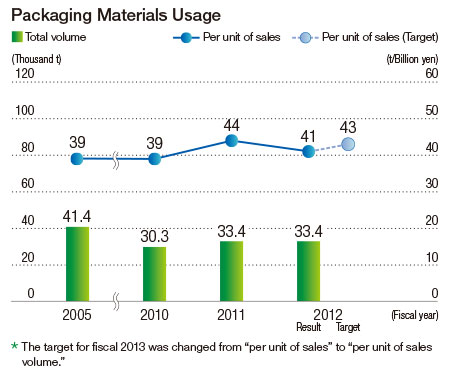 Fiscal 2012 Targets and Results (compared with fiscal 2005)
Self-assessment *** Achievement more than 100% ** Achievement more than 80% and less than 100% * Achievement less than 80%
| Objectives | Fiscal 2012 Targets | Fiscal 2012 Results | Self-assessment |
| --- | --- | --- | --- |
| Supporting a recycling-oriented society | Packaging materials usage: +9.7% (per unit of sales) | +6.1% | ** |
Activities at Sales Companies
Example 1:Rolling out packaging material reductions for toner bottles worldwide
Konica Minolta has achieved cost reductions and environmental impact reduction by improving how it packages bottles of toner for MFPs. A device designed at the Mizuho site in Aichi Prefecture has made it possible to automate the work of packing boxes, which used to be done by hand. This device was installed at a toner filling plant in France in 2011 and then at a toner filling plant in the US in 2012. The Group also reconsidered the size of packaging and the method of packing at the time of shipment, which enabled it to achieve a reduction of about 28% in the annual usage of packaging materials. Going forward, the Group will adopt these measures at toner plants in Japan and aim to roll them out worldwide.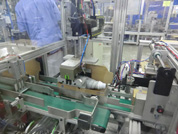 Example 2: Recycling Centre for Used Packaging Materials
In 2007, Konica Minolta Business Solutions (UK) Ltd. created a recycling centre called "Greenhub" at its main warehouse in an effort to zero out used packaging material from MFPs sent to landfill.
At the centre, the company sorts the packaging materials into cardboard, foamed polystyrene, and film, then crushes and compacts the materials, and finally sells them to a local recycling operator. Recycling is made easy by disposing of the materials in this way, and the effort will also reduce the environmental impact that accompanies waste transportation.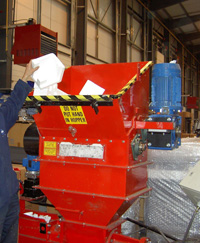 Foamed polystyrene crusher