Supporting a Recycling-Oriented Society
Product Recycling
Targets and Results for Fiscal 2012 (Product Recycling)
Implementing initiatives focusing on office equipment
The Medium-Term Environmental Plan 2015 calls for building a system for recycling used products in each region, with the aim of obtaining a 90% recycling rate or more. The Group, focusing on its office equipment and consumable supplies, has been working to implement various measures. It is continuing to market re-manufactured MFPs worldwide and is also expanding the reuse of parts and recycling of materials.
Fiscal 2012 Targets and Results
Self-assessment *** Achievement more than 100% ** Achievement more than 80% and less than 100% * Achievement less than 80%
Objectives
Fiscal 2012 Targets
Fiscal 2012 Results
Self-assessment
Supporting a recycling-oriented society
Product recycling :
• Market re-manufactured MFPs worldwide
• Investigate packaging and parts reuse
• Creation of next-period scenarios for reconditioned copiers
• Investigation of additional packaging reduction measures
***
Recycling Initiatives in Office Equipment
Konica Minolta is undertaking the collection and recycling of office equipment and supplies in each country around the world.
Machines collected in Japan in fiscal 2012
● Estimated collection rate = 72.1%
● Recycling rate = 98.2% (by weight)
Example 1: Promoting Reuse and Recycling of Parts
Konica Minolta collects used MFPs within Japan through its nationwide sales companies and JBMIA* replacement centers. Disassembly and sorting of the MFPs collected is outsourced to contractors in seven locations nationwide.
OMT Co., Ltd., the contractor for the Kanto and Tohoku regions, carries out disassembly by hand instead of using mechanical processing, achieving a high recycling rate. The dismantled parts are sorted into about 20 different types, including metal, plastic, and others. Reusable parts are cleaned, inspected and reused. Other parts are sent to be recycled by companies that can process them as feedstock for recyclable materials or fuel.
In addition, Toyohashi Precision Products Co., Ltd., one of the Group companies, selects, cleans and inspects the developing rollers and conveyance springs from used toner cartridges. These are then sent to group companies for use in new products.
*

JBMIA: Japan Business Machine and Information System Industries Association


OMT Co., Ltd.


Toyohashi Precision Products Co., Ltd.
Recovery and Recycling of Office Equipment
Recovery and Recycling Printer Cartridges
Konica Minolta has established a system for free-of-charge recovery and recycling of used toner cartridges for laser printers in 18 European countries and Japan. Furthermore, in the United States the scope of the system has been expanded to include used MFP toner bottles also.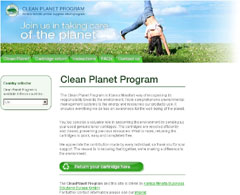 Clean Planet Program website (Europe)
Recovery and Recycling of Used MFPs and Laser Printers
To facilitate the recovery and recycling of used products, Konica Minolta has established systems in each area that are suited to the regulations and markets of respective countries around the world.
In Japan, the company has received approval from the Ministry of the Environment to recover MFPs, copiers, and printers sold in Japan based on a special system for wide-area treatment of industrial waste.
Konica Minolta operates a fee-based recovery program for collecting and recycling used laser printers and copiers from corporate clients. At this time, the program does not handle used equipment disposed of by individual customers, as such equipment is classified as general waste.
Outside Japan, Konica Minolta is undertaking recycling programs tailored for specific countries and their markets. In Europe, the company has adopted measures in conformity with the EU directive on the disposal of waste electrical and electronic equipment (WEEE).