Supporting a Recycling-Oriented Society
Efforts to Save Resources
Product Design to Save Resources
Endeavoring to preserve resources by promoting product development that has a light environmental impact
Making products lighter and more compact reduces the amount of raw materials used and saves energy during manufacturing. It also contributes significantly to reducing environmental impacts when products are disposed.
By further developing its core technologies, Konica Minolta is working aggressively to develop new products that are more compact and lightweight with improved performance, employing new methods that place fewer burdens on the environment. In addition, the company is pursuing product design that considers recycling from the standpoint of effective resource utilization.
Example 1: Achieving Thinner TAC Films for LCD Polarizers
In the area of performance materials, Konica Minolta has drawn on its strengths in manufacturing technology to make thinner and thinner TAC film, which protects polarizers in liquid crystal displays. This has contributed to the conservation of resources while also helping to make IT devices lighter. Until recently Konica Minolta sold a high-quality, thin-film product with a thickness of 40 ¡m. It has now become the first in the industry to develop a super-thin TAC film with a thickness of only 25 ¡m for the mobile market, launching mass production in November 2012.
Example 2: Inkjet Textile Printer
There are two ways of printing patterns and images on textiles: screen printing, where a screen is created for each color and the textile is printed with each color in succession, and inkjet printing, where ink is directly sprayed on the textile. Konica Minolta developed and sells an inkjet textile printer that can directly print designs created on a computer.
Inkjet printing uses only the necessary amount of ink to print on specific areas of textiles. As there is no need to create or wash screens, the amount of waste and resources used is drastically reduced. Furthermore, the production process is simple and allows for rapid additional production in response to demand, which in turn allows customers to reduce the amount of inventory. The printer's low-environmental-impact and high-mix, small-lot production features have been well received in the market and demand for the system has increased rapidly, especially in the apparel industry of Europe and Asia.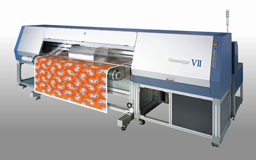 Textile printer Nassenger VII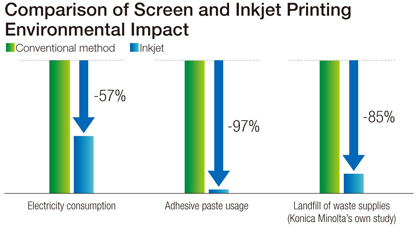 Example 3: Digital X-ray Imaging Device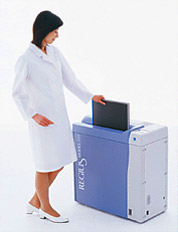 REGIUS MODEL 110 X-ray digitizer The REGIUS MODEL 110 X-ray digitizer for the health clinic market features a compact design 71% lighter than the previous model.