Environmental Efforts at Konica Minolta Group Sites
Zero Waste Activities with Due Regard to Economics
The Konica Minolta Group is lightening its environmental impact and cutting down on the amount of waste that it produces by setting a goal of reducing its total waste disposal at all sites by 20% in fiscal 2010 compared to the fiscal 2000 level. To achieve this goal, the group is promoting zero waste activities at production bases to minimize landfill waste through recycling. The criteria, which Konica Minolta categorizes as either Level 1 or Level 2, are implemented at each site. Level 1 calls for the reduction of landfill waste by recycling. After reaching Level 1, the site aims to meet Level 2 standards for reducing the volume of waste per unit of sales.
In our Level 1 zero waste criteria, we include targets for recycling and final disposal (landfill) rates, as well as for cost-cutting. We have also established stricter Level 2 zero waste criteria. To reach Level 2, we have to meet the reduction rate targets for externally discarded waste volumes, while also striving for greater reductions in cost and risk. Characteristically, Konica Minolta's zero waste activities are integrated into management, from the perspective of both risk management and economy.
To fulfill our zero waste goals, first we try to avoid unnecessary acquisitions, and to fundamentally reduce waste in both resources and costs. Second we use all acquired resources efficiently, minimize waste generation and try to reduce the volume of externally discarded waste by implementing internal recycling. In terms of waste remaining even after such processes, we promote external recycling so as to reduce landfill volume to the minimum possible.
Konica Minolta Group's zero waste criteria
Recycling rate must be 90% or higher.
Final disposal rate should be 5% or lower (including secondary residue).
Cost reduction is achieved when the cost saving effects are at least 90% of the total recycling cost paid to outside parties (compared to the benchmark fiscal year), or when the sales of recycled materials and benefits from zero waste activities are greater than the total recycling cost paid to outside parties.
Achievement of Level 1 zero waste.
Volume of waste discharged externally per unit of sales must be reduced by 30% (compared to FY 2001).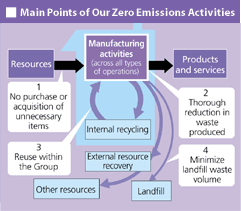 Integrated Management of Information on Appropriate Handling of Waste Disposal
We implement risk management to ensure that discarded waste is reliably and properly handled. For Group companies in Japan, we have established criteria for selecting waste disposal contractors. Through careful investigation, including preliminary and field surveys, we select reliable contractors who are then registered and managed in a database.
The database also includes a wide range of related information, such as illegal waste disposal, laws and regulations, environmental technologies and other knowledge accumulated within the Group. Such information is managed in an integrated manner, to ensure the most appropriate waste disposal and improve the level of zero waste activities throughout the entire Group.
Konica Minolta has started applying the same criteria for selecting waste disposal contractors at group companies in other parts of the world as it does in Japan.
Resource Recovery and Waste Volume
By promoting resource recovery, we achieved reductions in both waste handled outside the company and final landfill disposal.
In pursuing resource recovery, top priority is given to the in-house recycling of leftover materials produced in the manufacturing process. In cases where in-house recycling is not possible, the leftovers are sent outside for advanced recycling. To facilitate this effort, we research and develop new recycling and production technologies.
Regarding landfill disposal, we feel that the handling of secondary residuals, those that remain after energy recovery and other recycling processes, is also the responsibility of waste producers. Accordingly, we are acutely aware of disposal volume. To reduce landfill volume we thoroughly implement waste separation and select an appropriate recycling route after checking the secondary residual volume.
As a result, in fiscal year 2007, the total waste volume from group manufacturing sites worldwide was 33,675 tons, the volume of recovered resources (the volume recycled in-house and externally) was 32,998 tons and the landfill volume was 290 tons. Thus, the resource recovery rate was 98.0% and the final disposal rate (landfill rate) was 0.9%. Total waste handled externally was 23,933 tons, a 33% reduction from the 2000 level.
The total waste volume from group manufacturing sites in Japan was 23,406 tons, the volume of recovered resources (the volume recycled in-house and externally) was 23,149 tons and the landfill volume was 39 tons. Thus, the resource recovery rate was 98.9% and the final disposal rate (landfill rate) was 0.2%. The amount of site waste handled externally was 13,670 tons, which was a reduction of 39% compared to fiscal 2000.
Thanks to the waste reduction activities for the Level 2 zero waste criteria, such as the efficient use of resources and loss reduction, there was a drop in waste handled externally. In the future, Level 2 zero waste achievement will be promoted at sites outside Japan.
Achieving Zero Waste Targets
We are stepping up our zero waste efforts worldwide
In fiscal 2007, we achieved Level 1 zero waste status at one site in China. Many newspapers and websites in that country reported on our zero waste initiative. As a result, there are now three Konica Minolta sites in China that have achieved Level 1 status. In Japan, with the last six sites having now achieved Level 2 zero waste status, all production sites have achieved Level 2 status.
In fiscal 2008, we will further promote zero waste activities on a worldwide scale.
Sites that achieved zero waste goals in fiscal 2007
Level 1
Konica Minolta Optical Products (Shanghai) Co., Ltd.
This company produces mainly lens units for digital cameras, and micro-lens units for mobile phones. Waste from this site includes leftover plastic and used cleaning fluid. The company has focused on training to raise the environmental awareness of employees in order to advance the zero waste activities. As part of this effort, there has been thorough sorting of waste, and substantial increase in recycling based on measures to increase the types of items that can be recovered as resources. The site carries out evaluation including local audits using the same Konica Minolta Group evaluation standards as used in Japan. When evaluation standards for things such as disposal method and risk are not met, the recycling route is reselected. In this way, the optimal recycling routes were chosen.
Level 2
Konica Minolta Supplies, Co., Ltd.
This company produces polymerized toner and organic photo conductor drums, and its main wastes are effluent and used solvent. Waste volume was primarily reduced by putting toner production on a special line, and by minimizing changeover loss. There was also an initiative to internally recycle applied solvent used in the production of photo conductor drums, which resulted in a large reduction in waste solvent.

Tatsuno Factory: Began operation in January 2007
Konica Minolta Opto Inc., OC Division (Hachioji)
This company produces mostly aspheric plastic lenses, and leftover plastic is the main waste created by the production process. The waste plastic generated during the manufacturing of aspheric plastic lenses is effectively reused as packaging material for product shipment.

Aspheric plastic lenses

Shipment packaging material
Konica Minolta Chemical Co., Ltd.
This company produces high-precision chemicals such as chemicals for digital photographs, and for photographic exposure materials. The main waste is effluent from chemical synthesis.
The effluent produced from the high-precision chemical manufacturing processes is internally treated. By drying the sludge remaining from the internal effluent treatment, the volume was reduced, thereby greatly lowering the amount of waste. Furthermore, by improving the chemical manufacturing formulas, methods have been secured for eliminating waste solvent, which in turn reduces waste.

Effluent treatment facility
Konica Minolta Electronics Co., Ltd.
This company carries out high-precision resin molding, and electronic substrate manufacturing for MFPs. The main wastes are leftover plastic and byproducts from the production process, as well as shipment packaging material from suppliers.
The leftover plastic generated at the time of MFP part molding is reused as raw material. Moreover, through the recycling and reuse of unwanted solder emitted from the electronic substrate manufacturing process, and the reuse of shipment trays for parts received, the company has greatly reduced its waste. It has also reduced waste handled externally, through effective utilization of internal equipment.

Electronic substrate

MFP parts

Molding process
Konica Minolta Technoproducts Co., Ltd.
This company assembles products such as printers and medical devices. The main waste is shipment packaging from parts and units delivered by suppliers.
As part of initiatives for developing clean and functional production processes, the company thoroughly restricts the bringing in of shipment packaging that is unnecessary for product assembly. Konica Minolta Technoproducts has succeeded in greatly reducing waste by reusing packing material and in introducing returnable containers and special cases for supplied parts.

Special returnable container

Returnable container
that protects contents from static electricity

Special case for suction cups
Konica Minolta Components Co., Ltd.
This company produces mainly micro-lens units for mobile phones, and the primary waste is leftover plastic. It reduced waste by reusing plastic left over from micro-lens manufacturing for the production of vapor-deposition trays. Moreover, Konica Minolta Components has strengthened cooperation with group companies outside Japan, promoting returnable containers for part shipment. This has helped reduce waste throughout the group.

Lens vapor-deposition tray