Environmental Management
The goal of our integrated environmental management system is to ensure that all of our corporate activities are good for both people and the environment.
The Konica Minolta Group conducts all of its corporate activities in harmony with people and the environment by integrating environmental, economic and social perspectives into our corporate strategy, as the Environmental Policy of the Konica Minolta Group. To this end, the Group has established a group wide ISO 14001-based management system that ensures economically efficient and effective environmental management.
Under this system, all Konica Minolta Group employees are committed to continuous environmental improvement activities, in keeping with the Environmental Policy.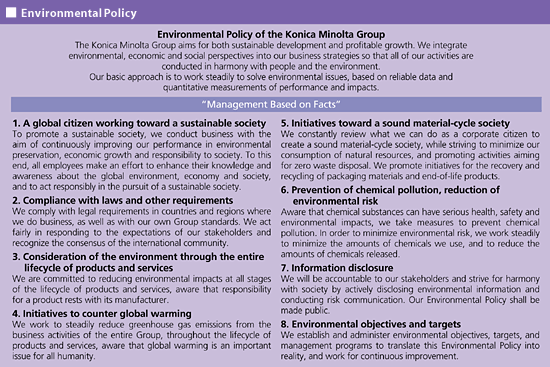 Environmental Activities Promotion Structure
Environmental Measures Comprehensively Supervised by Group Environmental Management Representative Appointed by President and CEO
Central to our environmental activity promotion structure is the Group environmental management representative (environmental executive officer of Konica Minolta Holdings, Inc.), who is appointed by the President and CEO of Konica Minolta Holdings, Inc.. The Environmental Management Committee is the highest organization that deliberates on environmental management for the group. Led by its Chairman, the Committee comprises environment management officers of business and common function companies, and is empowered to take the initiative in appropriate action throughout the entire Group.
The Group Internal Environmental Auditing Committee is chaired by the head of the Corporate Audit Division at Konica Minolta Holdings, Inc., and directs the internal environmental auditing for the entire group.
Environmental Management System
Our environmental management system is operated in accordance with ISO 14001.
The Konica Minolta Group operates an ISO 14001-based environmental management system as part of our efforts regarding group-wide environmental activities, which are based on unified criteria, stipulating ISO 14001 acquisitions by all manufacturing affiliate companies worldwide as a fundamental Group policy.
To address environmental issues, including the prevention of global warming and working toward a recycling-based society, we should implement measures in consideration of the entire product lifecycle. To accomplish this, the Konica Minolta Group believes that it must operate not only its manufacturing sites, but also its product development, sales and distribution sites, under an integrated management system and in mutual cooperation.
Based on this concept, in Japan, the Konica Minolta Group has acquired multi-site ISO 14001 certification, so that the entire Group can be managed under a single ISO certification. This has enabled prompt and efficient environmental activities throughout all product lifecycle stages. Under this integrated management system, we are working to reduce environmental impact. For instance, we are promoting the sales of energy-saving products that help reduce CO2 emissions when our products are in use, and are encouraging the collection of used products. This system is also effective in carrying out our activities toward minimizing the environmental load generated directly by our Group companies, such as energy consumption during production, waste generation, and paper consumption.
For these activities, we have set up numerical targets. The entire Group periodically evaluates how well these targets are being achieved, and evaluation results are fed back to relevant entities to ensure continuous improvement.
Additionally, at least once a year we conduct internal environmental audits based on unified criteria, to ensure that the Group's environmental policy, objectives and targets are properly known to all organizations, and that the management system is functioning efficiently, by identifying any problems and making necessary improvements. In these internal audits, in addition to management system checking, compliance audits are performed using environmental checklists, to ensure that all Group organizations are fully compliant with laws and regulations.
By making the maximum use of this integrated management system, the Konica Minolta Group works to ensure compliance, fulfilling its social responsibility by helping resolve urgent environmental issues relating to global warming and zero waste, and by reducing environmental risks.
Environmental Risk Management
Risk Management Performed under a Strict Audit System in Full Compliance with Laws and Regulations
The Konica Minolta Group strictly adheres to laws and regulations, in terms of both the environmental preservation measures implemented by its business sites and the provision of environmentally sound products and services. To ensure adherence, we collect, analyze and share the latest information on legal stipulations pertaining to business activities throughout the world.
Each business site (primarily manufacturing sites) operates under self-management standards more stringent than legally required. For example, they comply with air/water quality, noise and waste disposal management in line with ISO 14001 system standards, achieving a very high standard of risk management. In terms of product regulations, we also incorporate forward-looking information into our activities—for example, in order to reduce potentially harmful chemicals in advance of any requirement to do so. Specialized internal auditors periodically review our legal compliance in Japan, an activity that will be expanded to our overseas operations as well.