Environmentally Sound Products
Environmental Soundness Check
Promoting Environmentally Sound Designs from a Comprehensive Viewpoint
Konica Minolta manufactures products under its Design for Environment approach, taking into account the various environmental aspects of our products, including global warming prevention, product recycling and hazardous emissions elimination. We assess the environmental impact at each stage in a product's lifecycle, from raw material/part procurement to manufacture, transportation/sale, use, reuse/recycling and disposal. We have established assessment criteria that enables us to take appropriate measures from a comprehensive viewpoint. During the new product planning phase, numerical targets are set for environmental goals regarding items of standard product assessment. During the prototype phase, we check whether the targets are being met. Then we do a final assessment before production, to ensure that only products meeting the targets reach the market.
Resource Conservation through Design
Resource Conservation by Minimizing Product Size and Weight or Reducing Material Thickness
Designing products so as to use fewer raw materials greatly helps reduce raw material and energy consumption during production, as well as environmental impact upon product disposal. In keeping with our efforts to design environmentally sound products, Konica Minolta is committed to achieving ever more resource-saving designs.
Digital X-Ray Imaging Devices for Medical Treatment
Digital X-ray imaging devices are used in medical settings to process images generated by X-rays, CT scans, MRIs, and endoscopes. Through resource-conservation efforts in product design, we have reduced the weight of our digital X-ray imaging devices by over two-thirds in the last eight years. The weight of the "REGIUS MODEL110", a digital X-ray image reader, and the "DRYPRO MODEL832", a dry laser imager, both launched in 2007, was reduced by 71% and 79%, respectively, in comparison with previous models.

"REGIUS MODEL110" digital X-ray image reader

"DRYPRO MODEL832" dry laser imager
Reducing Thickness of TAC Film for Liquid Crystal Displays
In an effort to help promote further resource-saving, Konica Minolta has reduced the thickness of triacetyl-cellulose (TAC) film—used to protect liquid crystal display polarizing plates—by half, as compared with conventional film.
Saving Resources in Lenses and Lens Units
In seeking to reduce the resources used in our products, Konica Minolta has reduced the size and weight of the lens and lens barrel components. These lenses and lens units are used in digital cameras, camcorders and mobile devices, which are becoming increasingly lighter and compact.
Reuse and Recycling of Information Technology Equipment
We promote measures to facilitate the recycling and reuse of digital multifunctional peripherals (MFPs), which combine copier, printer and other functions. In terms of recycling, we have established a Practical Design Manual for Recycling, to enable easy removal of recyclable parts and resources from used products.
Promoting Recycling through Uniformity of Outer Casing Plastics
All outer casing parts for every MFP are made from the same two types of plastic, so as to foster a closed material-recycling loop for recycling plastics from end-of-life MFPs and incorporating them into the manufacture of newer models.
We focus particularly on recycling into outer casing parts, which require high levels of appearance, strength and flame resistance. We have installed a crusher for this sole in our recycling facilities, and reinforced the foreign matter removal mechanism for recycling. In so doing, we have enabled the recycling of high purity plastics. Each year, approximately 100 tons of plastics are recycled.

Outer Casing Plastic Part of MFPs
Collecting and Recycling Printer Cartridges
Konica Minolta has established a system for free-of-charge collecting and recycling of used toner cartridges in 18 European countries, as well as in the U.S. Puerto Rico and Japan. In North America and Europe, this system is called the Clean Planet Program.
Collecting and Recycling Used MFPs, Printers, and Other Products
Promoting Action for all Products, including Non-RoHS Designated Products
In Japan, under a special scheme to certify industrial waste disposal manufacturers for wide-area recycling, the Ministry of the Environment authorized Konica Minolta to collect used copiers, MFPs, and printers as the manufacturer who sold these products. This has enabled Konica Minolta to implement its Program to Collect Used Laser Printers and Copiers, under which such products used by corporate customers are collected and recycled on a chargeable basis.
*

According to relevant laws and regulations, the Program does not cover equipment and devices used by individual customers, since such equipment and devices are categorized as non-industrial waste. Also, in overseas countries, we have carried out activities tailored to the circumstances of each market. In Europe, measures are under way in compliance with the EU directive on Waste Electrical and Electronic Equipment (WEEE).
Color MFP That Realizes 100% Duplex Productivity
In forest resource conservation, reduction in paper use in offices is important; double-sided printing is an effective means of achieving such reduction. The color digital MFP bizhub C650 realizes high-speed printing (50 pages per minute*) when outputting double-sided color pages, thanks to a reversing roller and paper feed control system that feeds three sheets alternately. By securing productivity equal to one-sided printing, the bizhub C650 thus makes it easier to use double-sided printing, and supports our customers' efforts to reduce paper use in their offices.
* When A4 size paper is fed in widthwise.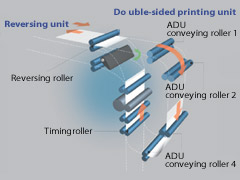 3Rs in Product Distribution and Marketing
We are promoting the recycling of used packaging materials through a greenhub recycling center in the UK.
Konica Minolta Business Solutions (UK) Ltd., an office equipment sales company, has succeeded in reducing its used packaging landfill waste to zero. At a recycling station known as "greenhub" in its central warehouse, palettes, paper, plastic, and other product packaging delivered to the company are separated according to material type, before being handed over to a recycler. The new addition of mechanical compactors has made the recycling operations at greenhub even more efficient.
This machine compresses polystyrene into briquettes. Previously dumped into landfills, an average of 1.5 metric tons of polystyrene waste per month is now sent out for recycling.
This machine compacts cardboard. Every year about 46.8 metric tons of cardboard is sent out for recycling. The machine can handle plastic in the same way.
This cardboard shredder is specially designed for turning cardboard boxes into cushioning material for packaging, enabling recycling to occur in-house.
Procurement of Copy Paper
Procuring Copy Paper in Consideration of Forest Resource Conservation
Konica Minolta Business Solutions Co., Ltd., a sales company of information technology equipment in Japan, has established the PPC Paper Purchase Standards, which have been implemented since 2007. The Standards stipulate that copy paper to be supplied to customers should be procured taking into account the impact of forest destruction and degradation on living environments of animals, plants, and people.