Social Innovation
Addressing the Challenge of Doctor Shortages in Emerging Countries̶Remote Healthcare Using Portable Medical Devices and AI
In Bangladesh, lifestyle-related diseases are skyrocketing, and quickly responding to patient needs is a critical issue in the healthcare field. In rural areas, where nearly 70% of the population lives, there is a shortage of medical facilities, equipment, and doctors. In order to receive medical treatment, patients must travel considerable distances to urban areas.
To address this challenge, Konica Minolta proposed a system whereby a rural clinic can take patient X-rays using portable equipment. The imaging data is then uploaded to the cloud, allowing urban doctors to view the X-rays and make the appropriate diagnoses. A diagnostic pilot project was launched in January 2017, providing the first full-scale medical examination service for that region.
Furthermore, in order to realize an even more cost effective medical examination service, Konica Minolta is currently collecting data to enable the incorporation of AI and analytical technologies into the system in order to screen out suspected abnormal X-ray images and to automate the primary screening.
This project was adopted by the Japan International Cooperation Agency (JICA) for its fiscal 2017 survey of businesses (SDG businesses) to help solve issues in developing countries. Konica Minolta will continue to develop activities that introduce and expand health examinations in Bangladesh.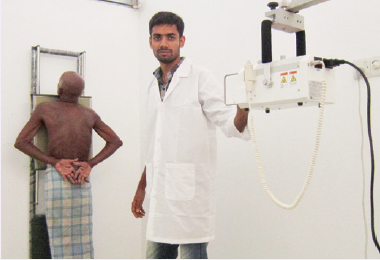 X-ray exam using mobile imaging equipment