Konica Minolta offers consumers a diversity of high added-value products and solutions that enable precision measurement of light and color in the continually growing ICT and automotive industries. We are seeking growth for the Measuring Instruments Business as a market leader in this domain.
Establishing an Overwhelming Market Position through M&A
Utilizing optical technologies developed through our camera business, Konica Minolta provides a diversity of products and solutions in the light source color measuring and object color measuring fields, helping to ensure quality and improve productivity at our customers' production sites. Konica Minolta has many products that have become de facto standards in the color measuring fields. This is especially true for the display quality testing solutions market, where we have established ourselves as a market leader with a market share north of 50% (Konica Minolta estimate). We have also made bold business investments with an eye to making these businesses more competitive. In 2012 we acquired Germany-based Instrument Systems ("InS"), a company with high-end light measurement device development capability and a genre-top track record in high performance measurement for displays and LED lighting. In 2015 we acquired U.S.-based Radiant Vision Systems ("Radiant"), which excels in high-resolution two-dimensional measuring devices and image processing software for displays, as well as in automated visual inspection systems.
These efforts have seen the business grow into a high-profit segment: fiscal 2017 revenue represented a threefold increase over fiscal 2011. Demand for precision measuring instruments is growing rapidly in the ICT and automotive industries, which are industries of focus for Konica Minolta. Through genre-top strategies that leverage the characteristics of each Group company, we hope to expand the Measuring Instruments Business into a ¥50 billion business.
Revenue by segment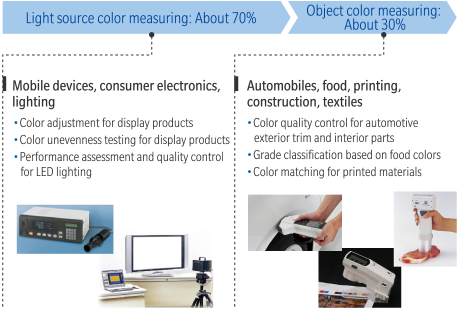 Measuring Instruments Business performance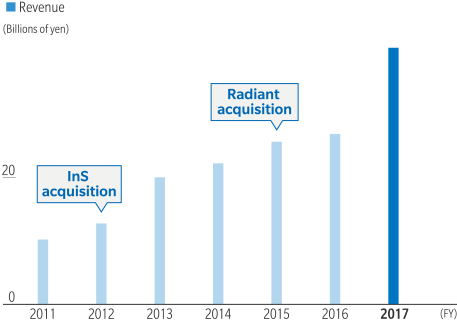 Thoroughly capture ICT industry demand and expand the business base
The ICT industry, which consists of products such as LCD displays and OLED displays, is a priority segment for achieving Measuring Instruments Business growth. Based on the trend towards LCD screens of higher resolutions such as 4K and 8K, the increasing prevalence of smartphones and tablets with OLED screens, and the growing number of applications for smart watches and similar devices, the global display market is expected to see strong continued growth.
In these circumstances our customers — display panel manufacturers, module manufacturers, and final product manufacturers — are stepping up efforts to upgrade and expand on existing equipment while deploying new equipment. By covering the entire supply chain for this display market and providing wide-ranging products and solutions for the high-level measurement of display color and brightness, we are working to achieve further business expansion. In fiscal 2017, along with signing major business deal with a large mobile device manufacturer, we significantly increased contracts with display manufacturers in China and South Korea.
For the past few years we have been developing a facial recognition system as a more secure means of personal authentication than fingerprints. While continuing to focus on the LCD and OLED display market, we are also developing solutions for optical devices used in new security systems as a means to effectively capture ICT segment demand.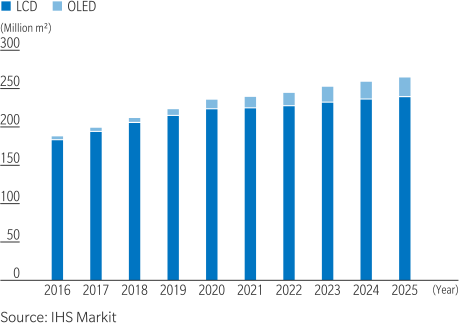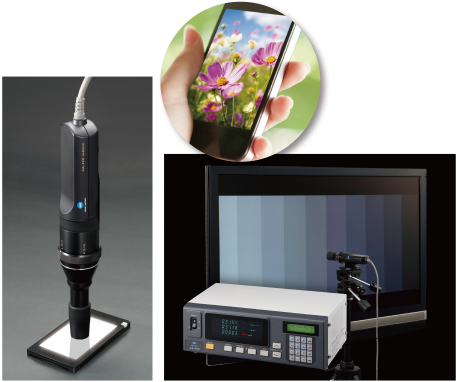 Promoting the development of technologies
to meet automation needs in the automotive segment
We will be focusing even more on the automotive segment, where we already have a strong customer base through our color measurement solutions for automotive exterior and interior trim. The automotive industry encompasses many development and production sites around the world and is an industry that covers a wide range of fields, including with respect to suppliers. Konica Minolta helps to maintain and improve automotive safety, usability, and design by providing products and solutions used for the inspection of various automotive interior and exterior equipment, including headlights, instrument panels, and car navigation displays.
The automotive industry is also working to automate the final inspection process for finished vehicles with the goal of further enhancing productivity and efficiency while improving working environments. To this end, we are making more compelling business proposals to automakers by leveraging Radiant's automated visual inspection technologies, and are currently working with multiple companies to develop an automated inspection process.
In the future, we anticipate further technological development with regard to displays, indicators, and optical sensors for safety applications as society shifts to electric cars and more companies develop autonomous driving technologies. By further improving communication with our customers' product development and production sites, we will continue to support innovation in these new fields and thereby grow the Measuring Instruments Business.
Future forecast for global unit sales of automobiles by model (excluding commercial vehicles)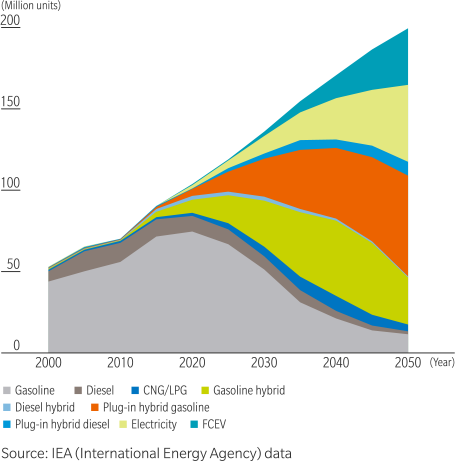 Use Cases of Measuring Instruments for Automobiles
Bringing together measurement and printing technologies
to achieve new services under One Konica Minolta
By leveraging its technologies for measuring light and color, the Measuring Instruments Business is developing new added-value products through collaboration with other business units. One such representative product is the Intelligent Quality Optimizer (IQ-501) unit launched in June 2017 for automatically optimizing the printing quality of digital printers.
A component of the AccurioPress digital printing system, the IQ-501 automates darkness level management, color tone management, and double-sided print position calibration — jobs that printing site operators have traditionally spent considerable time doing. In addition to dramatically shortening job times, this prevents job variance and uneven printed material quality that can arise from differences in operator skill levels.
Many customers have given the IQ-501 high marks since its launch, saying that it has decreased downtime and that it revolutionizes business processes in the printing industry. As One Konica Minolta, we will continue to develop high added-value products that help solve our customers' problems.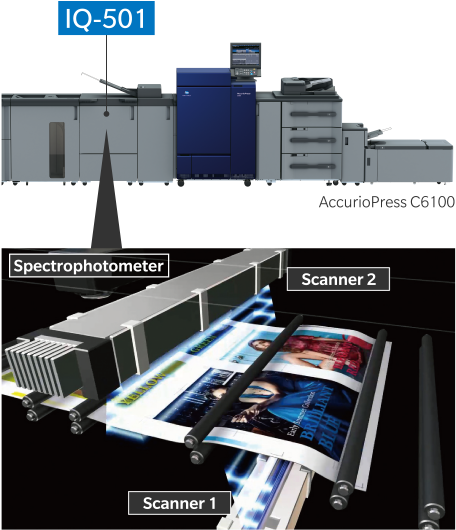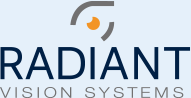 Interview with the CSO of Radiant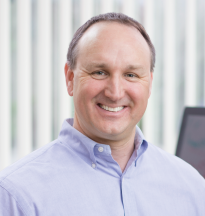 Douglas Kreysar
Chief Solutions Officer, Radiant Vision Systems
In August 2015, Konica Minolta acquired Radiant Visions Systems to become part of its Sensing Business Unit (Sensing). With the addition of Radiant, Konica Minolta cemented its position as the global leader in the field of light and display test and measurement and secured a new growth platform in the field of advanced automated visual inspection.
Radiant's strength in the automated visual inspection field is founded on three core elements:
High performance measurement hardware. Radiant's imaging measurement systems provide high-resolution, industry leading signal-to-noise image (2D) measurements.
Powerful analysis software that can detect and analyze multiple kinds of hard-to-find defects for displays and surfaces. Radiant's proprietary software analysis features enable manufacturers to perform new in-line quality tests that improve quality and yield, and reduce costs and variability by replacing human inspectors from the production line.
An experienced engineering team that creates custom solutions to meet unique customer requirements. Radiant's global support team ensures that customers get a solution that's optimized for their specific needs, maximizing their return on investment.
With increasing worldwide labor costs, and the inherent variability of human inspection, demand for automated visual inspection solutions continues to rise. Radiant's display measurement systems not only find defects during the manufacturing and QA process—to ensure that only high-quality products reach the end consumer—Radiant systems also actively correct and calibrate displays—to transform a lower quality display into a high quality, defect-free, brilliant display that differentiates our customers' cellphone, tablet, or laptop products from their competitors. For OLED displays, where manufacturing yield concerns run paramount, the cost savings customers experience due to Radiant's measurement and calibration solutions are extremely significant.
Radiant is also creating breakthrough "Advanced Vision" technology in the field of visual surface inspection. Radiant's products identify subtle appearance defects in surfaces, such as scratches, dents, and blemishes that would degrade the end consumer's experience with a manufacturer's product. Our customers have been able to replace costly, unreliable human inspectors with repeatable, reliable Radiant vision inspection systems that increase quality and provide real-time, quantitative data that can be used to improve manufacturing processes and further drive down production costs. Manufactures see an improved end customer experience and rapid return on investment due to lower expenses and increased yield.
Radiant augments Konica Minolta's Sensing Business Unit by providing additional expertise in high-performance imaging system design and manufacture, and by expanding its competencies in developing software for measurement analysis and production integration. Radiant possesses an extensive tool set of software analysis libraries it has developed, and an experienced staff of application engineers to deploy solutions at customer locations in the field. Radiant brings to Sensing its experience as a full solution provider for some of the world's leading consumer electronics, automotive, and display brands. Radiant can effortlessly incorporate Sensing's products into system configurations, providing a full solution to the customer for any type of light and color measurement need.
The combination of Konica Minolta and Radiant creates multiple synergies to the advantage of both organizations:
Radiant is now capable of providing more complete solutions by incorporating Sensing products into its solutions for customers.
Konica Minolta's long history of expertise in appearance measurement complements Radiant's knowledgebase and experience, allowing new business expansion into the surface inspection market.
The global reach of Konica Minolta's established distribution network maximizes the potential customer base for Radiant's light and color measurement solutions. We've seen dramatic improvements in sales as Radiant has integrated into Sensing's experienced and established go-to-market channels.
As Radiant adds to its Advanced Vision technology, partnering with Konica Minolta provides access to a vast untapped market for vision inspection solutions.
Radiant's executive team, managers, engineers, and employees appreciate the benefits of being a member of the KM family of companies, being part of a dynamic global enterprise yet maintaining the freedom to continue creating and selling the best and most innovative visual inspection solutions in the market, while having a strong and stable parent company in the lead.