Masatoshi Matsuzaki
Chairman of the Board
Profile After serving as a Director at Konica Minolta Business Technologies, Inc., as President of Konica Minolta Technology Center, Inc., and in various other roles, became a Director, and then the President and CEO of Konica Minolta, Inc. Assumed the position of Chairman of the Board in April 2014.

Kimikazu Noumi
Outside Director
Profile After serving as Senior Managing Executive Trustee at The Norinchukin Bank, as Representative Director and President at Norinchukin Zenkyoren Asset Management Co., Ltd., as Representative Director, Chairman and CEO at Aozora Bank, Ltd., and as Representative Director, President and CEO at Innovation Network Corporation of Japan, among other positions, became an Outside Director at Konica Minolta, Inc. in June 2016.
Working to enhance the effectiveness of Konica Minolta's corporate governance
Mr. Noumi, as Outside Director how do you assess Konica Minolta's governance?
Noumi

I have attended the board meetings of a number of companies. After attending Konica Minolta's, I felt like the Board of Directors has a very high level of effectiveness, based on the thorough discussions and the serious stance of executive management taking part in the meetings. I have also been impressed with Mr. Matsuzaki's efforts as a Chairman to deepen discussions, including calling on Directors to share views based on their own experience and specialization, and asking Executive Officers to provide additional explanations.
Matsuzaki

Konica Minolta's board meetings are not just a venue for reaching a conclusion, they represent a place for finalizing decisions based on prudent and detailed discussions among attendees including Outside Directors. Meetings tend to last a long time, so we look for people willing to fully commit their time when selecting candidates for Outside Director.
Noumi

Every year, I evaluate the effectiveness of the Board of Directors. In the case of Konica Minolta, the content of the questionnaire is very serious, and I need to take extra time answering each question. As I review each question for example, "Over the past year, did you provide advice to and carry out supervision of Executive Officers properly?," I'm keenly aware that Konica Minolta is serious about the effectiveness of its corporate governance and that it demands Outside Directors fulfill a critical role in management supervision.
Matsuzaki

Our annual evaluations of board effectiveness require the precious time of our Directors. Yet, the thorough answers have helped us to identify issues and implement the plan-do-check-action (PDCA) cycle smoothly.
Noumi

As a company with three committees, Konica Minolta has established a Nominating Committee, Audit Committee and Compensation Committee. These three committees carry out their own in-depth and intense discussions just like the Board of Directors. On occasion, they also spend the money to engage outside institutions to investigate matters when necessary. Generally, I feel Konica Minolta has extremely strong expectations, or a high level commitment, for Outside Directors to fulfill their role.
Why is it that there is just one principle of Japan's Corporate Governance Code that Konica Minolta does not comply with?
Matsuzaki

Following revisions to Japan's Corporate Governance Code in June 2018, we held an informal gatherings of Directors in August where we discussed our response. Among these talks, a majority of Directors, including myself, felt we did not need to overreach to comply with Principle 2.6 "Roles of Corporate Pension Funds as Asset Owners." But, Executive Officers indicated their strong desire to take this as an opportunity to raise the bar of departments in charge of corporate pension management, so we decided to comply.
Noumi

Complying in form alone does not carry any meaning. It is worth making the full effort as long as the result will enhance our operational capabilities and strengthen governance.
Matsuzaki

Konica Minolta explained about the revision dealing with diversity in Principle 4.11 "Preconditions for Board and Kansayaku Board Effectiveness." It has stated that the board should be well balanced in terms of diversity and appropriate size, which I agree with 100%. This particular revision adds the terms gender and international experience to diversity.
Noumi

Gender and international experience are important conditions for diversity. As for the appropriate size of the board, however, it is extremely difficult to find candidates with the balance of gender and international experience at the same time as securing people with the qualities we require.
Matsuzaki

Konica Minolta's basic stance is to elect Directors purely based on their qualities, such as experience and specialization; rather than their attributes, such as gender, nationality or country of origin. I decided that I should stand up and clearly explain the reasons for this, instead of bending this basic stance to comply with the principle in form alone.
In June 2019, Sakie T. Fukushima became Konica Minolta's first female Outside Director. Why was she selected over other candidates?
Matsuzaki

The selection of a new Outside Director candidate first involves discussions by the Nominating Committee about the qualities we are looking for. The term of office of an Outside Director is four years, so we select the right person with the right specialization or experience, given the company's management needs over this time frame. The key point this time around was global talent management. We are in the process of transforming our business portfolio, including digitalization. To achieve this transformation, we need to find talent with advanced expertise and excellent skills not only in Japan, but internationally, who can play an active role.
Noumi

Ms. Fukushima has many years of professional experience in the global human resources consulting field. This made her the ideal candidate for supervising and advising our efforts to promote globally-minded talent management.
Matsuzaki

Furthermore, looking ahead, we must pursue work-style reforms and reduce working hours through productivity improvements, and we also need to provide an attractive workplace for our employees by building a work system in tune with the times. I also expect Ms. Fukushima to provide advice regarding these new work-styles. In this manner, as a result of selecting the right person with the right qualities we needed, Ms. Fukushima was chosen as Outside Director. This does not mean that in the future the right person will also be a woman or a foreign national. Consequently, Konica Minolta will continue to explain our stance regarding Principle 4.11.
Noumi

Nominating Committee documents about the history of board constitution reveal the skills and experience, along with the management challenges, sought after by the company whenever someone was selected as a candidate. This clarifies that selections are not made simply to fulfill a number requirement, but rather to find the right person to serve as a supervisor for Konica Minolta's governance who will contribute to enhancing corporate value.
What qualities need to be added during the selection of Outside Directors in order to further increase the effectiveness of governance?
Matsuzaki

Konica Minolta is promoting a digital shift and making strategic investments in bio-healthcare as part of its current transformation. Mr. Noumi is providing advice in terms of investment decisions and post-merger integration (PMI), and in the future, once we fully move into the business expansion stage, we will need the support of someone with management experience in the bio-healthcare field.
Noumi

However, there still are not that many people with management experience in cutting edge fields such as bio-healthcare.
Matsuzaki

Therefore, we need to expand our target from Japanese to foreign nationals to find the right person for the role. Toward this end, I plan to begin building a pipeline.
Noumi

By focusing on qualities in the selection process similar to the case of Ms. Fukushima, there is a possibility the Board of Directors will gain members with international experience as a result.
Matsuzaki

That's right. Also, even when shifting our business portfolio toward digital and bio-healthcare fields, the base is the same—we are still a manufacturing company. Directors serving concurrently as Executive Officer have shared the view during assessments of board effectiveness that we need to add a Director who can thoroughly supervise manufacturing, and I agree with them.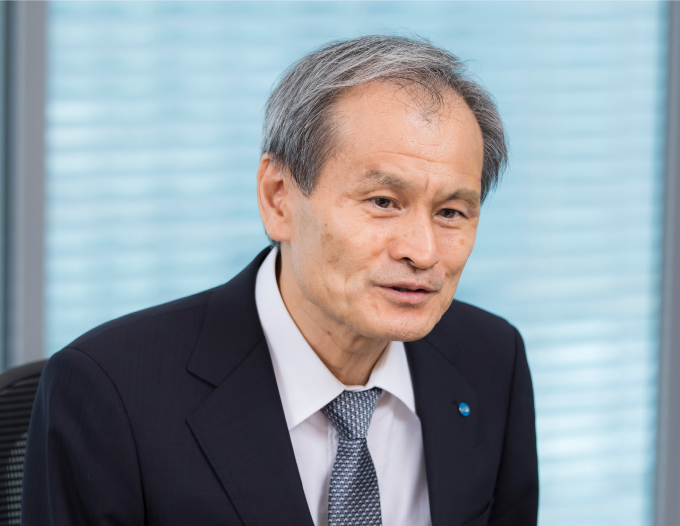 Executive Compensation System
There is growing interest in the executive compensation system as an element related to the effectiveness of governance. What are the features of Konica Minolta's compensation system?
Noumi

Konica Minolta's current executive compensation system took shape in fiscal 2017 after a series of reforms centered on two points; namely, "increase motivation to improve business performance continuously over the medium to long term" and "keep the level that can secure and retain talent capable of guiding the company's development." The key point is the addition of the "stock bonus linking with medium-term performance" within executive compensation linked to the achievement rate of performance targets set out in the Medium Term Business Plan. In addition, we lowered the percentage of base salary compared to before and increased the amount of performance-based cash bonus for the fiscal year and medium term. At the same time, we eliminated the short-term performance component of compensation for non-executive Directors in favor of base salary and medium-term stock bonus linked to increasing shareholder value over the medium term. Outside Directors only receive base salary.
Matsuzaki

Thanks to lengthy discussions by the Compensation Committee, I feel like this is now a very positive system that incorporates medium-term incentives.
In addition, the component of annual performance-based cash bonus for Executive Officers involving individual evaluations reflects the progress of each Executive Officer's key measures. The fact that these key measures involve initiatives with non-financial indicators such as environment, social, governance (ESG) speaks to the uniqueness of Konica Minolta's executive compensation system.
What are the basic thoughts behind performance-linked compensation and incentives for Directors?
Noumi

The Outside Directors of Konica Minolta are of course Independent Directors. We are responsible for supervising business execution; rather than carrying it out. This is why the Compensation Committee unanimously agreed that it would not be appropriate to base Outside Director compensation on business performance evaluations.
Matsuzaki

Similar to Outside Directors, non-executive Internal Directors do not receive performance-based cash bonus. From a medium-term perspective, however, we introduced stock bonus not linked to performance. While non-executive in nature, Internal Directors are full-time positions. This is why we decided against base salary alone and adopted stock bonus with the condition of having to retain the stock bonus until one year after retirement, knowing that this will increase interest further in our share price, similar to conventional compensation-type stock options.
Noumi

The Compensation Committee discussed the pros and cons of stock bonus for Outside Directors. Outside Directors, including myself, share their views at board meetings from a shareholder perspective, so we decided that owning the company's shares was not a requirement. I'm aware that many investors have a negative view toward offering performance-based stock bonus to Outside Directors, in particular. Some also believe that Directors should own the company's stock since they are part of the same boat, while others believe that Directors should be independent supervisors without ties to the company's stock. After examining these varying views, we ultimately decided not to adopt stock bonus for Outside Directors. Konica Minolta has an executive's stock ownership plan, which means Outside Directors can own the company's stock through this plan if they so desire.
What are some of the areas concerning the executive compensation system that you will be reviewing in the future?
Noumi

The topic of international experience in terms of board constitution came up earlier. If the number of foreign nationals on our board increases in the future, determining how to seek consistency between local compensation levels and Konica Minolta's executive compensation level will be a major issue. To secure exceptional talent and cope with headhunting, companies need to offer compensation in excess of that locally. In this case, the compensation of these people could greatly exceed that of Konica Minolta's.
Matsuzaki

When modifying the executive compensation system in 2017, the Compensation Committee spent a great deal of time investigating and discussing compensation level. Compared to other countries, the gap between executive pay and employee pay in Japan isn't that pronounced. Among executives as well, the gap between pay of top management and second in command isn't as large as other countries.
Noumi

As Mr. Matsuzaki says, we determined the compensation level holistically based on a detailed investigation of industry practices while considering social norms as well. In terms of the pay of top management and second in command, personally I feel top management's compensation should be higher because they have much larger responsibilities and play a much bigger role.
Matsuzaki

Konica Minolta's Corporate Organization Basic Regulations state that the Chairman is not an Executive Officer. The president serves as the Chief Executive Officer (CEO) with the sole right to represent the company. Therefore, I feel the compensation level of our president needs to be appropriate now and in the future.
Noumi

With globalization, I feel that the practices of Japanese companies in terms of their executive compensation system are gradually moving closer to their peers in Europe and North America. Considering social and cultural differences, however, it would not be right to simply Westernize Japan's corporate governance or executive compensation system. The Compensation Committee needs to build a convincing executive compensation system for stakeholders while taking into account these developments.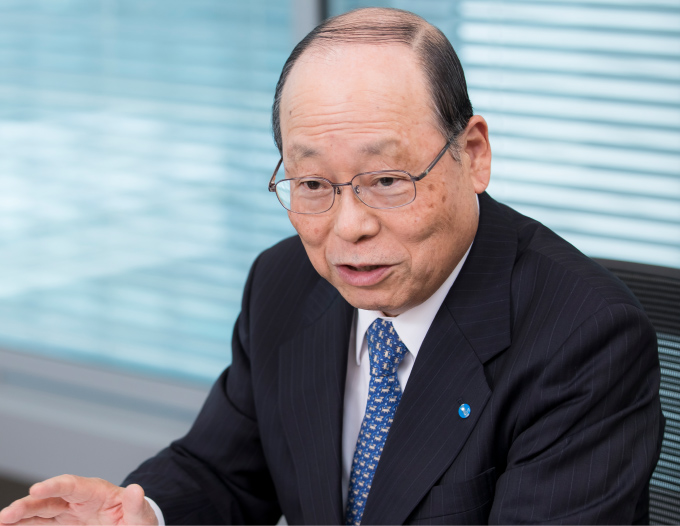 Results and Challenges of the Medium Term Business Plan
Konica Minolta is heading into the final year of its Medium Term Business Plan called SHINKA 2019. How do you assess the progress thus far?
Matsuzaki

Each of our core businesses is performing well, and we are making steady strides toward strengthening profitability, which was an issue. However, we have fallen behind schedule in our new businesses, especially the growth of our bio-healthcare business in the United States, so getting back on track will be a major issue for the future. The plan was to steadily increase results from growth businesses and new businesses during the course of the Medium Term Business Plan and we released business targets expecting these businesses to contribute to the bottom line in the final year of the plan. But, growth has fallen behind, opening up a gap between these figures.
Noumi

When the Board of Directors approved the Medium Term Business Plan, we discussed the probability of the performance targets for each business and whether there was sufficient grounds for these targets. However, compared to core businesses where we already have a great deal of experience, there are many elements of uncertainty in new businesses. This means that even if there is some substantiation, there tends to be major gaps. It's really difficult to commit in a similar fashion as core businesses to exact figures on when and how much profit new businesses can generate.
Matsuzaki

How to address this issue became a major topic during the board effectiveness evaluation the other day. Based on board members' views, we decided to increase the frequency of monitoring growth businesses and new businesses, compared to core businesses, as part of our board operation plan for fiscal 2019.
Mr. Noumi, what perspectives do you use to supervise and advise regarding strategic investments in these new businesses?
Noumi

In my case, I am actively advising our Executive Officer team in the areas of investment decisions from the standpoints of macroeconomics and markets and management such as PMI, based on my experience at financial institutions and funds; rather than get deeply involved in the operational aspects of these businesses. In the bio-healthcare business, our acquisitions of Ambry Genetics and Invicro in fiscal 2017 were some of the largest M&A deals Konica Minolta has ever undertaken, with a combined value of around 100 billion yen. The Board of Directors discussed in detail about whether to undertake these investments or not.
Matsuzaki

Genetic diagnosis is a very new business domain with a great deal of uncertainty. For this reason, there were many opinions citing questions about the business or concerns about the gravity of investment risks.
Noumi

Because of the size of the investment and the newness of the segment. It felt like we could lose the entire 100 billion yen if these investments failed. However, both companies have a positive cash flow and other companies were looking to acquire them, so we can just sell them if we are unable to successfully generate synergies. I explained this to the board and provided the advice that the company is not necessarily risking the entire 100 billion yen amount. Ultimately, however, the strong commitment of top management is critical for any investment decision, so I was impressed with how the president strongly lobbied Directors to approve the deals.
Matsuzaki

Mr. Noumi has been very helpful because his perspective and acumen in corporate investment simply cannot be obtained through experience in corporate management alone.
Noumi

As Mr. Matsuzaki says, we are behind schedule in our new businesses in the United States. However, as evidenced by the in-depth discussions by the Board of Directors, our strategy to expand into the bio-healthcare field is sound and the core value of these acquisitions can be fully justified by the investment amount. This is why we will patiently and carefully monitor the cash flow timeline.
What perspectives are being used in discussions on the company's next Medium Term Business Plan?
Noumi

Through the two Medium Term Business Plans TRANSFORM 2016 and SHINKA 2019, Konica Minolta has worked on boldly restructuring and transforming its business portfolio to cope with changes in society and technological innovations. The next Medium Term Business Plan that begins in fiscal 2020 needs to present specific outcomes achieved from our initiatives to date, such as revenue, profits and track record of the genre-top strategy. For example, in terms of new businesses, we should establish a profit model with the full-fledged rollout of Workplace Hub. Although it may take some time to fully expand the bio-healthcare business in Japan, we should present outcomes to stakeholders in an easy-to-understand manner, such as sharing with society the unique value of our own visualization technologies combined with the cutting edge technology and know-how gained from M&A.
Matsuzaki

I agree. The name and detailed measures of the plan changed, but since I was on the Executive Officer team, Konica Minolta has focused efforts on implementing business strategy and strengthening governance aimed at the consistent goals of sustainable growth and improving medium- to long-term corporate value. We may need to more actively show stakeholders the extent to which Konica Minolta was able to grow based on these initiatives.
Noumi

Moreover, I feel that in the future sustainability in management will become even more important. In order for a company to endure, it must not only increase revenue and profits, but also boost its return-on-invested-capital. It is also essential to always develop and groom the next generation of executive management with an eye on five and ten years down the line.
Matsuzaki

As part of the next Medium Term Business Plan, Executive Officer team is now formulating a long-term 10-year vision for the company in 2030. While monitoring the situation, the Board of Directors will discuss any shortcomings the company may have in realizing this 10-year vision and provide advice regarding strategies and measures to implement during the three-year period of the next Medium Term Business Plan.