Moving "Carbon Minus" goalpost forward up to 2030
~ Long-Term Environmental Vision "Eco Vision 2050"
We aim to reduce CO2 emissions in 2050 by 80% compared to 2005 from the 3 initiatives of "Green Products", "Green Factories", and "Green Marketing". We are implementing activities to reduce environmental footprint in the areas of product development, procurement/production, and sales/service.
Furthermore, with the goal of "Carbon Minus," we aim to not only achieve our own reduction of CO2 emissions but also contribute to reducing CO2 emissions globally by sharing our environmental technologies and know-how we have cultivated, the knowledge through our activities with business partners and customers, contributing to the reduction of environmental impact and cost reduction, and achieving environmental contributions that go beyond the scope of the responsibilities of individual company.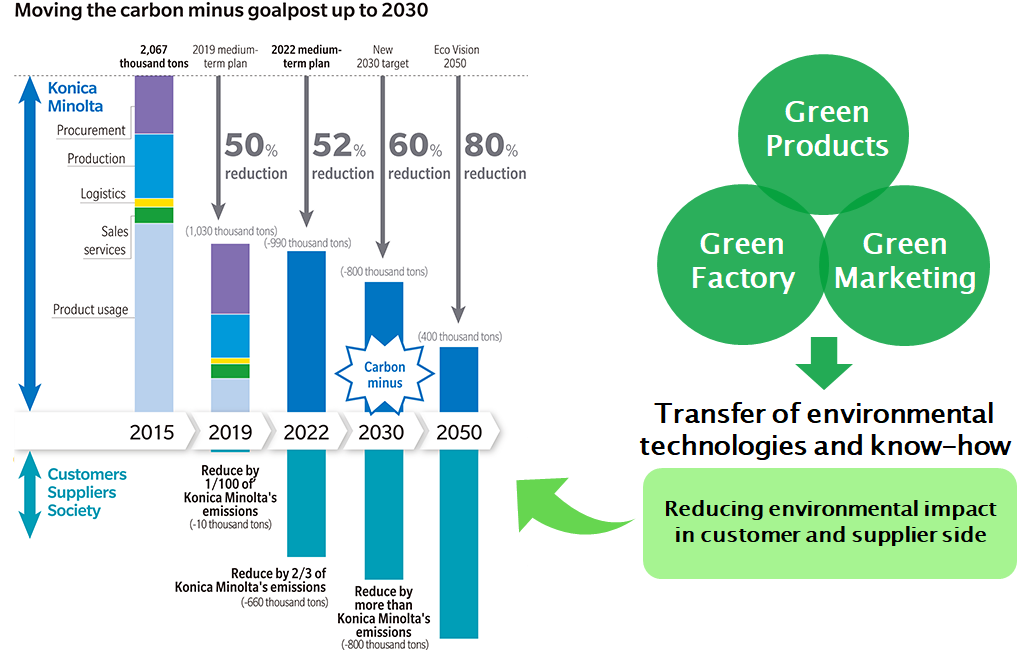 Other materials
Konica Minolta's Environmental Policy, Vision, and Strategy
Eco vision 2050
Medium-term environmental plan
Targets and results
Environmental Management at Konica Minolta
Management system
Evaluation of CSR by external parties
Environmental Communication
Provision of product environmental information
Technologies to help mitigate the burden on the environment
Green products (product initiatives)
Green factories (procurement and production initiatives)
Green marketing