Konica Minolta Increases Production Scale 20 Times to Deliver Reliable Pulse Oximeters to More People in Japan
Pulse oximeters have come to be used to assess the severity of Covid-19 in Japan
Tokyo (April 6, 2021) – Konica Minolta, Inc. (Konica Minolta) has increased its capacity to manufacture pulse oximeters by approximately 20 times, in cooperation with Seki Aoi Techno Co., Ltd. (Seki Aoi). In Japan, pulse oximeters have come to be widely used to assess the severity of Covid-19.
Highlights
Konica Minolta has secured the ability to manufacture approximately 20 times more pulse oximeters than the pre-Covid-19 level.
Production lines have been reinstated at Seki Aoi, a company that used to produce pulse oximeters for Konica Minolta in the past.
The purpose is to supply reliable pulse oximeters.
In Japan, pulse oximeters are drawing increasing attention as a means of assessing the severity of Covid-19, and their usefulness is becoming more widely known among the public. Since launching the world's first finger measurement pulse oximeter, Konica Minolta has continued to supply Japanese-made high-performance and high-quality pulse oximeter models mainly to medical institutions. Currently, the company is offering PULSOX-Neo to the market in Japan.*
Even before the Covid-19 outbreak, pulse oximeters were gradually used at home under the directions of medical professionals by persons with chronic disease and aged people for ordinary checks of their personal vital signs. Konica Minolta expected such demand to grow rapidly during and after Covid-19, and so considered how best to deliver reliable products to new prospective users.
The company contacted Seki Aoi, which used to manufacture pulse oximeters for Konica Minolta, and an agreement was reached that Seki Aoi would resume production of PULSOX-Lite in May and expand production in stages.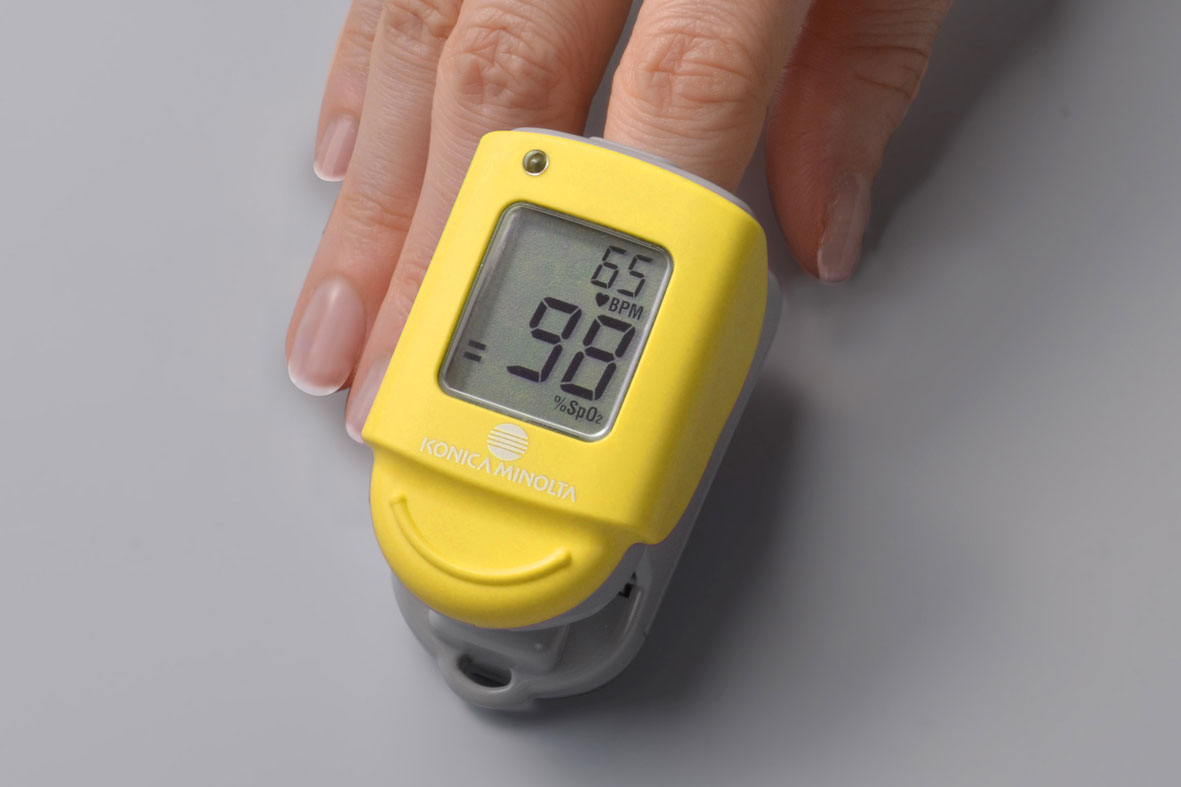 Aiming more Japanese families with members who have chronic disease and aged are able to use pulse oximeter at home under the directions of medical professionals, Konica Minolta is committed to securing and expanding reliable distribution channels where general family can easily access and feel comfortable buying the pulse oximeter, and also to making efforts to develop proper distribution guidelines of pulse oximeters for general home use.
Aims of Konica Minolta
With the Covid-19 pandemic, pulse oximeters have become widely known among the public as medical devices for measuring oxygen levels in the blood and assessing respiratory status. Their effectiveness for conventional daily checking of vital signs of patients with pneumonia and COPD** has also been publicly recognized. However, there have been reports in Japan of inferior-quality pulse oximeters on the market that are not approved as medical devices, exposing some users to greater health risks.
As a manufacturer of the world's first finger measurement pulse oximeter in 1977, Konica Minolta recognizes its social responsibility and mission to offer reliable pulse oximeters to general users. Accordingly, the company is preparing to increase the production of much-anticipated pulse oximeters in cooperation with Seki Aoi and other partner companies and contracting with new parts suppliers, applying their respective manufacturing competencies. The company also aims to collaborate with diverse stakeholders to develop channels and ways to distribute pulse oximeters as authorized medical devices in Japan so that users can be sure of purchasing reliable products, by leveraging its long-standing relationships of trust with medical professionals and proven track record in the healthcare industry. The company will also publicly share information on the availability of such products to increase safety for society.
The Konica Minolta Group is exploring ways to help in this time of crisis, and has begun to offer support services and solutions in each of its wide-ranging businesses to help overcome the difficulties the world now faces.
*Konica Minolta's pulse oximeters are approved only by Japanese medical device regulations. In countries other than Japan, they cannot be sold because they do not have the permission of local medical device regulations other than Japan.
**Chronic Obstructive Pulmonary Disease, an inflammatory disease caused by long-term inhalation of and exposure to cigarette smoke and other harmful substances.