Konica Minolta Included in the Health & Productivity Stock Selection for Five Years in a Row, Seven Times in Total
Maximizing the Potential of Human Resources by Improving Organizational Health
Tokyo (March 11, 2022) – Konica Minolta, Inc. (Konica Minolta) announced that the company has been included in the Health & Productivity Stock Selection, a program for selecting companies that work on initiatives to improve the health of employees strategically from a management perspective. Konica Minolta has been selected for this program five years in a row since 2018, and seven times in total.
The Health & Productivity Stock Selection is a joint program organized by the Ministry of Economy, Trade and Industry of Japan and Tokyo Stock Exchange. It aims to encourage companies to promote "health management" by appraising companies that are attractive to investors who focus on improving corporate value over the long term. This time, 50 companies including Konica Minolta were selected from companies listed on the Tokyo Stock Exchange.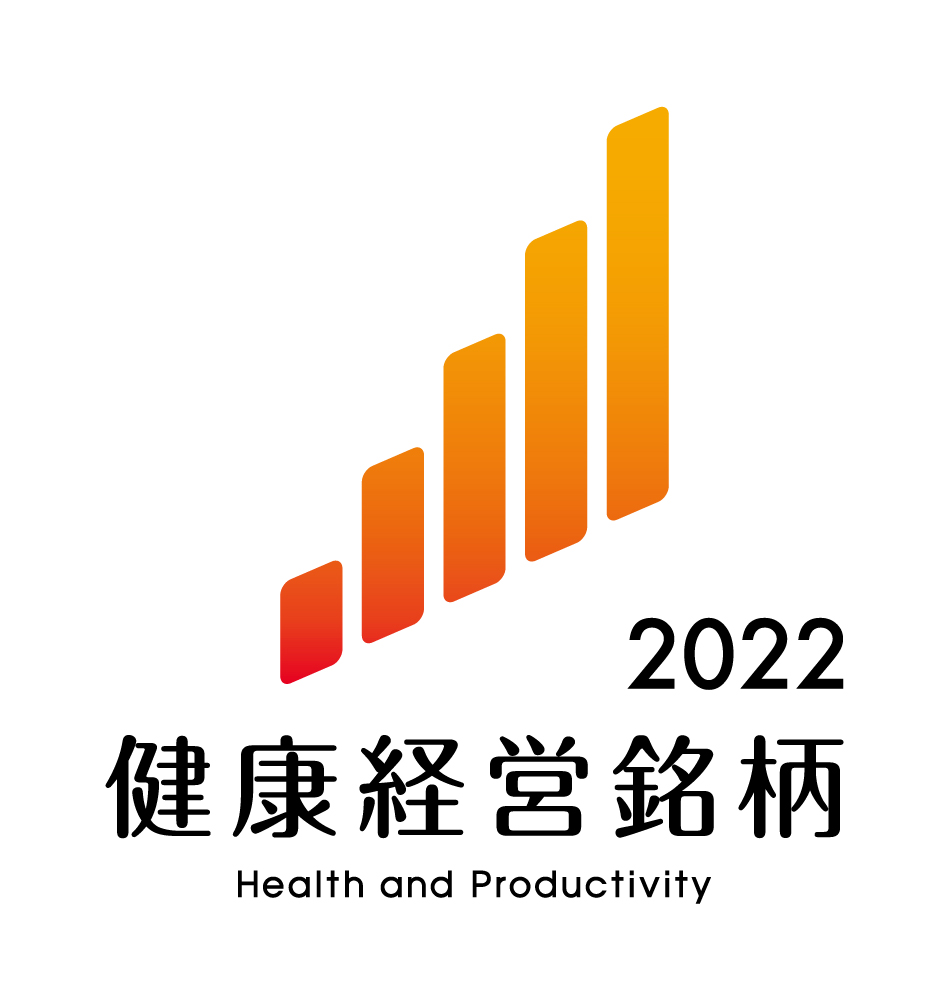 Konica Minolta was rated highly in all the four criteria of "management philosophy and policies," "organized frameworks," "systems and implementation of measures," and "evaluation and improvement" in the electrical equipment sector.
Konica Minolta believes that by promoting health management, it can enhance the productivity, creativity and engagement of employees and maximize the potential of its human resources, which will eventually enable the company to achieve sustainable growth. Based on this understanding, Konica Minolta developed a medium-term health plan "Happiness Company 2022" and set numerical targets, and has since been striving to improve the organizational health through the "collaborative health" initiative (integrated management by group companies and the Health Insurance Association). The company considers that its inclusion in the Health & Productivity Stock Selection is the result of these efforts.
Konica Minolta's Efforts
1. Enhancing workplace productivity and dynamism by promoting mental health
Konica Minolta conducts online stress checkups twice a year for all its employees, and since 2013, has been sharing the results of analyzing the workplace stress levels with the heads of relevant organizations. The company also carries out an e-learning program on mental health for all its managers. In fiscal 2020, Konica Minolta introduced a web-based organizational health survey whose scores can be used as indicators of organizational dynamism. Using the survey results, the company measures the level of dynamism and productivity of each organization as part of its efforts to create an organizational culture that allows employees to work with mutual trust and confidence and enhance workplace productivity.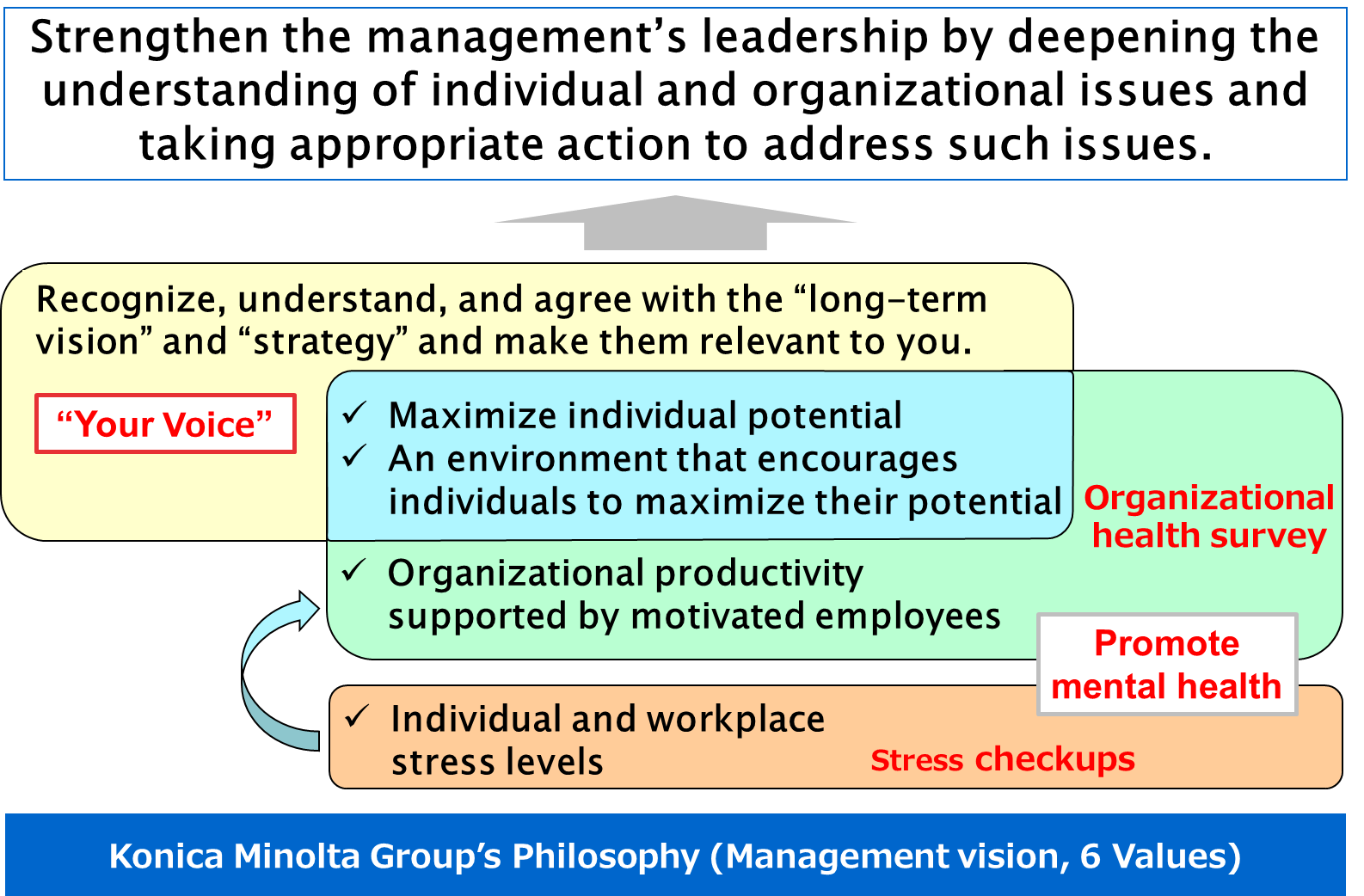 Based on the findings of the survey, Konica Minolta aims to identify the stress level and dynamism of each workplace to improve the work environment and productivity. To be specific, the company shares the results of the survey with all organizational heads, while the Corporate Human Resources Division, with an understanding of the situation, assists each workplace to develop and implement health promotion measures on its own. The company also endeavors to enhance the strength of each of the key departments while improving the work environment by having managers participate in a training session given by an industrial physician, and encouraging group discussions in the departments. As a result, the fiscal 2021 survey showed that the percentage of workplaces with high productivity increased by 5.1 points from the previous year.
2. Coping with employee health issues during the Covid-19 pandemic
The Covid-19 pandemic has given rise to various health issues. For example, physical inactivity due to working from home and avoiding outings for a prolonged period has caused an increase in obesity among its employees, meaning a BMI of higher than 25. To cope with such health issues, Konica Minolta began to offer a home workout video to encourage employees to do simple exercises at home and to provide an online seminar on walking for health, in order to maintain the health of employees and their family members during the pandemic. To reduce the mental stress caused by working from home for an increasing number of hours, Konica Minolta sends newsletters containing information about how to overcome stress to all its employees by email, with such titles as, "Tips to cope with mental health issues resulting from working from home and where to contact to discuss problems" and "E-learning program on self-care." The company encourages employees to use such information when necessary to maintain mental wellbeing.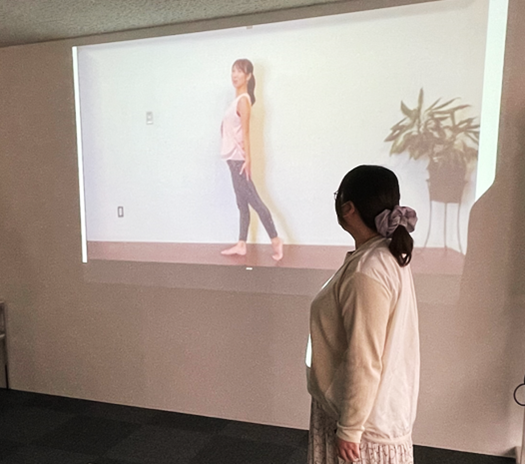 Twelve affiliated companies in Japan included in the 2022 Certified Health & Productivity Management Outstanding Organizations Recognition Program
In Japan, the Konica Minolta Health Insurance Association works with affiliated companies. Twelve affiliated companies were recognized in the 2022 Certified Health & Productivity Management Outstanding Organizations Recognition Program.
<Status of recognition by category>
Large Enterprise Category
"White 500"
Konica Minolta Japan, Inc.
Kinko's Japan Co., Ltd.
Konica Minolta Mechatronics Co., Ltd.
Konica Minolta Information System Co., Ltd.
Konica Minolta Business Associates Co., Ltd.
Konica Minolta With You, Inc.
Large Enterprise Category
Konica Minolta Supplies Manufacturing Co., Ltd.
Small and Medium-sized Enterprise Category
"Bright 500"
Konica Minolta Technoproducts Co., Ltd.
Konica Minolta Chemical Co., Ltd.
Small and Medium-sized Enterprise Category
Konica Minolta Planetarium Co., Ltd.
Konica Minolta Engineering Co., Ltd.
Konica Minolta Shizuoka, Inc.
The Covid-19 pandemic has caused drastic changes in the work environment and lifestyles. Against this backdrop, Konica Minolta remains committed to promoting health management and taking effective measures to improve the organizational health and empower individual employees to maximize their potential in the workplace, thereby developing competent human resources. In so doing, the company hopes to contribute to the wellbeing of society and fulfill its corporate responsibility to society.