Konica Minolta Partners with Amenidy in Confidential Information Management and Distribution Service
Offering LINE®-based Cybele Safe Message® Service to Local Governments
Tokyo (July 21, 2022) – Konica Minolta, Inc. (Konica Minolta) and Amenidy, Inc. (Amenidy) are pleased to announce that they have entered into a partnership to offer a confidential information management and distribution service. Under this partnership, Amenidy will launch Cybele Safe Message®, a confidential information distribution service developed jointly by the two companies, in Japan in August 2022.
Cybele Safe Message®, a Confidential Information Distribution Service
As services are increasingly delivered through smartphones and other mobile devices in Japan, there is a growing need to ensure the confidentiality of personal and corporate information used for these services throughout society. In response, Konica Minolta and Amenidy jointly developed Cybele Safe Message®, a LINE®-based service for the safe and secure distribution of confidential information. It is designed to be used by Japanese local governments such as when distributing to citizens discount coupons that can be used at local shops, and sending PCR test results.
Under the partnership, Amenidy's attribute-based encryption and access control technologies are combined with the confidential information management function of FORXAI, Konica Minolta's imaging IoT Platform, thus enabling information to be sent securely to individuals via smartphones and other mobile devices.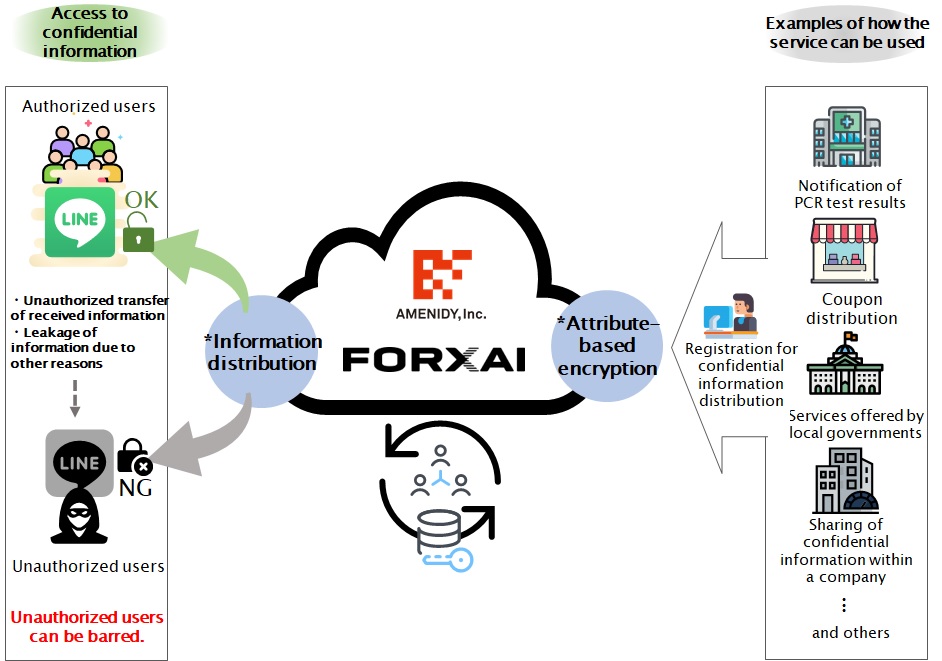 Amenidy's Next-generation Encryption Technology
Under the slogan of "Security combined with convenience" and "Proactive security service," Amenidy has been offering a cloud service for data businesses by leveraging the company's platform technology named AMENIDY Suite, which incorporates its next-generation encryption technology.
Amenidy's next-generation encryption issues a private key that allows a user with matching attributes to decrypt specified groups of encrypted information. This allows the user to access multiple groups of information with just one key, thus eliminating the complicated process of verifying individual access authorization before granting access.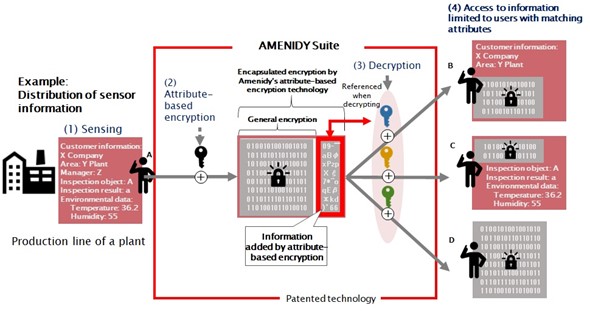 Konica Minolta's Imaging IoT Platform, FORXAI
Konica Minolta is using its FORXAI Imaging IoT Platform to accelerate the digital transformation of society with customers and partner companies, thus helping to improve workplaces around the world and create a safe and secure society.
The FORXAI IoT Platform is a common IoT platform composed of a group of technologies that make it easy for edge devices to connect securely with the cloud for data management and AI processing. One of its main functions is to help users develop business applications by managing accounts and ensuring security. By combining this function with Amenidy's encryption technology, Konica Minolta has developed a full-fledged platform for data businesses, which Amenidy uses to offer a confidential information management and distribution service.
Examples of Use of Cybele Safe Message®
Distribution of discount coupons:
Businesses or local governments, when distributing discount coupons to customers or citizens, may be concerned about the coupons being distributed unevenly or misused. Cybele Safe Message® can prevent the misuse of coupons caused by unauthorized transfer or leakage of information, by controlling access to information by means of attribute-based encryption, while restricting the number of times that a coupon can be used to avoid some users gaining excessive benefits. Unauthorized users can be barred from the service.
Notification of PCR test results:
PCR test results are sent via LINE® as encrypted data, and decryption key data are sent separately. Even if an unauthorized third party acquires an encrypted PCR test result, the data cannot be decrypted with the acquired key, thus protecting data privacy. Cybele Safe Message® also enables users to trace accesses to information through the history of key acquisition and decryption (access to the data) and to monitor the entire workflow from start to end of testing.
Konica Minolta and Amenidy will continue to increase the synergies created by the partnership and enhance their respective strengths to deliver greater value to customers.