Results of a Study on Konica Minolta's Dynamic Digital Radiography (DDR) by the Graduate School of Medical Sciences, Kyushu University, Published in the International Scientific Journal "Radiology"
Dynamic Chest Radiography for a Diagnosis of Chronic Thromboembolic Pulmonary Hypertension (CTEPH)
Tokyo (November 14, 2022) – Konica Minolta, Inc. (Konica Minolta) is pleased to announce that a research group of the Graduate School of Medical Sciences, Kyushu University, including Professor Kousei Ishigami, Assistant Professor Yuzo Yamasaki of the Department of Clinical Radiology, Lecturer Kohtaro Abe of the Department of Cardiovascular Medicine, and others, developed technology to visualize pulmonary hemodynamics without contrast media by using Konica Minolta's Dynamic Digital Radiography (DDR), and the results of a study of this technology were published in "Radiology," one of the world's most authoritative scientific journals in the field of radiology. Konica Minolta is also participating in the research group.
Background of the Study
Chronic thromboembolic pulmonary hypertension (CTEPH) is a rare disease affecting approximately 4,000 patients in Japan. In patients with this disease, thrombus are chronically formed in the pulmonary artery and impair pulmonary perfusion. The prognosis is very poor if the disease is left untreated, but it dramatically improves with catheter or surgical treatment. An early diagnosis is therefore extremely important. While it is recommended to assess pulmonary perfusion impairment using ventilation-perfusion scintigraphy*1 for early detection of CTEPH, the number of examinations that can be performed with this method is limited due to the use of expensive, large equipment and the prolonged duration of radiation exposure. Under these circumstances, there is a demand for the development of a simple medical device that can assess impaired pulmonary perfusion at an early stage in the clinical setting.
Contents of the Study
Pulmonary perfusion imaging using DDR enables imaging during a breath-holding time of only several seconds and assessment of the distribution of pulmonary perfusion using a similar system as plain radiography. It is associated with lower radiation exposure than front plus lateral chest radiography views defined by the International Atomic Energy Agency, and is also minimally invasive. With this pulmonary perfusion imaging, a research group of the Graduate School of Medical Sciences, Kyushu University and Konica Minolta established a dynamic chest radiography system that enables a diagnosis of pulmonary embolism by detecting abnormal distribution of pulmonary perfusion suggestive of pulmonary embolism and assessing the detected abnormal distribution together with abnormal findings on dynamic imaging or plain chest radiography without having to use contrast media or radionuclides.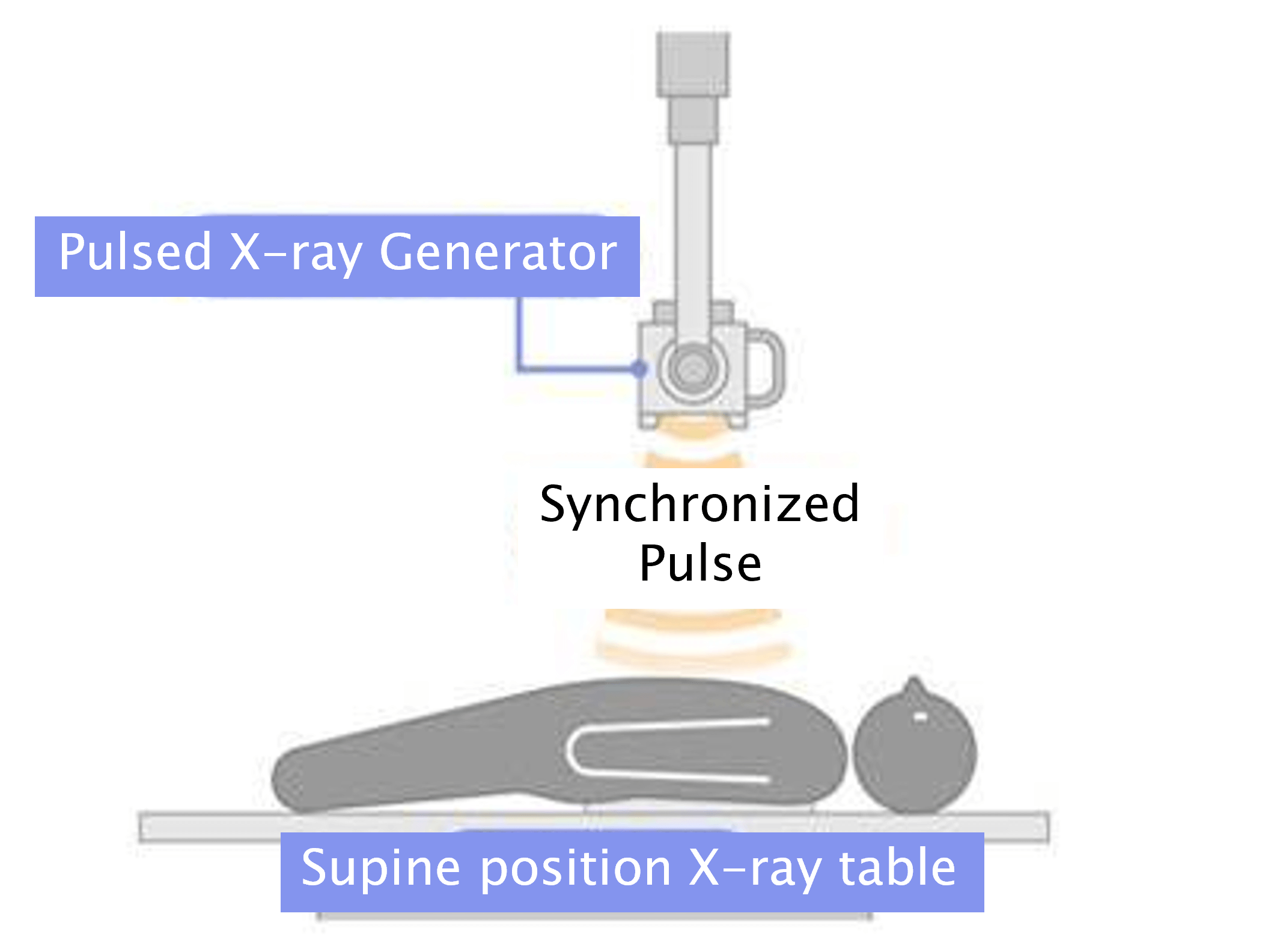 The usefulness of this system for the detection of CTEPH was retrospectively verified using the data of 50 existing patients with pulmonary hypertension through image interpretation by radiologists. The results demonstrated high diagnostic ability with 97% sensitivity, 86% specificity, and 92% diagnostic accuracy, confirming comparable diagnostic performance of the dynamic chest radiography system and ventilation-perfusion scintigraphy*1, which is positioned as the first choice for CTEPH screening*2
The research group demonstrated for the first time in the world that the dynamic chest radiography system has the potential to become a new diagnostic method for CTEPH that can be used easily without contrast media or radionuclides and with lower radiation exposure.
It is expected that if a future multicenter clinical trial to assess the sensitivity/specificity of the dynamic chest radiography system also demonstrates the usefulness of the system, early diagnosis of CTEPH will become possible, and promote early treatment of the condition. It is also expected that this system will become a new effective diagnostic method for patients with acute pulmonary embolism requiring prompt examination/diagnosis, as well as for patients who are allergic to contrast media and pregnant women in whom contrast media cannot be used.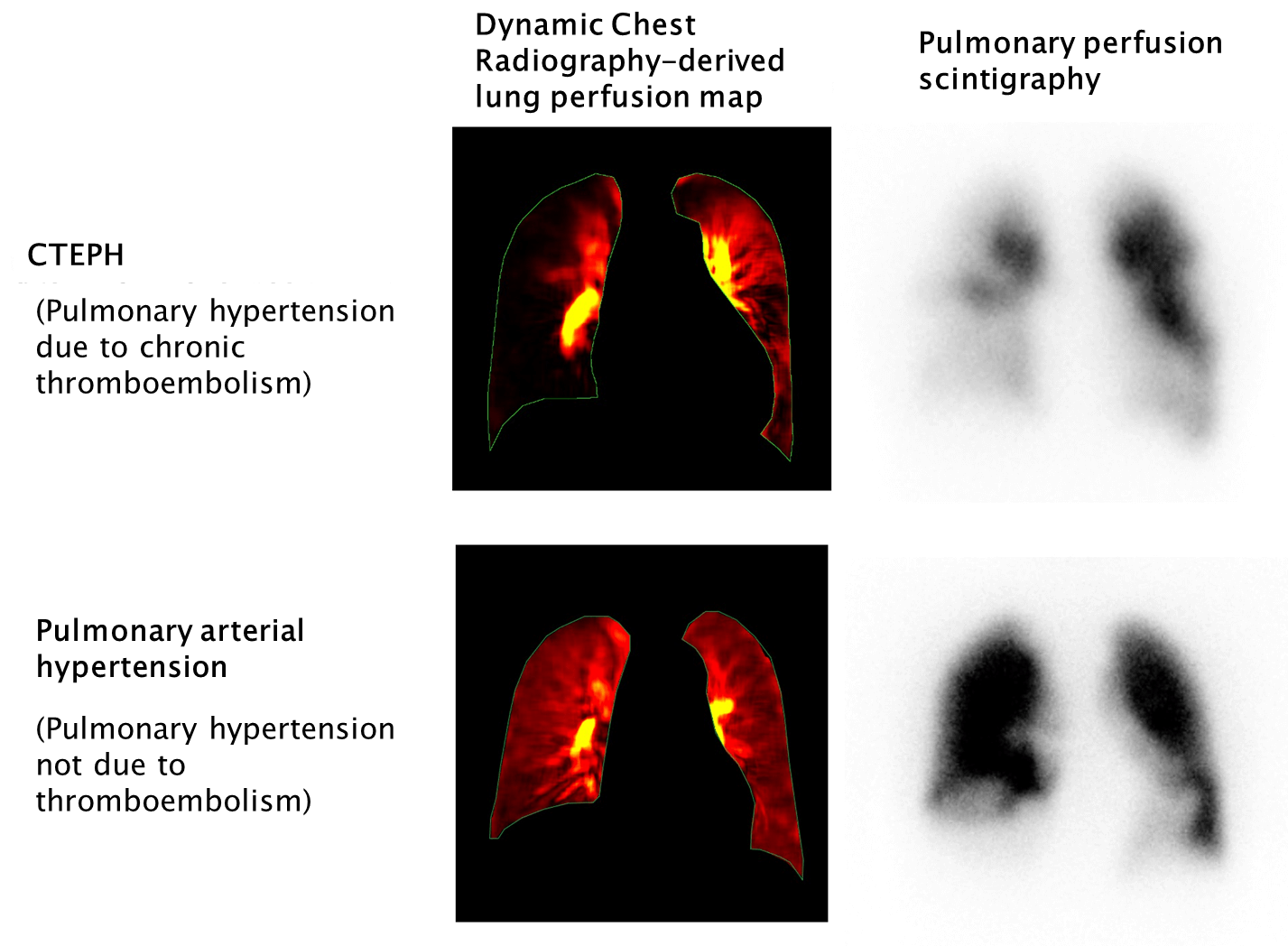 Dynamic Digital Radiography (DDR)
DDR is a technology to generate dynamic images by continuously displaying X-ray images captured by continuous pulse X-ray irradiation. The captured dynamic images are processed to improve their quality and quantify the movement of in-vivo objects to obtain more information than by conventional static X-rays.
DDR, which involves low doses of radiation compared to CT and similar technologies, is expected to improve the diagnostic accuracy of early-stage examination, and contribute to early detection of lesions and reduction of patient burden.

Overview of the Publication
Title of the scientific journal
Radiology
Publisher
Radiological Society of North America (RSNA)
Title of the article
Efficacy of Dynamic Chest Radiography for Chronic Thromboembolic Pulmonary Hypertension
Main authors
Graduate School of Medical Sciences, Kyushu University
Kousei Ishigami, Professor, Department of Clinical Radiology
Yuzo Yamasaki, Assistant Professor, Department of Clinical Radiology
Kohtaro Abe, Lecturer, Department of Cardiovascular Medicine
Konica Minolta, Inc.
Takenori Fukumoto, Manager, Clinical Development Department, R&D Planning Division, Healthcare Business Headquarters
Date of publication
November 8, 2022 (date of online release)
URL for access to the article
https://pubs.rsna.org/toc/radiology/0/0
DOI
https://doi.org/10.1148/radiol.220908
In the belief that the generation of dynamic images of plain chest radiography will improve the level of diagnostic performance, Konica Minolta continues its efforts to establish new dynamic diagnostic imaging techniques in the field of general radiography.
*1: Scintigraphy is a method by which radioactivity released from a radioactive drug injected into the body, etc. and distributed to organs, is captured using large equipment to generate an image of the distribution.
*2: References
1) Frost A, Badesch D, Gibbs JSR, et al. Diagnosis of pulmonary hypertension. Eur Respir J 2019; 53: 1801904 [https://doi.org/10.1183/13993003.01904-2018].
2) Japanese Pulmonary Circulation and Pulmonary Hypertension Society, ed. Guidelines for the Treatment of Chronic Thromboembolic Pulmonary Hypertension (CTEPH) 2022 [http://jpcphs.org/pdf/guideline/cteph_guideline2022.pdf]