KONICA MINOLTA-AIST Bioprocess Technology Cooperative Research Laboratory Established
For Implementation of Next-Generation Bioproduction Management System
Tokyo (June 7, 2023) – Konica Minolta, Inc. (Konica Minolta), the National Institute of Advanced Industrial Science and Technology (AIST) and AIST Solutions Co., Ltd. (AIST Solutions) announced that they have jointly set up KONICA MINOLTA-AIST Bioprocess Technology Cooperative Research Laboratory (Bioprocess Research Lab).
The new laboratory aims to solve engineering issues that may arise during bioprocess scale-up, and implement a next-generation bioproduction management system for the production of high-function materials using microbes.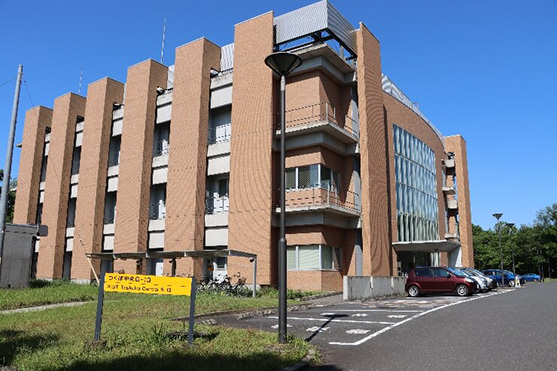 Background and Purpose
Biomanufacturing is a type of manufacturing that uses bio-based materials and that produces useful chemical compounds by utilizing microbes and other living organisms. It is attracting growing attention as a key technology to achieve carbon neutrality for its ability to produce materials without using fossil fuel-based materials.
Konica Minolta has been working on introducing materials informatics and process informatics to its chemical plants by leveraging its sensing technologies and AI technologies (e.g., machine learning and deep learning technologies), as well as imaging-IoT technology, a combination of these technologies. At Bioprocess Research Lab, the emphasis will be on enhancing these proprietary technologies of Konica Minolta and combining them with AIST's comprehensive strengths, to develop monitoring technology for the production of innovative complex materials, while scaling-up the production process and improving production stability to make biomanufacturing possible.
Overview of Research at Bioprocess Research Lab
One of the challenges to be overcome for biomanufacturing is the difficulty of scaling up. In a production method using smart cells, or microbial cells with enhanced material-production capabilities, slight differences in conditions can alter the behavior of microbes and thus result in different production reactions. For this reason, even if the target yield and quality are achieved in vitro, it is extremely difficult to constantly maintain the same yield and quality when the process is scaled up for mass production. In addition, it is not easy to replace conventional fossil-based raw materials with chemical products produced by the smart cells as bio-based crude materials, due to the variability of production process conditions, as well as inconsistent quality caused by impurities inherent in bio-based raw materials, which adversely affect the final product yield and quality and impede the bio-based production process.
Bioprocess Research Lab will collect data from monitoring both in vitro and mass production processes, and analyze the data in an integrated manner to predict the behavior of microbes in a mass production environment and thus allow better management of the process.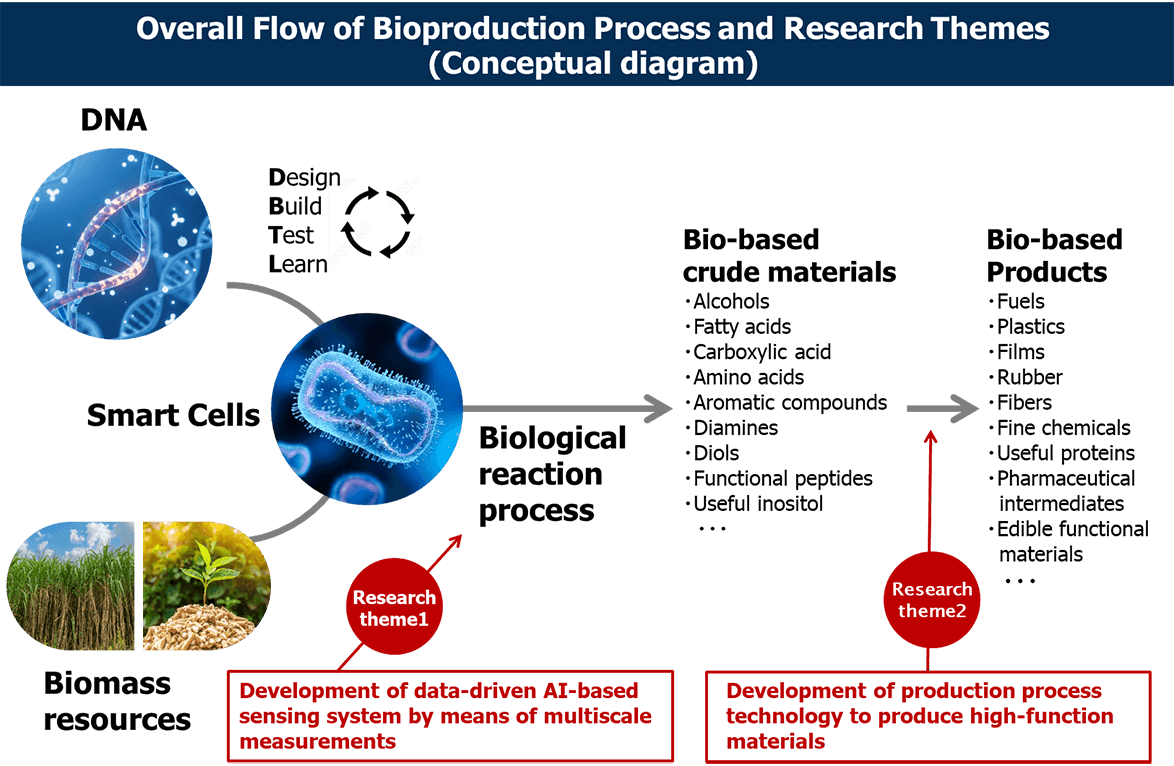 Main research themes
1) Development of data-driven AI-based sensing system by means of multiscale measurements
Development of sensing devices to combine various data obtained from in vitro and mass production processes, using Konica Minolta's optical and chemical technologies and AIST's biomanufacturing technology, and a data-driven AI-based sensing system to be used for AI-based analysis of data collected by these sensing devices and for production process control based on such data
2) Development of production process technology to produce high-function materials
Research for efficient provision of a new process design system and bio-based products by designing smart cells that are capable of producing chemical materials suitable for mass production as a model case
Outline of Bioprocess Research Lab
Name
KONICA MINOLTA - AIST Bioprocess Technology Cooperative Research Laboratory
Establishment
June 1, 2023
Location
AIST Tsukuba
*Part of the research is conducted at AIST Hokkaido.
Director
Toshihiko Iwasaki (Konica Minolta, Inc.)
Main research themes
1. Development of data-driven AI-based sensing system by means of multiscale measurements
2. Development of production process technology to produce high-function materials
About Konica Minolta
Founded in 1873, Konica Minolta marks its 150th year in 2023. Konica Minolta has been creating new value in response to people's hopes and desires to "see." Its businesses were founded to capture the moment in the world as it is with tangible images by photographic films and cameras. Now, through visualizing technology and solutions that capture what was once invisible to human eyes, Konica Minolta takes signs of illness and subtle variations in the quality of manufacturing. Konica Minolta continues to deliver innovation by anticipating trends in the business environment, from changes in remote work to the manufacturing process within various industries and business categories so that the company contributes to efforts to address challenges faced by customers and society. Konica Minolta positions the 150th milestone year as a new start to further leverage the powers of optics and chemistry in driving sustainable growth for people and society.
About AIST and its Cooperative Research Laboratories
As one of the largest public research organizations in Japan, AIST focuses on the creation and practical realization of technologies useful to Japanese industry and society, and on bridging the gap between innovative technological seeds and commercialization and social implementation of innovations thus developed. To achieve this, AIST is organized into five departments and two centers that bring together core technologies to leverage its comprehensive strengths. AIST, as a core and pioneer of the national innovation ecosystem, has about 2,300 researchers engaged in research and development at 12 research bases across the country, based on the national strategies formulated in line with the changing environment for innovation.
Since FY2016, AIST has been working with partner companies to conduct research and development in a manner better tailored to their needs by setting up cooperative research laboratories in its facilities bearing the names of these companies.
About AIST Solutions
AIST Solutions was established on April 1, 2023 as a wholly-owned stock company of AIST to strengthen the system for social implementation of research results and to promote such activities. In so doing, the company aims to contribute to solving social issues and enhancing industrial competitiveness. Leveraging the technological and research resources of AIST, which is one of the largest public research organizations in Japan, AIST Solutions is working to accelerate open innovation, build innovation ecosystems, and create new businesses in order to promptly meet market and industrial needs through proactive marketing activities.
Konica Minolta, AIST and AIST Solutions will continue working to overcome the obstacles to bioproduction and thus help achieve carbon neutrality and a sustainable society.