A Konica Minolta Researcher Wins the Chester F. Carlson Award 2023 for Outstanding Contribution in the Field of Electrophotographic Process Technology
Tokyo (June 19, 2022) – Konica Minolta, Inc. (Konica Minolta) announced that Dr. Natsuko Minegishi, Senior Researcher, has won the Chester F. Carlson Award 2023 from the Society for Imaging Science and Technology (IS&T), an international imaging society.
The Carlson Award of the IS&T is an internationally prestigious award named after Chester F. Carlson, who invented electrophotography. Each year, the award goes to one researcher who made an outstanding achievement in science or technology related to electrophotography.
Award Winner and Her Achievement
Dr. Natsuko Minegishi
Advanced Core Technology Center, Technology Development Headquarters, Konica Minolta, Inc.
"For significant contributions to the field of electrophotographic process technology"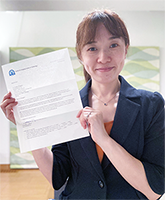 Details of Her Achievement
Since joining Konica Minolta in 2005, Dr. Minegishi, 41, has conducted research on the developing process of digital printing systems, notably, the physical behavior of toner. Konica Minolta's digital printing systems achieve high-speed, stable, and continuous high-image-quality printing by harnessing the company's technology to prevent a drop in the performance of toner, which is left inside the systems and remains unused for printing. The phenomenon of toner remaining inside systems is unavoidable when printing with large margins, resulting in decreased toner quality. Dr. Minegishi researched the quality of toner from the viewpoint of the charge amount and elucidated the mechanism of refreshing toner in the systems.
Since 2021, she has been a member of the "EXplainable Kansei® (EX Kansei)" research team of Konica Minolta, taking full advantage of her artistic talent to create design drawings for posters and her knowledge of psychophysics. EX Kansei is a cloud service to support the production of optimal designs that encourage purchasing by leveraging cutting-edge Kansei Brain Engineering and image processing technology. Viewers' impressions of all designs, including packages, posters, and websites, are represented by numerically expressing elements, such as colors, layout, and character fonts.
Dr. Minegishi joined IS&T in 2016 and has enthusiastically been involved in its activities. Recently, she introduced EX Kansei, a new field in IS&T, and is highly expected to contribute to the development of the next generation of electrophotography by nurturing the world of electrophotography by integrating Kansei science and art. Since July 2021, she has been leading IS&T as President of its Tokyo-Japan Chapter.