Konica Minolta Opens a Webpage Dedicated to ESG (Non-Financial) Information on its Investor Relations Site
Konica Minolta, Inc. (Konica Minolta) has opened a new webpage titled "Konica Minolta's ESG" on its Investor Relations site.
◆Click here to visit Konica Minolta's ESG webpage.
Recently, ESG investment is becoming increasingly widespread. In addition to financial information, this places importance on the environmental (E), social (S) and governance (G) factors of companies as indicators to gauge future corporate value.
Under its corporate philosophy "The Creation of New Value," Konica Minolta has been pursuing its business strategy focusing on contributing to solving social issues by leveraging and strengthening its intangible assets so that the company will remain a vital global player in society and an innovative company that is robust and constantly evolving.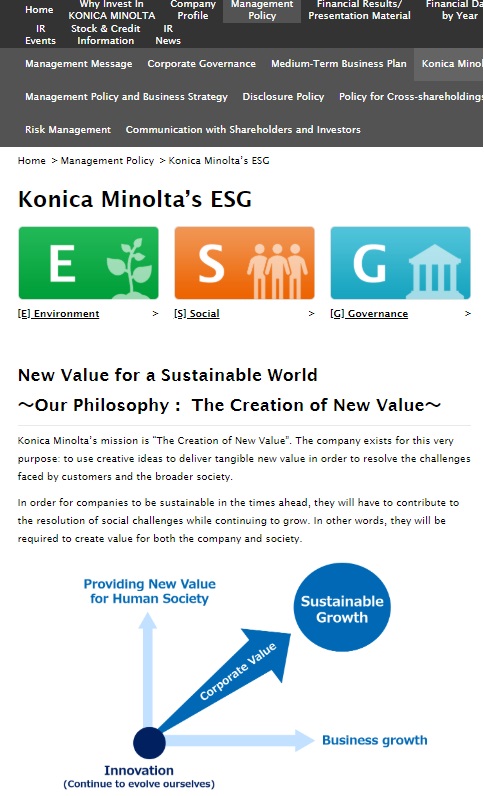 Konica Minolta recognizes the importance of disclosing information of such intangible assets that will guide the company to create greater value in the future, and has made public to all stakeholders its Integrated Report, CSR Report, Corporate Governance Report and various other non-financial information on its website. To make its ESG information more widely available to shareholders and investors, Konica Minolta has set up a dedicated website.
Konica Minolta will continue to offer much needed information and contents to shareholders and investors on its Investor Relations site to help them gain a greater understanding of the company's vision and initiatives.