Konica Minolta Donates Face Shields to Toyokawa City
Efforts to Protect Health Care Employees from Infection Risks
Tokyo (June 3, 2020) - Konica Minolta, Inc. (Konica Minolta) today announced that the company donated 30 face shields and 100 replacement shields to protect medical workers from infection risks to Toyokawa City, Aichi Prefecture. The face shield was manufactured by Konica Minolta and Kinko's Japan, a Group company of Konica Minolta.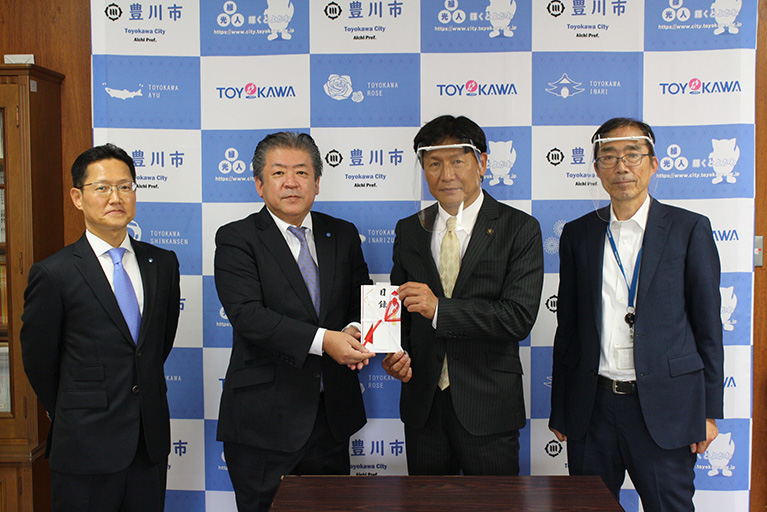 Background
Due to the spread of the new coronavirus, the shortage of masks at medical sites, nursing homes, and day-care centers has become a serious problem. In response to this situation, a project was initiated by a young employee to use Konica Minolta's engineering technique to produce face shields and to support sites at high risk of infectious diseases.
Konica Minolta has three facilities in Toyokawa City: the Mizuho site, the Mikawa site, and the Toyokawa site. In response to Toyokawa City's invitation to join the public and private sectors in promoting measures against the new type of coronavirus infectious diseases, Konica Minolta agreed with the idea and moved toward the donation.
The face shield consists of an attaching part (resin to wear on the head) and a shield part (transparent film). The attaching part was made by a 3D printer of the Manufacturing and Procurement Headquarters, and the shield part was designed and produced by Kinko's Japan.
Today, a donation ceremony was held at the Toyokawa City Hall, where Konica Minolta provided 30 face shields and 100 replacement shields.
Path Forward
This time, Konica Minolta and Kinko's Japan manufactured 100 face shields and 450 shield parts replacements. The companies are also planning to provide them to Hino City , Hachioji City, and Takatsuki City where Konica Minolta's major facilities are based.
Konica Minolta will continue to make use of its own technology to support sites affected by COVID-19.