KDDI, Konica Minolta, Change and DGA Jointly Awarded a Project to Support DX for Ward/Municipal Offices in Tokyo on October 6, 2021
Tokyo (January 20, 2022) – KDDI Corporation (KDDI), Konica Minolta, Inc. (Konica Minolta), Change Inc. (Change), and Digital Growth Academia, Inc. (DGA) are pleased to announce that they were jointly awarded a Project to Support DX for Ward/Municipal Offices in Tokyo (Project) on October 6, 2021.
The Tokyo Metropolitan Government has been working on the digitalization of government services under the Tokyo Digital First Ordinance that came into effect on April 1, 2021, to establish an environment that allows citizens to complete administrative procedures online, anytime and anywhere.
The Project is designed to streamline public service procedures at local ward/municipal offices, e.g., for enrolling in a nursery school and for renting public facilities, and bring greater convenience to citizens of Tokyo, by effectively using ICT and the assets of the four companies. The Project also aims to help ward/municipal staff review their conventional work processes and acquire the know-how and skills to identify and introduce digital tools that suit their needs and assess their effectiveness.
Support for the digitalization of administrative procedures is required as part of the regional revitalization initiatives to address regional issues such as the declining birthrate, aging population and depopulation. The four companies are working in collaboration to combine their respective strengths and contribute to the creation of a sustainable society.
Outline of the Project
1. Project name:
Project to Support DX for Ward/Municipal Offices in Tokyo
2. Project period:
October 6, 2021 to March 31, 2022
3. Purposes of the Project
(1) To help ward/municipal staff understand the steps of business process re-engineering (BPR) and acquire skills to carry out BPR in their organizations
(2) To offer hands-on opportunities for ward/municipal staff to experience the process from identifying tools for DX to introducing the tools, and acquire the necessary knowledge
(3) To help ward/municipal staff acquire the ability to assess the effectiveness of tools for DX
(4) To support the Tokyo Metropolitan Government to compile the outcomes of the Project and its assessment results into a case report and share the knowledge with ward/municipal offices in Tokyo
4. Actions taken in the Project
Exploring effective measures to enhance work efficiency together with ward/municipal staff, using a framework for improving work processes
Helping to develop a feasible DX process by first setting a final objective and then working backward to determine the steps necessary to achieve it
Helping ward/municipal staff promote DX on their own by providing a tool to retrieve information on municipalities that have succeeded in improving work efficiency
Roles of Each Company
KDDI
• Managing the Project and supervising its entire process
• Providing hands-on support for the entire process from developing to delivering digital services
Konica Minolta
• Providing hands-on support for the process from developing to delivering digital services
• Conducting surveys on work flows of ward/municipal offices and assessing the work efficiency
Change
• Providing hands-on support for the process from developing to delivering digital services
• Conducting surveys on work flows of ward/municipal offices and assessing the work efficiency
DGA
• Designing and establishing DX training programs for ward/municipal staff


Reference information
Digitalization of Administrative Services
The Covid-19 pandemic has exposed the slowness of the Japanese government in shifting to digital services and the need to accelerate the digitalization of administrative procedures and enhance work efficiency.
DX in public administration is expected to help solve various regional issues and promote regional revitalization, in addition to making civil services more conveniently accessible and streamlining government workflows.
About KDDI Corporation
KDDI formulated "KDDI Sustainable Action: Our power to make connections will help create a brighter future for all"—KDDI's initiatives for the SDGs aimed at 2030 with a determination to continue working to solve various social issues through business going forward. https://www.kddi.com/english/corporate/csr/sdgs/
The Project reflects KDDI's commitment to "Connecting day-to-day lives – Sustainable development for cities and communities – Developing human resources for the next generation – Partnership" shown in this Action Plan.
KDDI's Regional Revitalization Initiatives
KDDI is focusing on regional revitalization, education, and support for digitalization of administrative procedures as part of its efforts to resolve social issues through its business operations and achieve the SDGs. Specifically, KDDI assists local governments and local businesses in streamlining their workflows, by leveraging its business prowess backed by the expertise in BPR, human resource development and ICT, as well as its Regional Initiatives Fund, while striving to create an environment to help eliminate regional educational disparities.
KDDI will continue developing sustainable business models in partnership with regional communities and local businesses to help solve social issues, thereby creating "Community's Future."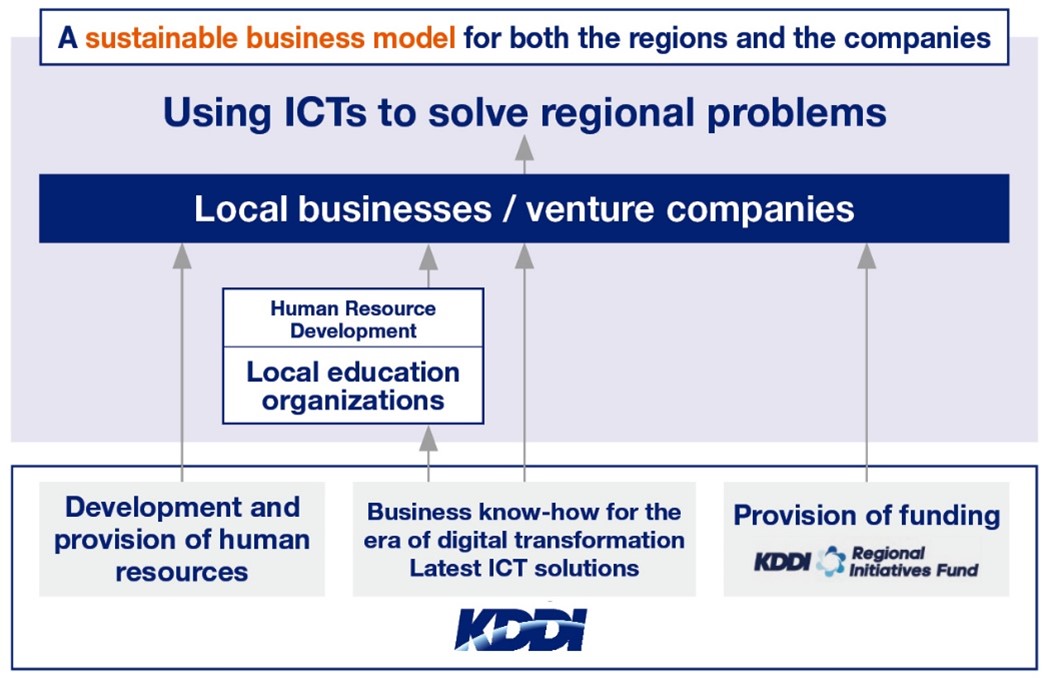 About Konica Minolta, Inc.
Konica Minolta has been working with more than 120 local governments across Japan to help them streamline and standardize government jobs, leveraging its know-how in BPR amassed through many years of experience in the manufacturing industry. The Local Government DX Support Platform that the company launched in July 2021 has been rapidly making its way into Japanese local governments and has boosted horizontal collaboration among local governments on an unprecedented scale. This platform allows local governments to share information and know-how with each other and improve their operational efficiency and the quality of civil services. To respond to changing needs more quickly and increase its business agility, Konica Minolta established Konica Minolta Publitech, Inc. in October 2021.
About Change Inc.
Under its corporate mission, "Change People, Change Business, Change Japan," Change helps businesses and governmental offices enhance productivity by offering technical solutions and training human resources. Specifically, the company is carrying out the NEW-IT Transformation Project, which focuses on using new IT, such as AI, IoT, big data, voice and mobile technologies, and the development of human resources who can play leading roles in the fourth Industrial Revolution.
Its subsidiary, Trustbank, Inc., has developed connections with more than 90% of Japanese local governments through the operation of "Furusato Choice," a hometown tax portal site, and, leveraging this connection, offers LoGo Chat, a business chat system for local governments, and LoGo Form, a tool for digitalization of administrative procedures, to local governments around Japan. In this way, the company is promoting DX in administrative works to enable citizens to use civil services through paperless processes, without having to contact government offices by telephone or in person.
About Digital Growth Academia, Inc.
In line with its vision to "use digital technology to help people and companies grow and bring about change in Japan," DGA offers optimal learning opportunities to nurture DX specialists and helps all people and businesses achieve drastic growth through digital solutions.