Change and Konica Minolta Publitech Announce Strategy for Govmates, a Joint Venture Providing Local Government DX Services
Promoting Operational Reform through Local Government DX across Japan Starting with Matsuyama City, Ehime Prefecture to Realize a Society Free from Regional Disparities
Tokyo (February 10, 2022) - Change Inc. (Change) and Konica Minolta Publitech, Inc. (Konica Minolta Publitech) announced their strategy for Govmates, Inc., a joint venture that provides DX services for local governments. The joint venture will be established on April 1, 2022.
Japanese society faces many issues, such as growing demand for medical and nursing care and labor shortages due to the aging population and declining birthrate. While the number of local government officials fell sharply by 520,000 during the 26 years from 1994 to 2020, the tasks and issues that must be handled by local governments have become increasingly complicated, resulting in heavier workloads for each official. There are growing needs for business process re-engineering, BPR to reform operations at local governments, such as standardizing 17 system operations by the end of FY2025 and ensuring compliance with laws related to digital reform that were passed by the Diet in 2021. Govmates, Inc. will be established with the vision of "making the jobs of local governments and the workstyle of local government officials more productive and smarter." The company will help realize a society free from regional disparities by supporting local governments to enable their staff to work from anywhere at any time through digital transformation, DX of their operations, offer higher-value-added government services by improving the operations of staff, and reduce government costs.
Local governments in charge of a population of 100,000 or less account for 85% of the roughly 1,700 local governments across Japan. They face many common issues in terms of investing in DX and human resources. The joint venture will be headquartered in Matsuyama City, Ehime Prefecture, which is one of the local governments that are actively promoting DX among other local cities. It will develop a model to be deployed across Japan based on its operations in Ehime Prefecture and 20 local governments in the prefecture. In Ehime Prefecture, the number of local governments decreased to 20 through consolidation, which is known as "the great Heisei mergers" in Japan. The classification of the 20 local governments by population size* represents the overall status of local governments across Japan. The joint venture was named Govmates, a coined word from "governments" and "mates," to convey its aim of being a real partner which serves the detailed needs of local governments and resolves issues together. By establishing the head office in Ehime Prefecture, Govmates Inc. will promote DX of the operations of local governments across Japan as a "locally based" platform holder to help realize "local revitalization through digital implementation" as advocated by the national government.
* Classification of 20 local governments by population size
500,000: 1
150,000: 1
About 100,000: 2
50,000 to 100,000: 2
10,000 to 50,000: 10
Less than 10,000: 4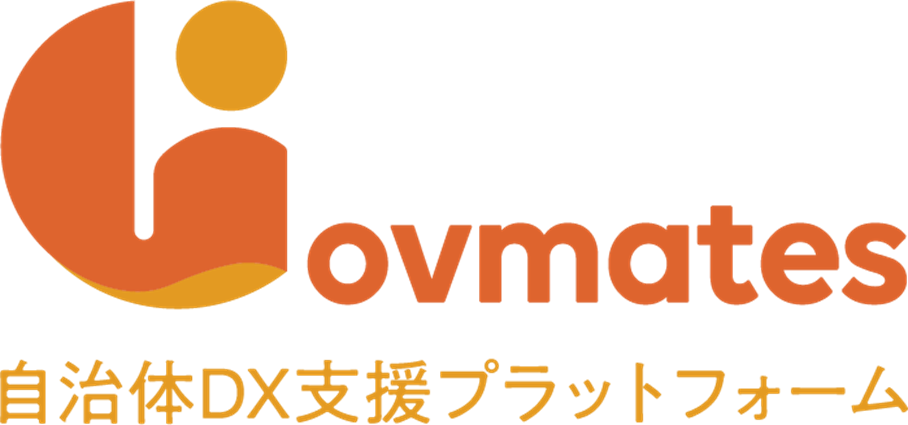 Three Strategies of Govmates, Inc
Govmates, Inc. will help realize a society free from regional disparities by focusing on three strategies to support the operations of local governments.
1. Working with regional co-creation partners: Govmates, Inc. will increase customers (for direct sales) by utilizing the sales channels that have been developed by Change and Konica Minolta Publitech. It will offer services and solutions that meet the needs of local governments across Japan, especially those of basic local governments that face issues peculiar to respective regions, while strengthening and expanding the network with partners in respective regions maintained by Change and Konica Minolta Publitech. The joint venture will also help create local jobs through collaboration in respective regions. In addition, it will resolve issues by involving companies, organizations, and residents committed to achieving regional revitalization, as well as partner companies that are familiar with regional characteristics.
2. Accumulating and utilizing data: Govmates, Inc. will offer new added value to help increase efficiency and standardize operations of local governments, by combining, analyzing, and utilizing the operational datasets of various local governments accumulated through surveys on work volume, which are conducted based on proprietary know-how acquired through offering services to public offices, private companies, and local governments and through BPR, as well as in-house datasets and datasets owned by partners. For example, efforts will be made to improve operations based on the operational datasets of local governments maintained by Govmates, Inc. and offer high added value to local governments' services for residents by linking the extensive regional datasets owned by companies that have strengths in smart city projects with data owned by companies that work on improving services for residents.
3. Providing one-stop services for local government DX: Govmates, Inc. will strengthen collaboration with more partners, including major solution providers which operate on a national level and SaaS vendors with strengths in respective fields. It will meet the needs for DX of respective local governments and offer package solutions to resolve issues by combining various services. The issues of local governments resolved by leveraging the strengths of respective companies will be accumulated as improvement examples on the Govmates platform and shared among local government officials. This will enable the collection of information and support autonomous promotion of DX. Govmates, a local government DX support platform, will serve as the core of this strategy.
Govmates, a Local Government DX Support Platform
Govmates, Inc. will promote DX of local government operations based on Govmates, a local government DX support platform. This platform will offer four types of services, namely, visualization, analysis, optimization, and standardization of operations) by utilizing the strengths of Change and Konica Minolta Publitech based on techniques to streamline and standardize local government operations, which have been acquired by Konica Minolta Publitech, and operational datasets acquired from 120 local governments in total.
1) Visualization service: The government-wide work volume and operational flow will be visualized through interviews with local government officials. The operational datasets will be structured based on the classification of operations and tasks such as core and non-core.
2) Operational analysis service: In-depth analysis will be conducted on the visualized operational datasets to identify issues in the entire operations. Measures to resolve such issues will be studied based on techniques to improve the operations, which Change and Konica Minolta Publitech have offered to public offices, major companies, and local governments.
3) Optimization service: Specific solutions will be offered to local governments for the measures studied in the operational analysis service. Optimal measures to resolve issues will be presented with companies working in collaboration with Change and Konica Minolta Publitech through the regional co-creation partner strategy.
4) Standardization service: The operational flow and forms used by local governments across Japan will be standardized and optimized through the network with local governments that Change and Konica Minolta Publitech have built. This will help build a model for sharing the system.
Govmates, a local government DX support platform, will start offering new features within the 4 types of services on April 1, 2022 to help create a DX plan and an operational flow for standardizing the backbone system, in addition to conducting surveys on the government-wide work volume as before. Govmates Pit, a cloud computing tool that underpins these services, will also be offered. The tool will enable local government officials to access the cloud, centrally manage the operational flow and procedure manual within the government, and compare with improvement examples of advanced local governments. The operational standardization support AI (GAIA)* will also make it possible to search and view the improvement examples of other local governments and support local government officials to promote BPR.
* GAIA (Government AI Assistant) refers to AI technology to help local governments standardize their operations and resolve issues. It was jointly developed by Change and Konica Minolta in July 2021 and went into service as the beta version.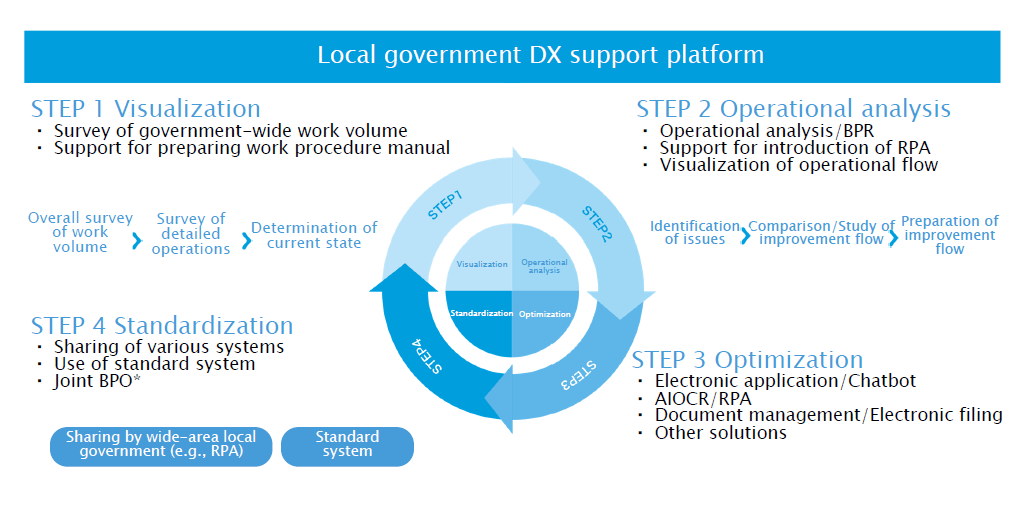 Background of Establishing the Joint Venture
Change has a track record in developing AI for public offices, supporting the use of various digital tools, and developing human resources capable of offering digital solutions. It has done business with more than 1,600 local governments, accounting for more than 90% of local governments across the country, and has know-how in platform administration. Meanwhile, Konica Minolta Publitech has collected 1.9 million operational datasets (about 200,000 local government officials) from 120 local governments across the country. It has a track record in proposing BPR to local governments based on analysis and visualization and has streamlined and standardized the operations of many local governments. The two companies have helped increase the operational efficiency of 120 local governments across Japan and improve services for citizens through joint development of the local government DX support platform by using their respective strengths. They will strengthen the relationship and utilize their assets more effectively through Govmates, Inc. to promote DX of local governments.
About Change
Under its corporate mission, "Change People, Change Business, Change Japan," Change helps businesses and governmental offices enhance productivity by offering technical solutions and training human resources. Specifically, the company is carrying out the NEW-IT Transformation Project, which focuses on using new IT, such as AI, IoT, big data, voice and mobile technologies, and the development of human resources who can play leading roles in the fourth Industrial Revolution.
About Konica Minolta Publitech
Konica Minolta Publitech is engaged in streamlining and standardizing governmental operations, assisting local governments reform their operational flow by utilizing the local government DX support platform, and promoting a wide range of businesses of Konica Minolta and local government smart projects on various fronts through open innovation. After establishing Govmates, Inc., the company will strengthen support for local governments in collaboration with the healthcare business, nursing care business, imaging IoT solutions business, and planetarium business of Konica Minolta, Inc. while utilizing the know-how acquired through the joint venture.
Website of Govmates, Inc.