Konica Minolta Wins the Achievement Award from the Japanese Society of Medical Imaging Technology for Developing Dynamic Digital Radiography
Tokyo (September 26, 2022) – Konica Minolta, Inc. (Konica Minolta) is pleased to announce that its R&D engineer, together with university researchers, won the Achievement Award from the Japanese Society of Medical Imaging Technology for their achievement in developing Dynamic Digital Radiography (DDR). The commendation ceremony was held at Nagoya University on July 30, 2022.
The award is granted to those who have made an outstanding achievement in scientific research, invention, and equipment development related to medical imaging technology. Konica Minolta believes that, by winning the award, the company's new technology has been recognized to contribute to the development of medicine.
Achievement and Award Winners
"Development of a wide-view dynamic radiography and analysis system"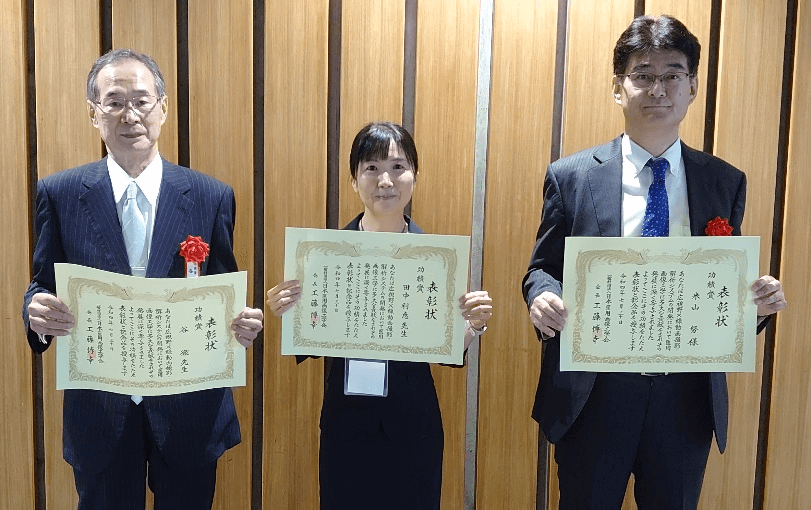 Rie Tanaka, Associate Professor, AI Hospital/Macro Signal Dynamics Research and Development Center, Institute of Medical, Pharmaceutical and Health Sciences, Kanazawa University
Shigeru Sanada, Project Professor, Komatsu University
Tohru Tani, Project Professor, Department of Research and Development for Innovative Medical Devices and Systems, Shiga University of Medical Science
Tsutomu Yoneyama, General Manager of the R&D Planning Division, Healthcare Business Headquarters, Konica Minolta, Inc.
Results of the Development and Value Propositionc
The DDR system consists of the dynamic radiography analysis workstation KINOSIS and the cassette-type digital radiography system AeroDR fine motion. It enables radiography using a general X-ray system as in the case of conventional general radiography of the chest.
This system generates dynamic images by continuously displaying X-ray images captured by continuous irradiation of pulse X-rays. The captured dynamic images are processed by KINOSIS to improve visibility and quantify the movement of in-vivo structures, making it possible to offer more information, which is difficult to obtain from conventional static radiography, in X-ray examinations. The DDR system, which enables low-dose radiography compared to CT, is expected to improve diagnosis accuracy in early-stage examinations and help identify lesions sooner, while reducing the burden on patients.

Future Vision of Dynamic Radiography
Konica Minolta has been seeking to offer new diagnosis value by using a DDR system that can capture dynamic images by using a general X-ray system. Recently, application of the system has spread to intensive care and emergency medicine with the release of the AeroDR TX m01 mobile X-ray system which offers wireless DDR.
Based on this track record, Konica Minolta started building DDRAtlas, a digital atlas containing normal cases that serve as the basis of the diagnosis standards, in order to encourage the use of DDR systems at many more hospitals and clinics as new diagnosis equipment that can contribute significantly to medical care offered by physicians. As a result, the company has now released DDRAtlas Ver. 1.0. Konica Minolta will continue developing new dynamic image diagnosis methods in general radiography.