Konica Minolta Wins the IEC 1906 Award from the International Electrotechnical Commission for Standardization Activities Related to Light Measurement of Electronic Displays
Tokyo (November 18, 2022) – Konica Minolta, Inc. (Konica Minolta) is pleased to announce that one of its researchers has won the IEC 1906 Award from the International Electrotechnical Commission (IEC), which sets international standards for electrical and electronic technologies, in recognition of accomplishments in standardization activities related to light measurement of electronic displays. The award is presented to individuals who have contributed significantly to the standardization of electronic and electrical technologies and related technologies. This year, 233 individuals won the award globally, of whom 36 were from Japan.
Award Winner and Award-winning Theme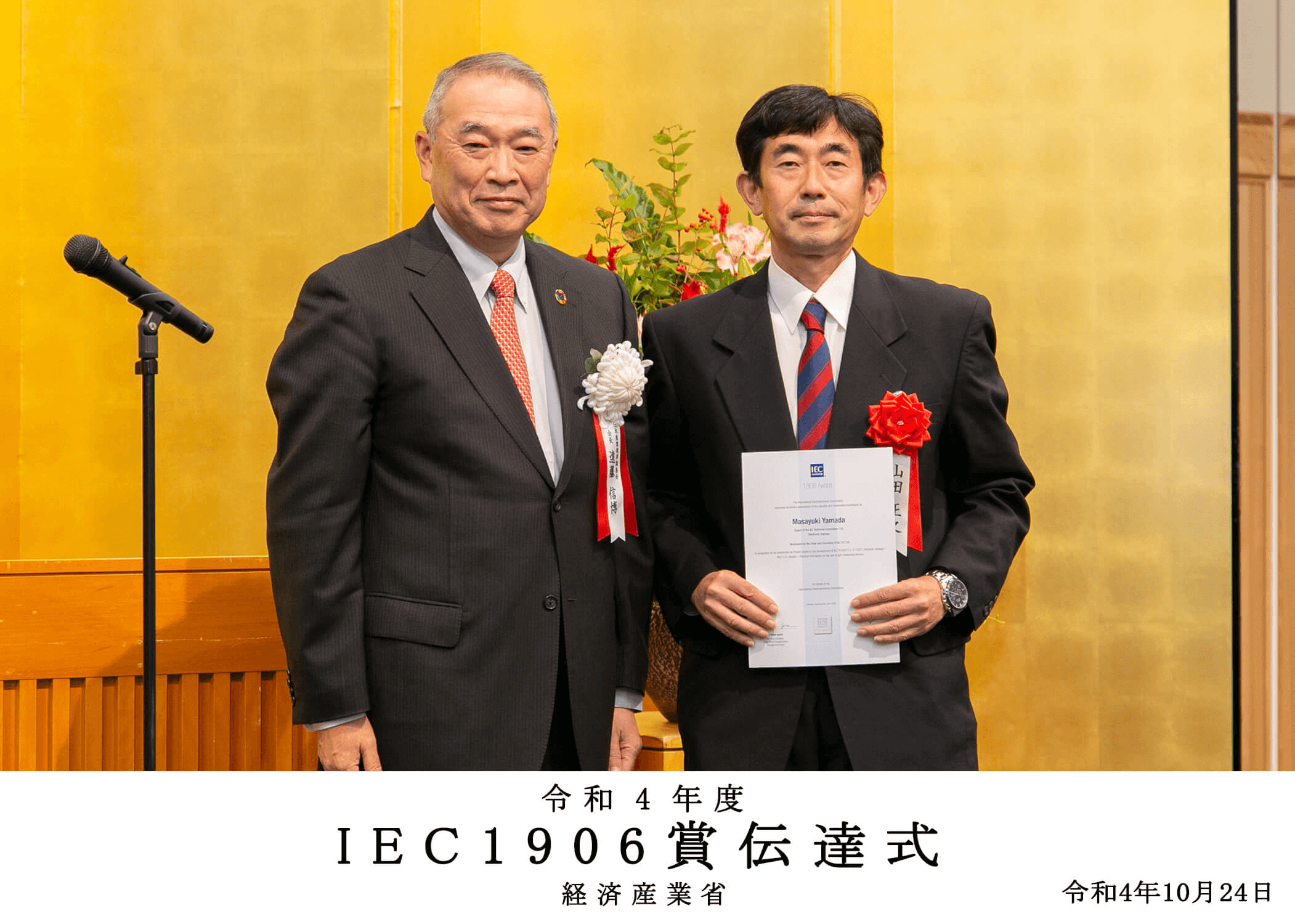 Masayuki Yamada (right in the photo)
Product Development Department,
R&D Division, LD&CA Business Unit,
Sensing Business Headquarters,
Konica Minolta, Inc.
Award-winning theme:
In recognition for his contribution as Project Leader to the development of IEC TR 62977-1-31:2021:Electronic displays-Part 1-31:Generic-Practical Information on the use of light measuring devices.
Outline of Accomplishments
Konica Minolta is a leading company in the field of measuring instruments for the colors on electronic displays in the development and production of TV sets and smartphones. The technical report, which led to the winning of the award, helps customers better understand the performance of light measuring instruments and select appropriate ones. It compiles practical information on how the characteristics of measuring instruments affect the measurement results. The award was presented to Yamada in recognition of his significant contribution to the development of IEC TR 62977-1-31 as the project leader through discussions with experts in various countries. Konica Minolta will continue to promote the standardization of light measurement and evaluation, provide more valuable information to customers, and expand its business.
Konica Minolta's Light Measuring Instrument for Electronic Display
Display Color Analyzer CA-410
This is Konica Minolta's light measuring instrument for electronic displays related to IEC TR 62977-1-31 (a technical report). It can measure the colors on a display quickly and accurately over a wide range, from super-low luminance to high luminance, by using proprietary optical technology and high-performance sensor circuit technology. The product helps accurately evaluate and adjust HDR* displays, including organic light emitting diode (OLED) displays, which require measurement of super-low luminance.
*HDR: Abbreviation for "high dynamic range." This technology can display a wider range of luminance than before, allowing HDR displays to produce bright and dark areas more naturally.