China 2
Chinese Top-Level PUMC Hospital Producing Excellent Human Resources for the World
Recently in China, digitization of medical image equipment has rapidly become widespread. According to Beijing Intech (an agent for Konica Minolta), digitization has progressed in about 50% of hospitals in urban areas, and in a few years, all 3A-class hospitals in urban areas are expected to be digitized. Above all, Konica Minolta medical image equipment, including the Regius series, has been installed in many facilities. In particular, 3A-class facilities have consistently installed our equipment. For example, the Hebei People's Hospital, which is top-ranked in Hebei (about 1000 beds); the Second Hospital of Hebei Medical University (about 1600 beds); the Chinese People's Liberation Army 301 Hospital, which is the highest level of the Chinese People's Liberation Army General Hospital located in several hundreds of places across the nation; and the China-Japan Friendship Hospital and Beijing Hospital under the direct jurisdiction of the Ministry of Health, which are located in only two places all over China.

Our equipment was installed in the PUMC Hospital, which is the highest-ranking hospital for general treatment. The PUMC Hospital is affiliated with the Peking Union Medical College (hereinafter referred to as the PUMC), which was ranked first among Chinese medical schools. The predecessor of the PUMC is the Peking Union Medical School founded by the U.S. Rockefeller Foundation in 1917.
Together with the Chinese Academy of Medical Sciences (founded in 1956, hereinafter referred to as "CAMS"), which is a national-level general scientific research institute, the PUMC operates the management system unifying the academy of sciences and the college; the CAMS offers teachers and technical capabilities, and the PUMC cultivates high-level human resources. The PUMC has trained many medical scientists, scientists, and medical educators and is globally famous as the top medical school in China.
The PUMC Hospital is an affiliated hospital of the PUMC and is the nation's largest general hospital with a site area of more than 170,000 square meters, 1800 beds, about 30 operating rooms, and more than 3700 doctors and staff. Nearly 400 high-level and sub-high-level physicians also prove the high standards of the institution.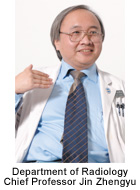 We were able to interview Chief Professor Jin Zhengyu in the Department of Radiology. "Our hospital has a long history of more than 80 years and has provided the latest U.S. medical care from the beginning. In recent years, we have delivered excellent human resources to not only China but also to the global medical industry. Some people associate China with Chinese herbal treatment, but starting with X-rays and endoscopes, up-to-date modalities, such as CR and MRI, are used for diagnosis. Most medicines prescribed after diagnosis are the same as those used in Japan. The Chinese medicine department (traditional Chinese medical science department) exists, though. Chinese medicine is a traditional Chinese medical science and is a highly valued field focusing on symptoms that cannot be cured with Western medicine alone. Patients suffering from fragile health or insomnia visit here to have an examination. I hear that more and more doctors are learning Chinese medicine in Japan, too."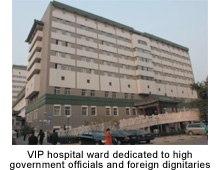 PUMC Hospital System Configuration Diagram
This historic hospital has not only VIP hospital wards (special procurement treatment department) dedicated to high government officials and foreign dignitaries but also international medical department, providing outpatient treatment and hospital admission consultation to foreign patients on a round-the-clock basis.
The Department of Radiology is controlled by Chief Professor Jin with ? radiologists and 35 engineers and accepts more than 500 outpatients a day.
Our products have been introduced since 2002. The main hospital and the west hospital annex have a combined total of one Regius 150 model, four 170 model units, two 350 model units, four Drypro 751 model and 752 units, respectively, and two 771 model units. They said that introducing these digital devices had dramatically improved examination efficiency.
"The strength of Konica Minolta products is, above all, the high quality and reliability. As the number of outpatients is increasing on a daily basis because patients are able to choose their favorite hospitals, the exposure is enormous. Therefore, trouble-free operation is a very important point. Device problems occur in rare cases, though, but response at that time is very quick. When I called at 11 o'clock in the morning the other day, they completed maintenance during the lunch break between 11:30 a.m. and 1:00 p.m. It took only 2 hours compared with the conventional three weeks other company models required, saving the waiting time of patients. The image quality is also very good. Thanks to high-definition images comparable to analog times, we think our quality of interpretation of radiogram has improved, too," so he said.
As the PUMC Hospital was constructed for an anticipated number of patients in the 1970s and 1980s, expansion is planned for 2008 so that the number of hospital beds will total 3600, twice the current amount. Professor Jin said, "To respond to increasing patients, I expect your company to continue to offer good products and flourish."

PUMC Hospital System Configuration Diagram