Japan 2
Smooth cooperation throughout the entire university leading to synergistic benefits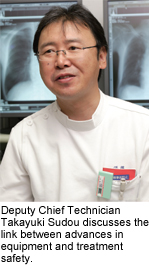 Otake also points to the smooth implementation of measures such as increasing the number of technicians in response to the growth of the Radiology Department. "The university is a large organization in which educational institutions run side by side with the hospital, so it can be difficult to maintain openness through the entire enterprise. However, I think it could be said that the Gunma University organizations respect each other's views and are cooperating extremely well. "When radiology-related treatment equipment is to be installed, it is a matter of course for the administrative staff to proceed by first seeking the views of the on-site technicians and then taking those views into account when selecting the equipment models. I think that this attitude of respecting professionals pervades the entire university "This has a major impact on workplace motivation and boosts workers' sense of responsibility, helping to create a more satisfying working environment. This virtuous circle is a major strength for Gunma University today." When the university decided to install a wireless DR system, they undertook a range of comparison studies before finally deciding on the Konica Minolta AeroDR "This isn't restricted to our current comparative analysis of the system to be installed, but as far as we technicians are concerned, it's not enough to be simply told that this particular piece of equipment is the only one that will do the job. Increasingly, our idea is that adding a particular function to a device will make it easier to use. But almost all of the vendors see that approach as risky and aren't willing to help us. "But the people at Konica Minolta seem to understand exactly what we want. Because we had worked together previously when a PACS system was installed, where they listened carefully to what we wanted and built it for us, we were confident that they would be equally helpful with the installation of this AeroDR system. "In the current economic climate, the usual sales method is to keep costs down by first providing a unit in a range of configurations and then getting the user to choose a product from that limited range of options. But even if it's only a small part of the whole pie, I think that giving customers the option of improving that part, and being willing to make the improvements, is extremely important in securing customers."
Durability as the main requirement of a system in demanding workplaces
The Radiology Department currently employs around 50 technicians, and Deputy Chief Technician Takayuki Sudou is normally at the center of things in the department. He discusses the installation of the AeroDR system:" "Each month, the Radiology Department is visited by 13,200 patients seeking examinations or treatment (based on data for 2009). In an environment like this where patients are constantly coming and going, we really can't be too precious about how we handle the equipment. And the fact that we often have to put the plates underneath patients for the scans means that the equipment absolutely must be able to withstand the weight. "So our first criterion for selecting equipment at this hospital is the ability to withstand some hard usage. Naturally, we also want something that will make our tasks in the workplace even a little less complicated and thereby increase our efficiency, so another requirement is that the equipment be simple and straightforward to operate and easy to understand. "FPDs are an obvious option in terms of image quality and the speed of image display. And the AeroDR system was selected for its capacity to withstand a rigorous working environment as well as its ease of use. "When we actually tried it out, it was even better than we had imagined," recalls Sudou. "Because it does away with the sort of scanning tasks needed with CR systems, it was a pretty dramatic change coming from the sort of work procedures we had been using. And there's no need to insert equipment under patients and then take it out again, as there was with CR cassettes. AeroDR was really revolutionary for us simply because it did away with the need to redo the positioning from the beginning every time we pulled out a cassette. "Sudou was also amazed at how portable and light the system is, weighing just 2.9 kg, including the battery. "The AeroDR is light enough that it's not a burden for our female technicians. The fact that we only have to move one plate makes a really enormous difference when you compare it to a CR system where you have to transport 20 cassettes. Female technicians currently make up around 20% of our staff in the Radiology Department, which sets a lot of the patients more at ease compared with when we only had male technicians. In the future, we expect the number of female technicians to keep growing, so it will be increasingly essential for our equipment to be lightweight."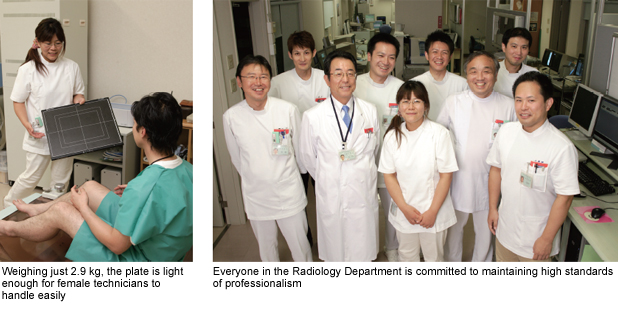 With AeroDR, all the scanning runs really smoothly-Yuko Seki, Technician-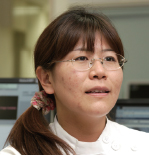 We use AeroDR primarily for scans of hands, feet, legs and chests. Compared with a CR system, AeroDR is far more convenient. Firstly, we can check the images without having to remove the panel. This is a really big advantage. Also, in the past when we scanned using split plates, as for a front-on scan of the patient's knee, we had to get the patient to lift his or her leg to move the split plates. But with AeroDR we can use positioning to scan without moving the patient. And it's light so moving the plate is easy, which makes the AeroDR better for both the technician and the patient.
High image quality at low exposures is already the norm. Safety and cutting-edge medical technology are not incompatible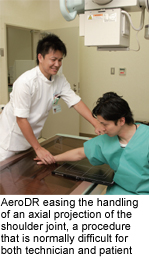 One of the key features of AeroDR is its ability to provide high-quality images at very low radiation dosages. As Deputy Chief Technician Takayuki Sudou remarks: "From the point of view of safety, we want to obtain the highest possible image quality for the lowest possible dosage. Clearly, one obvious path for technological innovation is to maintain high image quality while lowering the level of radiation to which the patient is exposed. This is surely the future trend for radiology equipment "In the area of treatment safety, the Radiology Department devised its own Incident Report system, with monthly reports submitted by each modality. Sudou explains further: "Technological progress is something we must all welcome. Equipment is being developed that is safe and that reduces the burden on both patients and technicians, which helps to prevent accidents during treatment. "There are some people who claim that developing more convenient CR systems and systems like AeroDR lowers the capability of technicians, but I disagree. Even if it is easier to operate equipment and obtain high-quality images, unless we fully grasp the principles and mechanisms of the equipment and the characteristics of the images, we won't be able to respond when the need arises or set up our own master images. However advanced today's machines become, the task we ourselves face is to learn and acquire these skills ."Sudou goes on to describe how he is in the middle of collecting data for a comparative study of radiography using CR equipment and AeroDR, which he intends to present in a paper at a conference." For example , when we comp are radiography times, there is no difference between CR and AeroDR when you're only performing one scan. However, where the one patient requires, say, ten or more scans, the difference becomes more marked with each scan. "I'm also making progress with data comparing radiation doses and image quality."
Using the AeroDR for difficult scans -Makoto Miyazawa, Technician-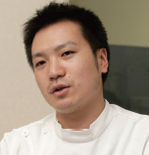 In situations where I need to perform scans while carefully checking the image, the AeroDR is a huge help. It's much better for us because we don't have to keep the patient waiting. And even when I keep scanning over and over without returning the scanner to the cradle, the battery doesn't run out. One time, the Deputy Chief Technician tried it out and was able to use it for half a day without recharging. And in terms of image quality, I think it takes really clear scans of shoulders. If they could make a smaller version of the AeroDR in the future, I'd be really happy!
The need for medical equipment experienced during planned power outages after the earthquake
Gunma University, along with Yamanashi University, was among a small number of national state-run universities targeted for planned power outages following the Tohoku earthquake. Deputy Chief Technician Takayuki Sudou explains:" In preparation for the planned outages, we formed project teams within the hospital and ran simulations. "While carrying out actual medical treatment, we set the time for the power outages and turned off the power to all our equipment, switching over to our own power supply. We then checked how much power was being used by each of the 50 or more pieces of equipment. Because machines temporarily use a higher voltage the moment they are turned on, we switched them on in a staggered pattern. "By collecting this data, we were able to decide how many of each machine we could operate during a power outage. "On the days on which planned power outages occurred, they also took steps such as beginning examinations earlier than usual, and the Radiology Department was able to achieve an operation rate of 93% of its normal level. "The hospital as a whole handles around2,000 outpatients every day, and I was told that no restrictions at all were placed on outpatient acceptances on the days when planned power outages occurred. I've no doubt that running the hospital-wide simulations and preparing all our employees for the event was what enabled us to achieve such a good outcome." Sudou added that he also became aware of the existence of batteries, not only for earthquakes but for any sort of power outage. "I think anyone who has worked as a technician for a long time has had the experience of suddenly losing power and not being able to save your data. Of course, there are measures such as duplicating servers, and as long as the batteries in each piece of equipment can keep it running for around 10 minutes, the data can be saved. If batteries like those in the AeroDR were fitted in every machine, we would feel a lot more confident about dealing with crises." Tasked with the mission of taking on advanced treatment methods, Gunma University Hospital is taking the steps necessary to provide both advanced treatment and patient safety while rising to the challenge of coping with new problems on a daily basis.