ImagePilot
ImagePilot includes: CR/DR Console + Clinical Review + Image Storage.
This all-in-one CR/DR system simplifies digital radiography by combining these
functions into one consistent, user-friendly interface.
*Available in Certain Country

Simple to operate, Just 3 steps!
With ImagePilot, image acquisition is simplified. There is no need indicate what type of exposure is being taken. And you don't have to struggle with exposure settings. The automated image processing produces an optimized image - every time - regardless of body part or exposure technique.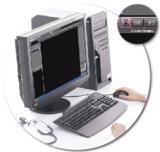 1. Preparation for imaging
To acquire an image, simply click on the "CR" button. No need to specify body part or exam type.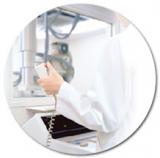 2. Performing Examination
Perform your X-ray exam with your normal exposure techniques.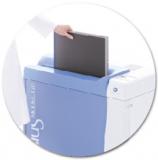 3. Inserting Cassette
Insert the exposed cassette into the Regius 110 CR reader. Repeat steps 2 and 3 for additional views.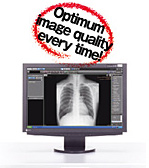 Optimum image quality every time!
The fully automated image processing (Integral Processing) produces consistent, optimized images.
Revolutionary CR with Integral-processing:
Integral Processing was created abundant CR installation experience of KONIKA MINOLTA. It is robust algorithm and offers an optimum diagnostic image. This patented technique eliminates the need for the user to define and select specialized parameters for each body part and orientation.
ImagePilot Mobile Client Solution
By carrying the tablet, you can check the image in the examination room or ward. Patients of treatment described by using the reference image, or conference between doctors can be easily and improve service quaiity.