REGIUS MODEL 190
Succeeding the "Ultimate Resource Sharing System" concept introduced in REGIUS MODEL 170, the new REGIUS MODEL 190 features a new 43.75μm read function for mammography, the finest in the world.
The REGIUS Console has also been enhanced with new functions to provide more powerful tools.
Introducing the New REGIUS, even easier to use,even more refined.
A new Compact, high-performance design.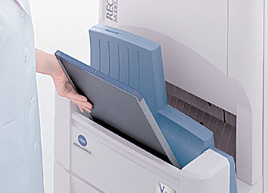 Utilizing a unique dual bay design,the high speed reader of REGIUS Model 190 processes up to 90 plates per hour for maximum performance. This next generation reader radically improves workflow all within a mere 58×58 cm footprint.
Centralized image checking for flexible layout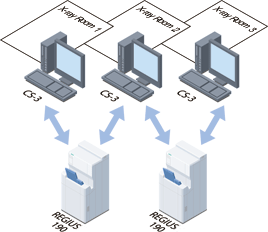 The "Ultimate Resource Sharing" concept provides the flexibility to separate the location of the consoles and the readers. This allows for the same fast and through image checking as with conventional systems. The result:system layout and productivity are optimized according to the number of examinations conduded, the work line and floor space.
2ch slot with independent insert / eject simplifies operation.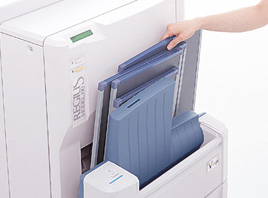 ln this uniquely innovative design, the entire cassette is loaded into the front slot and ejected out of the rear slot. This helps make the examination handling process exceptionally smooth and efficient.
43.75μm Read Function (option)
ln addition to the 175 and 87.5μm read capability, REGIUS MODEL 190 is capable of supporting a new 43.75μm read function for mammography (outside US). This function is invaluable for producing diagnostic quality for mammography images, where recognition of subtle pathological changes is essential.
Featuring a new cassette size to provide the ideal examination environment.
ln addition to the world's first 11"×14" size featured in REGIUS MODEL170, the new line-up available on REGIUS MODEL 190 includes the 15×30cm size to provide even greater examination efficiency.