Digital Radiography
KonicaMinolta has launched AeroDR 3rd generation detector "AeroDR 3 1417HD"which has top level of product values to offer comfortable workflow to customers by updated detector design, light weight and enhanced durability. Also AeroDR 3 1417HD provide high image quality by by small pixel size 100μm and high DQE value as 56%@1lp/mm.
A KonicaMinolta launched New Standard Panel the "AeroDR 2 1417S"(14×17-inch) by redesigning the current standard model(AeroDR 1417S) and ading the AeroSync function for added convenience.
It is top model of AeroDR series. AeroDR PREMIUM(AeroDR SYSTEM 2) was designed with input from customers worldwide to meet their most important needs.
Most versatile model digitalize varaety of operation scienes.
Konica Minolta has 2 models.
1417HQ is high quality model and 1417S is standard model
Light weight and copact design.
It is ideal for orthopedic use and NICU environment.
Main features are wide image field, light weight and wireless design.
It is useful to take X-ray for large body part.
Proposal operation is not only setting the panel inside wall stand or table also other positioning on the table such as thinghbone.
Konica Minolta portable upgrade kit efficiently turns analogue portable X-ray into DR system.
Simple operation and all in one solution is main features.
DR console, viewing WS and image storing are integrated.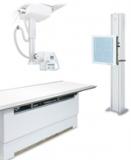 Konica Minolta integrated DR system.
X70 provide flexible, high quality X-ray imaging solution.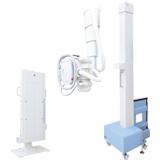 Konica Minolta unique auto-stitching system with AeroDR panel.
Our uniques technology allows you to save study time comparing to analoge operation.