AeroDR 17x17 inch flat panel detector
Konica Minolta introduces the newest member of the AeroDR family,
a wireless cassette 17x17 inch flat panel detector (FPD),
that delivers wide view range.
・World's Lightest Weight (including battery) 14"x17": 2.9kg / 17"x17": 3.6kg
・Energy Conservation Design:16hr Stand-by time

World's Lightest 17" x 17" Wireless FPD
The most lightweight (3.6Kg) 17"x17" panel, despite being cassette size and wireless.
The 17"x17" FPD Provides Increased Image Area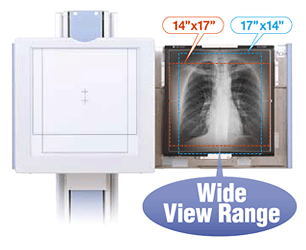 There is no need to rotate the panel from portrait to landscape and vice versa in the bucky tray depending on a patient's size when performing chest or abdominal x-ray procedures. The larger image area allows more anatomy to be imaged, thereby reducing positioning errors.
Shared FPD Solution
Like the 14" x 17", the 17" x 17" panel is cassette sized and fits into the existing bucky tray or cassette holder. The panel can be carried around and shared among X-ray rooms. Moreover the 17" x 17" panel is a wireless cassette FPD, which enables wall stand, table and free cassette-based exams to be performed with one panel in the x-ray room.
Trickle charge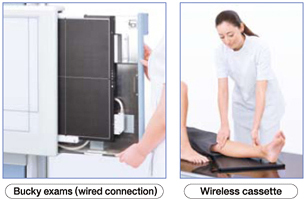 The AeroDR 17"x17" flat panel detector will fit any existing wall stand or table bucky tray. Due to it's unique Li-ion capacitor battery, the AeroDR is the only wireless cassette flat panel detector that provides a worry free trickle charge option via a wired connection allowing the FPD to stay fully charged and ready for wireless use at any moment.