AeroDR X70
Multifunctional console CS-7 with intuitive user interface
Our CS-7 work station doesn' t just control the AeroDR system. It also controls the generator, the collimator and even all current Konica Minolta CR readers. There is no need to use the X-ray console to adjust exposure conditions. When the sub console is installed in the X-ray room, the acquired image can immediately be confirmed.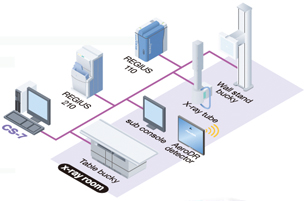 Panel auto tracking function
You can check the remaining battery level, radio field intensity and panel location through the panel auto tracing function at a glance on the CS-7 screen in real time.

Exam auto focus function
When the order of exposures is changed for wall-stand, table, and cassette radiographies, the radiographic focus is automatically changed according to the movement of the panel.