Acies Mammo Viewer License
Fast display and smooth operation
Accurate interpretation of high-resolution mammography images with large information size. Acies Mammo Option allows quick and smooth handling of high-resolution images, from 43.75-μm high-resolution contact mammography system images (approx. 40MB) to PCM system ultra-high resolution images (approx. 130MB), by extensive revision and fine-tuning of both hardware and software. Fast display within 4 seconds for 4 Contact mammography images or 8 seconds for 4 PCM images.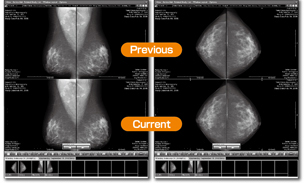 Eight image Display for Previous/Current Comparison
High-resolution 5M image display
Compatible with 5M monochrome monitor to achieve high-resolution display of mammography images with large information size and improved visibility for interpretation. Images are displayed at ultra high-resolution.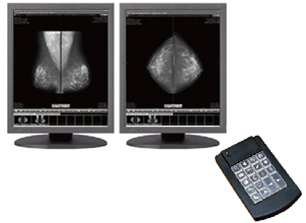 Full range of functions to allow maximum viewability
A wide variety of display methods are required to achieve divers image interpretation objectives for examining minute lesions in mammography. Acies Mammo Option supports hanging protocols that allow free manipulation of the display method to suit your particular needs and situation.
Other functions to provide maximum viewability include "Eight Image Display for Previous-Current Comparison ","Black/White Reverse Display with Background Blackening", and "Image Thumbnailing".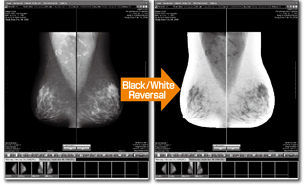 Normal display and Reverse display with background blackening(right)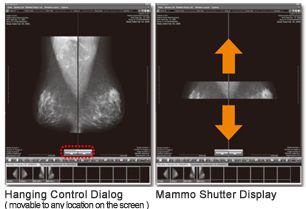 Versatile system configuration
Flexible server/Viewer configuration allows you to build an ideal system configuration and interpretation workflow operation to meet your needs. For seamless and comprehensive workflow of multimodality image interpretations, up to 10 channels of DICOM images from carious modalities can be connected to concomitantly acquire images from mammo-related ultrasound and MRI. Up to 20 client PCs can be connected, allowing multiple users to access from different examination rooms.
*standard simultaneous connection of client PC is 5 channels (including main server), expandable up to 8 channels. (Options)