CP1M200
The new Regius casette plate CP1M200 is the world's first phosphor needle plate
system created especially for mammography.
It offers three main improvements over less
advanced technology:
substantially improved image quality
much greater visibility of breast lesions
superior DQE

Improvement of sharpness and granularity
Applying the needle crystallized structure technology improves sharpness and granularity dramatically.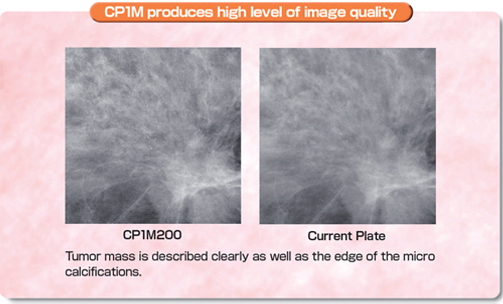 The CP1M200 is a newly designed detector delivering the highest image quality for mammography.
<Features>
Exceptional sharpness and granularity
Clear recognition of anatomical edges such as tumor mass boundaries
Clear visibility of micro calcifications
Durable detector technology provides long lifetime of use
Crystallization technology(CsBr+Needle Crystallization Technology)
Improved image sharpness due to specialized phosphor structure producing a" light guide effect".
New detector technology offers excellent X-ray absorption across full range of mammography energies.
High ef ficiency phosphor improves image quality while minimizing exposure dose to patient.