Konica Minolta Establishes Measuring Instrument Sales Company in Korea
-- Building a closer relationship with customers and expanding marketing activities centered on the display industry --
Tokyo (April 9, 2015) - Konica Minolta, Inc. (Konica Minolta) is pleased to announce the establishment of a wholly owned sales company for measuring instruments in Korea.
Background and Purpose of Establishing Sales Company
Konica Minolta is a leading manufacturer of instruments for the measurement and quantification of light and color, and its instruments are sold and used in a wide range of industries throughout the world. For the measurement of light sources and displays, Konica Minolta offers instruments ranging from simple luminance meters to spectroradiometers, and its Display Color Analyzers have become a de facto industry standard for white balance measurement and adjustment on display production lines. For the measurement of object color, Konica Minolta offers a variety of tristimulus colorimeters and spectrophotometers for measuring reflected and transmitted color, and these instruments are widely used for color quality control in the manufacture of a broad assortment of products ranging from home appliances housings and automobile interiors and exteriors to pharmaceuticals, foods, and drinks.
Sales of Konica Minolta instruments in Korea have until now been entrusted to a network of local distributors and sales have been expanding. With a number of globally famous display and home-appliance manufacturers in Korea, Konica Minolta recognized the importance of building a closer relationship with such customers and becoming more involved in local marketing activities, and for this purpose the new sales company Konica Minolta Sensing Korea Co., Ltd. (SKR) was established.
SKR started full operation on April 1, 2015 to provide customers in Korea with direct sales and after-sales service of measuring instruments. It is expected that the establishment of SKR will increase customer satisfaction through providing worldwide unified support to Korean customers who are expanding globally, and that the closer relationship with customers will also strengthen Konica Minolta's business development capabilities through promoting development of new sales channels and business areas.
Overview of New Company
| | |
| --- | --- |
| Company name | Konica Minolta Sensing Korea Co., Ltd. |
| President | JerngJung Yoon |
| Address | 1005, KINTEX Exhibition Center II Office Building, 407, Hallyu world-ro, IIsanseo-gu, Goyang-si, Gyeonggi-do, Korea |
| Date established | December 11, 2014 |
| Capitalization | 500 million Korean won |
| Owner | Konica Minolta, Inc. |
| Ownership ratio | 100% |
| Business categories | Import, sales, and after-sales service of equipment such as measuring instruments and metering equipment for industrial use and accessories, parts, etc. related to such equipment |
Display Color Analyzer CA-310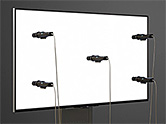 For the inspection, adjustment, and quality control of the color of active-matrix EL displays, LED-backlit LCD TVs, smartphone displays, etc. on production lines. The CA-310 enables high-speed, high-accuracy measurement of white balance, gamma, contrast, and flicker.
Spectroradiometer CS-2000A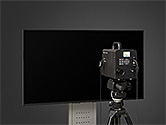 For high-precision measurement of the luminance and chromaticity of various kinds of displays including 4K and 8K HD TVs, digital signage, cinema projectors, etc. The CS-2000A can measure ultra-low luminance levels down to 0.0005 cd/m2, and contrast levels of 1,000,000:1.
2D Color Analyzer CA-2500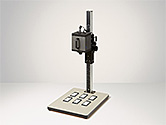 For high-resolution two-dimensional measurement of the distribution and mura (nonuniformity) of the luminance and chromaticity of LED backlights, smartphone displays, tablet PCs, and other kinds of displays. In addition, the optional Mura Evaluation Software CA-Mura enables the degree of display mura to be quantitatively defined in a way that closely correlates with visual evaluation.
Spectrophotometer CM-700d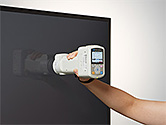 For color quality control of various objects including the housings and other parts of home appliances and IT equipment. The portable, handheld CM-700d can also be used to measure the reflectance of the AR (anti-reflective) coating or TAC films of displays, and wavelength-specific control can be performed to reduce the unevenness of AR coatings.
Spectrophotometer CM-5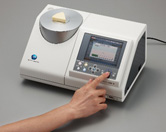 For the color control of products in a wide range of industries including foods, chemicals, pharmaceuticals, cosmetics, etc. As a top-port benchtop spectrophotometer with a built-in display and control panel, the CM-5 is designed to enable anyone to perform measurements easily without mistakes.