Konica Minolta Awarded "Gold" Status by Gomez Research
for IR Site Ranking 2015 for the Third Consecutive Year
Selected from 3,594 surveyed companies, and from 361 finalist companies
Tokyo (July 13, 2015) – Konica Minolta, Inc. (Konica Minolta) is pleased to announce that its website for shareholder and investor (IR website) has been awarded Gold Status for the "Gomez IR Site Ranking 2015" from Morningstar Japan K.K. (Morningstar). Konica Minolta wins the prize (second prize in the whole ranking) for the third consecutive year, out of 361 finalist companies, from a pool of 3,594 companies.
Konica Minolta's IR website was highly praised in the following perspectives:
- Constructive information disclosure policy in the form of detailed financial analysis data including charts and graphs;
- Website's menu arrangements that allow easily access from IR front page to needed information for stockholders and investors; and
- All kinds of efforts in enhancing the contents and management information available to individual investors.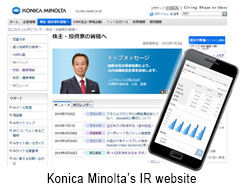 As previously mentioned, the 9th annual "Gomez IR Site Ranking 2015" is done by Morningstar, who offers information to general investors and consumers in a neutral and unbiased manner. The evaluation for this award is based on information, ease of use, and information enhancement on the IR website of publicity listed companies in Japan.
Not only does Morningstar evaluate company's IR website, but also PR material and CSR activities that convey company's corporate culture, and mission to investors. Morningstar's evaluation consists of four categories; "Websites' ease of use", "Enhancement of financial information", "Enhancement of corporate and management information" and "Positive corporate attitude and progressiveness of information disclosure". For this ranking, Morningstar analyzed and evaluated each category, calculated the scores, then made ranked data using total scores. Konica Minolta's IR website received the top score in two of these four categories, "Enhancement of corporate and management information" and "Positive corporate attitude and progressiveness corporate information disclosure".
Konica Minolta has been actively improving its IR website, so that stockholders and investors can access easily comprehensible information in a timelier manner. Konica Minolta has used its knowledge of technology and web solutions to achieve its goals that information of the website is available in appropriate amounts, is good quality, and is easily comprehensible.
The website is also designed for optimized usage on mobile devices.
Konica Minolta recognizes this award as a great achievement, and is very proud that the IR website meets such high standards for the stockholder and investors, to the level where it was recognized through an objective analysis and evaluation by third party organisation, Morningstar.
Under the brand proposition "Giving Shape to Ideas," Konica Minolta will continue to make quality information and web contents available to stockholders to promote a greater understanding of Konica Minolta. In order to achieve that, Konica Minolta will continue to enhance the whole website including IR information, and through this, build the corporate value.