Konica Minolta Launches FD-9, World's Fastest*1 Auto-Scanning Spectrophotometer for Improved Color Quality Printouts
Tokyo (September 7, 2015) - Konica Minolta, Inc. (Konica Minolta) today announced that it will launch the FD-9, an auto-scanning spectrophotometer on September 30, 2015. Prior to its launch onto the market, Konica Minolta will unveil this new model at IGAS 2015, one of the world's four largest shows for printing machinery and materials held at Tokyo Big Sight from September 11, 2015; and at Graph Expo 2015, North America's largest print-centric tradeshow being held in Chicago from September 13, 2015.
The FD-9 is a spectrophotometer capable of color management using a unified standard across multiple divisions and printers, thus helping users maintain high quality for a wide range of printed materials at all times.
Major features
1. Auto scanning enables consistently precise measurements
Building on the color evaluation capabilities of the FD-7 and the FD-5 – Konica Minolta's handheld spectrodensitometers that have enjoyed success in the market – the FD-9 is capable of automatic measurement of color charts used for color calibration of printers. The FD-9 can acquire color measurement data under the ISO measurement illumination conditions M0, M1 and M2 in a single scan, thus enabling faster and more accurate color measurement than if done manually*2.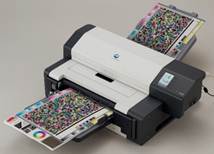 FD-9 and optional Auto Sheet Feeder
2. Existing color charts can be used
Unlike conventional auto-scanning chart readers that require color charts made specifically for the instrument, the FD-9 allows even first-time customers to obtain good results using existing color charts, thanks to Konica Minolta's proprietary image processing technology which automatically recognizes the positions of patches to measure on the printout.

Color chart examples
3. Unified color management across multiple sites
By introducing the FD-9 to each printer at multiple divisions or business partners, color management with a unified standard is made possible. In addition, Konica Minolta is ready to quickly provide after-sales support and maintenance services from its five key business centers (Japan, North America, Europe, China, and Asia Pacific), thus helping customers minimize downtime, reduce operating costs and improve work efficiency.
As a leading company in the digital printing system market operating globally with a strong presence, Konica Minolta offers total solutions to customers in the commercial printing industry with its high-quality and high-productivity bizhub PRESS series and other high-performance equipment. This new instrument, the FD-9, will contribute to enhancing the efficiency of workflows and ensure consistency in the quality of printouts, especially the stability of color reproduction.
Living up to the brand proposition "Giving Shape to Ideas," Konica Minolta remains committed to enhancing its group-wide corporate value by offering high value-added products and solutions to help customers better handle the increasingly important task of controlling the quality of printouts.
*1:Among auto-scanning colorimeters using the spot measurement method as of September 7, 2015
*2:Only four minutes are required to scan an A3-sized chart with 47 columns and 32 rows of 6 x 6 mm patches.