Giving Shape to Ideas at Eco-Products 2015 in Tokyo
Konica Minolta Booth to Include "Environmental Management Consultation Zone": Helping corporations facing challenges in environmental management
Tokyo (December 3, 2015) ? Konica Minolta, Inc. (Konica Minolta) will be exhibiting at Eco-Products 2015 (December 10-12, 2015), one of the largest environmental exhibitions in Japan, held at Tokyo Big Sight (Tokyo International Exhibition Center): Booth No. 4-001, East 4 Hall.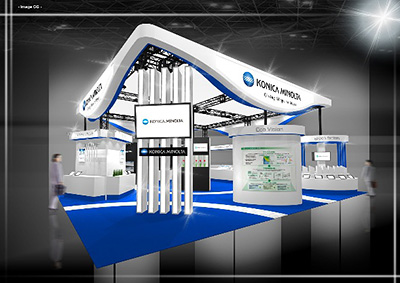 Konica Minolta at Eco-Products 2015 (Subject to change without notice)
Konica Minolta will showcase the basis and direction of its environmental management that aims to achieve both resolution of environmental challenges in society and growth of corporate value. The company will also show its unique activities across the board in protecting the earth.
Beyond what it can do by itself, Konica Minolta has started an initiative to share with its customers and suppliers the environmental know-how and technologies it has cultivated for decades. Through such collaboration with the stakeholders, the company has been trying to contribute to a sustainable future on a larger scale.
At Eco-Products 2015, Konica Minolta's booth will have an area for discussion and consultation about various themes of challenges faced by the management and operational leaders of corporations on daily basis. Diorama and AR (augmented reality) used in the exhibits will be visually stimulating in showing examples of Konica Minolta's environmental activities.
Overview of Konica Minolta Booth
Environmental Management Zone
Long-term vision looking forward to the year 2050 and medium-term plan

Eco Vision 2050: long-term environmental vision
Medium-Term Environmental Plan 2016: coupling resolution of environmental challenges and corporate growth
Provision of Konica Minolta's environmental know-how and technologies to customers and business partners

Environmental Management Consultation Zone
Examples at Konica Minolta to drive environmental impact reduction, cost-savings and productivity improvement at the same time

Implementation of actions in factories and offices: Diorama and AR are used for the show visitors' visually stimulating experience
Konica Minolta specialists to discuss or consult environmental management challenges, such as elimination of operational waste, efficiency increase through changes in office environment and work style transformation.

Green Products Zone
Examples of unique environmental technologies that enable Green Products*

Upgraded recycling: used plastic bottles are recycled into highly functional products
OLED lighting (Organic Light Emitting Diode lighting)
Industrial equipment and devices that contribute to saving energy and resources in a broad range of sectors and industries
*In operation since fiscal 2011, Konica Minolta's Green Products Certification System is an original process for evaluating and certifying products with superior environmental performance as Green Products. In fiscal 2015, ending in March 2016, the target sales of Green Products is 590 billion yen (54% of the Group's total sales).