Konica Minolta to Introduce 2-in-1 Imaging Colorimeter LumiCol 1900
Combining the color measurement technology of Konica Minolta with the two-dimensional measurement technology of Instrument Systems
Tokyo (April 6, 2016) - Konica Minolta, Inc. (Konica Minolta) has announced that the imaging colorimeter LumiCol 1900 for high-speed, high-accuracy measurement of the luminance and color of displays will be introduced in May 2016.
The LumiCol 1900 combines the color-measurement technology used in Konica Minolta's spot-type Display Color Analyzer CA-310 with the two-dimensional camera calibration technology of Instrument Systems in a new product line, the LumiCol series.
Imaging colorimeter LumiCol 1900 lineup
| Model | Features |
| --- | --- |
| LumiCol 1900-U | For various kinds of color adjustments and inspections (white balance, gamma, contrast) on all kinds of displays. |
| LumiCol 1900-F | For spot flicker measurements as well as various kinds of color adjustment and inspection measurements (white balance, gamma, contrast) on active-matrix LCD panels, LCD TVs, etc. |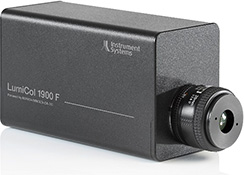 Imaging colorimeter LumiCol 1900
Prior to their introduction, these products will be exhibited at FineTech Japan, an international exhibition of the latest technologies related to electronic displays (LCDs, touch panels, etc.) from all over the world, which will be held at Tokyo Big Sight from April 6 to 8, 2016.
By integrating the spot display color measurement technology used in the Konica Minolta Display Color Analyzer CA-310, which was introduced in 2010 and has since achieved a top position as a measuring instrument for high-speed, high-accuracy measurement and inspection of white balance and luminance/chromaticity mura of large-sized displays used for TVs and monitors, with the technology of Instrument Systems which specializes in the development of research-oriented high-end products such as the LumiCam series into a single instrument, the LumiCol 1900 can perform high-precision two-dimensional measurement of display luminance and chromaticity at high speed (as short as 0.5s/measurement) to contribute to the automation of inline display inspection.
The acquisition of Instrument Systems in 2012 and the addition of its products and solutions in the light-source color measurement field has not only further reinforced the foundations of Konica Minolta's Sensing Business Unit but will also foster development of even more advanced technology for the construction of inline inspection systems for future growth.
The LumiCol series being introduced this time enhances the synergy between the strength of Instrument Systems in using high-precision technology to design products that reliably meet strict customer demands and the skill and experience of Konica Minolta in developing original color-measurement technology, and helps to promote their entry into the manufacturing inspection field which is expected to grow rapidly in the future.