Two Konica Minolta Products Win EDP Awards 2016
- In Recognition of Cutting-Edge Technology That Expands the Scope of Digital Printing –
Tokyo, Japan (June 2, 2016) - Konica Minolta is pleased to announce that the company has been awarded two EDP Awards 2016 by the European Digital Press Association (EDP) for its digital inkjet press, the AccurioJet KM-1, and its digital printing system, the bizhub PRESS C71hc.

The EDP is an organization consisting of publishers of European magazines that focus on printing. It annually reviews products and technologies in the field of digital printing and confers EDP Awards to the best product or technology of the year that has received the highest rating in each category. The award ceremony was conducted on June 1, 2016 at drupa 2016, the world's largest international trade fair for print and cross media solutions held in Dusseldorf, Germany.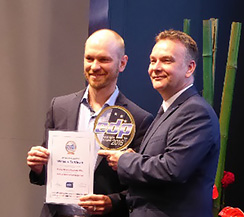 Award-Winning Products
Best cut sheet color B2 + printer of the year B2 Digital inkjet press, AccurioJet KM-1
With its capability of printing high-quality images, comparable to those of sheet-fed*1 offset printers, on a wide variety of paper media, this product provides the commercial printing market with long-awaited solutions.
*1Sheet-fed printing press uses individual sheets of paper pre-cut in the same size, while roll-fed printing press uses rolls of paper.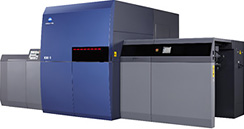 Best cut sheet color light production of the year Digital printing system, bizhub PRESS C71hc
Using High-Chroma toner of Konica Minolta's proprietary development, this product enables high-fidelity reproduction of colors almost comparable to images on a monitor and digital photo images – an achievement that is difficult to realize using conventional toners.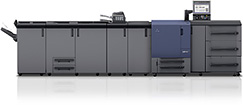 Against this backdrop, Konica Minolta aims to provide printing companies with optimal solutions to enable them to create a seamless and efficient workflow, improve productivity, ensure stable quality, and offer new value-added ideas to their clients to help them widen the scope of their marketing activities. In doing so, Konica Minolta hopes to help printing companies expand their business activities and increase their profits.