Konica Minolta Launches New Probes with Cutting Edge of Technologies – SONIMAGE HS1 / HS1 PRO and SNiBLE Diagnostic Ultrasound Systems Support a Wide Range of Applications and Patient Types
– Delivering Konica Minolta's Advanced Technologies to Ensure Excellent Image Quality and Efficient Workflow –
Tokyo (November 24, 2016) - Konica Minolta, Inc. (Konica Minolta) announced that it has added four new probes to its lineup for the new version of the SONIMAGE HS1 / HS1 PRO and SNiBLE*1 diagnostic ultrasound systems (SONIMAGE HS1 series) in Japan.
Konica Minolta has a large share of the domestic orthopedic market due to its SONIMAGE HS1 series, which are the core products in the company's ultrasound business, and have satisfied users' needs with their high-resolution imaging capabilities. With the launch of a new version of the series, Konica Minolta aims to offer high-resolution diagnostic imaging to a wider range of users and contribute to enhancing diagnostic precision.
In recent years, needs have been growing for point of care (POC) services, and the market is expected to grow. Konica Minolta is ready to expand its healthcare business by delivering new value to POC customers with its portable SONIMAGE HS1.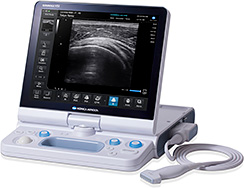 Revolutionary diagnostic ultrasound system with the ability to deliver high definition images in exceptional detail
Since its release in 2014, Konica Minolta's SONIMAGE HS1 series has delivered sharp and high-quality images with clear delineation of the fibrous structure of muscle and nerve bundles as small as dozens to hundreds of microns in diameter, with a resolution power*2 that is almost as good as that of high-end diagnostic ultrasound systems. The new version of the series can deliver even higher resolution with new ultra-broadband and high-sensitivity probing technologies*3 of the company's own development coupled with ultrasound transmitting / receiving technologies*3 that optimize the characteristics of the probe.
Making it possible to examine a wider area of the body from shallow to deep area with one probe
The purpose of the development of the new linear probe L11-3 for use with the SONIMAGE HS1 series is to make it possible to examine a wider area of the body from shallow to deep area with one probe. The probe enables users to obtain high-quality images of organs over a wider area of the body from shallow to deep area, and contributes to the enhancement of diagnostic precision and efficiency.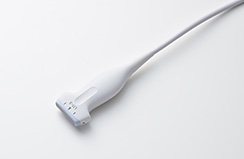 L11-3 linear probe
Access narrow, small area with greater ease
Konica Minolta has developed two types of probes using its unique technologies to enable users of the SONIMAGE HS1 series to obtain high quality images of area of the body which conventional probes have difficulty accessing. The HL18-4 linear probe supports checks of fingers, complex procedures and puncturing, while the MC10-3 convex probe helps users examine a deeper area of the body from a narrow gap, such as the area around the clavicle.
In addition, Konica Minolta has launched the EC9-3 endo-cavity probe for use in the areas of obstetrics, gynecology and urology.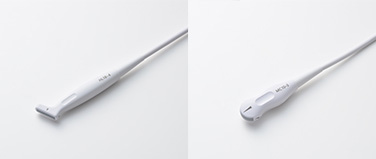 HL18-4 linear probe (left)
MC10-3 convex probe (right)
Ensuring high resolution even for enlarged images of area up to 1 cm below the skin surface
Konica Minolta's proprietary image processing technology makes it possible to maintain clarity in high resolution images, even when images of area up to 1 cm below the skin surface are enlarged, thus contributing to enhancing diagnostic precision.
Optimizing user interface
One of the concepts of the SONIMAGE HS1 that Konica Minolta emphasized when the product was released was "a user interface tailored to the workflow of users." Since the release of the product, Konica Minolta has continued to improve its functions to enhance diagnostic efficiency after gaining a clearer understanding of the needs of many users. When developing the new version, the company improved the software by incorporating changes in more than 50 items including operability, display design, and functions to allow for more intuitive operation.
Making communications with patients smoother
The new product enables doctors to give clearer explanations to patients by drawing lines on captured images. For example, doctors can discuss the condition of a patient more easily by circling the area of concern.
Enhancing diagnostic efficiency with the ability to customize according to individual styles of consultation
The new product allows for the buttons and touch panel design to be customized to the needs of specific medical specialties and individual doctors, thus simplifying its operation and enhancing diagnostic efficiency. By choosing full screen mode, a diagnostic image can be displayed at an optimal size.
Main specifications of the SONIMAGE HS1 diagnostic ultrasound system series
| | |
| --- | --- |
| Monitor | 15 inch IPS-type monitor |
| Power supply | AC 100 V, 50 / 60 Hz, max. 180 VA (main body only) |
| Size | W 369 mm × D 452 mm × H 90 mm (when the monitor is folded) |
| Battery run time | Approx. 60 min. |
*1:SNiBLE is the name of the SONIMAGE HS1 diagnostic ultrasound system for orthopedic use.
*2:Resolution power is the ability to detect objects.
*3:These are technologies used for the "Development of Ultra-Broadband High-Sensitivity Linear Probe and Improvement of Image Quality by Triad Tissue Harmonic Imaging" that won the 16th Technology Award of the Japan Society of Ultrasonics in Medicine
SONIMAGE is a trademark or registered trademark of Konica Minolta, Inc.
SONIMAGE HS1 diagnostic ultrasound system: Certification No. 226ABBZX00051000 (SONIMAGE HS1 PRO and SNiBLE are other names for the SONIMAGE HS1 diagnostic ultrasound system.)
L11-3 linear probe: Certification No. 228ABBZX00113000
HL18-4 linear probe: Certification No. 228ABBZX00111000
MC10-3 convex probe: Certification No. 228ABBZX00112000
EC9-3 intracavitary probe: Certification No. 228ABBZX00071000