Konica Minolta Launches Multilingual Communication Support Service for Medical Institutions in Japan
– ICT Helps Hospitals and Clinics Communicate with Foreign Patients –
Tokyo (December 7, 2016) - Konica Minolta, Inc.'s (Konica Minolta) Business Innovation Center (BIC) Japan started a multilingual communication support service, developed through open innovation, for medical institutions in Japan in November 2016.
Background
According to statistical data, more than 2.2 million foreign nationals live in Japan*1. Also, the number of foreign tourists visiting Japan currently exceeds 20 million a year*2. This number is projected to continue to grow as it is backed by a strategy of the Japanese government to increase the number of foreign tourists two-fold to reach 40 million in 2020 when the Tokyo Olympic and Paralympic Games are to be held.
As a consequence, Japanese medical institutions, which will be visited by an increasing number of foreign patients, are required to take measures to overcome communication problems due to language barriers so that they can better address the needs of foreign patients.
Value offered by Konica Minolta
Konica Minolta developed this service to contribute to the creation of a better society where all people, both Japanese and foreign, can receive medical treatment in Japan without having to worry about language barriers.
Typically, when a foreign patient visits a medical institution, a nurse or other staff member who can serve as an interpreter attends to the patient, but this is often time-consuming. Konica Minolta's ICT-based service ensures smooth communications with foreign patients and allows doctors, nurses and other medical staff to concentrate on their primary duties, thus enhancing the operational efficiency of medical institutions.
Features
This multilingual communication support service employs a portable, user-friendly tablet to help medical personnel communicate with foreign patients from their arrival at the medical institution to payment of bills.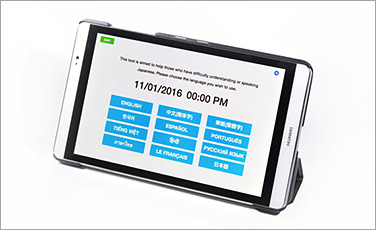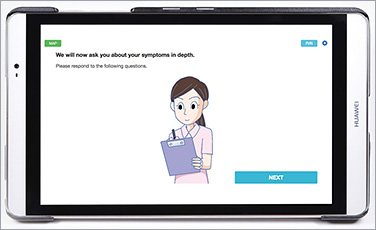 A tablet that supports 10 foreign languages enables easy communications with foreign patients from check-in to payment.
Foreign patients can communicate with medical staff using an easy-to-operate tablet that supports 10 languages through the entire process from check-in and medical interview to payment. This service allows medical interview sheets to be customized for each medical institution, enabling them to deal with foreign patients without changing their operational procedures. The service can be used also for accounting operations after medical treatment, such as issuance of receipts in English and payment by credit card.
Medical interpretation service offered online
Through the tablet, an interpretation service is offered by selecting an interpreter, mainly a medical professional, through a secure online connection, to interpret conversations between doctors and patients.
Languages supported by the service: English, Chinese, Korean, Vietnamese, Portuguese, Spanish, Hindi, Russian, Thai, French (as of November 2016)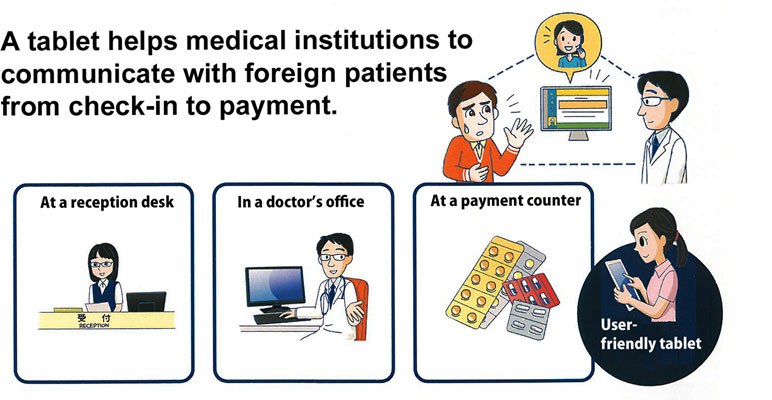 At a reception desk

Provides a multilingual medical interview sheet
Checks insurance coverage and payment methods
Checks if a medical certificate is necessary

In a doctor's office

Tells the patient when a doctor is ready to see them
Offers the interpretation services of a medical interpreter

At a payment counter

Gives directions to a dispensing pharmacy
Issues a receipt
Step-by-step overview
When a foreign patient checks in at a medical institution, they are given a tablet and asked to fill in a multilingual medical interview sheet.
The tablet lets the patient know when a doctor is ready to see them, and offers a medical interpretation service during a medical examination.
At the payment counter, the tablet can be used to explain the Japanese prescription system. The tablet also allows the patient to make payment by credit card.
Under the brand proposition "Giving Shape to Ideas," Konica Minolta aims to contribute to creating a better society and become a company vital to society by delivering new services and values to customers.
Notes
*1: Statistics from the Ministry of Justice on registered foreign residents in Japan in December 2015
*2: Data announced by the Japan Tourism Agency in October 2016