Konica Minolta Launches the AeroDR 3 1417HD,
a New Cassette-type High Resolution Digital X-ray System
- Light weight, high durability, lower dose compared CR, and with improved handling -
Tokyo (December 20, 2016) - Konica Minolta, Inc. (Konica Minolta) launched the AeroDR 3 1417HD*1, a cassette-type digital X-ray system, in December 2016.
An extremely high-definition wireless portable DR*2 system , the AeroDR 3 1417HD is the new flagship model of Konica Minolta's AeroDR series that is ideal for use in a wider range of environments, including a patient's bedside, ICUs, emergency departments and operating rooms as well as radiography rooms.
In recent years, governmental initiatives have been underway, especially in developed countries, to accelerate the digitization of medical processes for more effective sharing of medical information. Konica Minolta aims to offer new functional diagnosis*3 solutions to contribute to the digitization of diagnostic imaging in more medical areas, thereby enhancing diagnostic and therapeutic efficiency and reducing medical costs.
In Japan, primary care provided by family doctors and at home is taking on greater importance against the backdrop of increasing medical costs and an aging population. Konica Minolta believes that the AeroDR 3 1417HD, as a new diagnostic imaging system, will deliver high clinical value to the primary care area and help facilitate early detection of disease.
Value offered by the AeroDR 3 1417HD
1. Enhancing diagnostic accuracy with the ability to provide higher-resolution images
With the sensor panel's sampling pitch (pixel size) of 100 μm, the AeroDR 3 1417HD delivers outstanding resolution that is among the highest in the world. For example, it allows orthopedists to capture far clearer images of fine structures such as the bone of a finger even when enlarged, thus contributing to enhancing diagnostic accuracy.
Comparison of the sampling pitches
(Left: Conventional model, Right: AeroDR 3 1417HD)
2.Ensuring safe and reliable diagnosis
With its high efficiency in detecting X-ray photons and wider dynamic range, Konica Minolta's AeroDR series enables users to capture high-quality images at approximately half the dose compared to conventional film-based radiography and CR*4.
The AeroDR 3 1417HD has succeeded in reducing the dose by 62% in comparison to CR. This model is powered by a lithium-ion capacitor*5, which is safer than a lithium-ion rechargeable battery and has no risk of catching fire due to overcharging or through the impact of an accidental drop.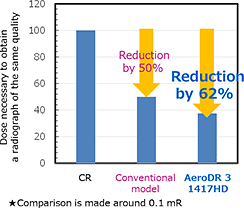 3. Pursuing easier handling and higher operational efficiency at any place
The AeroDR 3 1417HD has inherited the high operational efficiency of the AeroDR series, of which more than 10,000 units have been sold worldwide during the five years since its introduction.
When performing radiography at a patient's bedside, the radiographical technologist usually holds the patient with one hand and operates the machine with the other hand. This means the machine should be light enough for technologists to handle with ease. The AeroDR 3 1417HD weighs only 2.6 kg and is one of the lightest cassette-type DRs. The cassette is provided with a recess along the peripheral edge of the rear surface, which allows a radiographical technologist to hold the machine body securely with one hand by putting their fingers in the recess. This also can eliminate a risk of the machine falling accidentally, reduce the burden on the arm of the holder, and enhance the efficiency of radiographic images being taken.
The AeroDR 3 1417HD is also characterized by enhanced durability in terms of load resistance (point load: 180 kg, surface load: 400 kg), drop impact resistance, and its waterproof rating (IPX6), which makes this model suitable for heavy use in a wider range of settings, including operating rooms, emergency departments, and disaster-stricken areas, in addition to radiography rooms.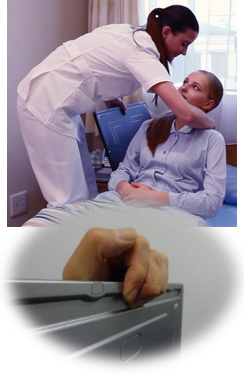 Main specifications of the AeroDR 3 1417HD cassette-type digital X-ray system
Type
Cassette-type wireless flat-panel detector
Scintillator
CsI (Cesium Iodide)
Dimensions
384(W) x 460(D) x 15 mm(H)
Weight
2.6kg
Pixel size
100/200μm
Load resistance
Point load: 180 kg @ 40 mmΦ
Surface load: 400 kg @ entire effective image area
Waterproof rating*6
IPX6
Battery type / life
Lithium-ion capacitor (built-in) / Above the AeroDR detector product life time
Konica Minolta will remain committed to developing the state-of-the-art technologies in the medical imaging field and deliver customer-centric and highly value-added products and solutions to enhance the corporate value of the entire Konica Minolta Group.
*1:The product name is 'AeroDR HD' in the Americas, 'AeroDR fine' in Japan.
*2:DR stands for 'digital radiography,' which receives X-ray radiation on the sensor panel and directly captures digital images. In general, DR can produce higher quality images than CR and boasts outstanding immediacy.
*3:Pathophysiological diagnosis, which diagnoses the disease by examining biological functions.
*4:CR stands for computed radiography, which produces an image on an imaging plate (IP) that replaces conventional X-ray film, and scans and digitalizes the image.
*5:Capacitor is a general term that refers to an electronic component with capacitance, or the ability to store and discharge an electric charge.
*6:The waterproof rating of IPX6 may not be maintained when the machine is subject to impact due to dropping. The waterproof rating of this model does not guarantee against breakage or failure.