Konica Minolta Awarded RobecoSAM Silver Class
- Leading the Sector in Environmental Dimension for its Initiatives on Climate Change Strategies -
Tokyo (February 9, 2017) - Konica Minolta, Inc. (Konica Minolta) has been awarded RobecoSAM Silver Class, a global distinction for corporate sustainability.

In this year's assessment, Konica Minolta received a high score in the Materiality category in the Economic Dimension, and earned the highest evaluation for three consecutive years in the Computers & Peripherals and Office Electronics sector for its environmental initiatives on climate change strategies, environmental policy and its management and information disclosure.
Focus of Konica Minolta's CSR Activities
Konica Minolta has identified six material issues of its CSR activities: environment; social innovation; customer satisfaction and product safety; responsible supply chain; human capital; and diversity.
In the Environment Dimension, which includes climate strategy, environmental policy, management system and information disclosure, Konica Minolta was given the highest evaluation by RobecoSAM. Konica Minolta is promoting three "green" activities worldwide – Green Products, Green Factories and Green Marketing – to achieve the goal of reducing CO2 emissions throughout a product's lifecycle by 80% by 2050 from fiscal 2005 levels under Eco Vision 2050 – a long-term environmental plan the company launched in 2009 ahead of many other companies.
Report on a CSR Initiative in 2016: ESG Briefing for Investors and Analysts
In evaluating the ability of companies to offer long-term and sustainable values, globally active institutional investors and SRI funds place greater importance on environmental, social and governance (ESG) efforts and policies, in addition to financial indexes.
Against this backdrop, Konica Minolta is striving for fair disclosure of information related to ESG investment to institutional investors as part of its IR efforts with an aim to earn greater trust from them.
In December 2016, Konica Minolta held an ESG briefing for investors and analysts in Japan. In the meeting, which was attended by 50 people, Konica Minolta gave a clear explanation of its environmental management and empowerment management policies, which was received favorably by the participants, as it helped them understand how Konica Minolta's management strategy is linked with ESG. Presentation of specific cases and numerical data was also useful in showing how the environmental management can create corporate values.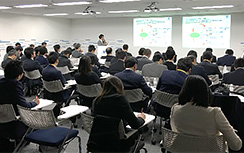 Under the brand proposition "Giving Shape to Ideas," Konica Minolta aims to become a sustainable global company vital to society and will contribute to solving social challenges by creating values to enhance the quality of society through its business activities.
RobecoSAM
RobecoSAM is the world's leading SRI research and rating company headquartered in Switzerland. RobecoSAM invites more than 3,400 of the largest companies around the world to participate in its Corporate Sustainability Assessment and analyzes the results in economic, environmental and social terms with a focus on long-term value creation.
In 2017, 264 companies (including 25 Japanese companies) were ranked in its Gold, Silver and Bronze Classes.
Reference: Evaluation of CSR by External Parties
Besides the CSR ranking of RobecoSAM, Konica Minolta has received high evaluation in various global SRI indexes and CSR rankings.
Dow Jones Sustainability Index (USA, Switzerland)
SRI index
Included in the World Index (DJSI World) each year since 2012 and in the Asia Pacific Index (DJSI Asia Pacific) each year since 2009
FTSE4Good (UK)
SRI index
Included in the FTSE4Good Index each year since 2003
MSCI Global SRI (USA)
SRI index
Included in the MSCI Global SRI Indexes each year since 2010
(No information is available as to whether or not the company was included in the indexes prior to 2010.)
Morningstar Socially Responsible Investment Index (Japan)
SRI index
Included in the Morningstar Socially Responsible Investment Index each year since 2003
RobecoSAM (Switzerland)
CSR rating
Awarded Silver Class (January 2017)
oekom research AG (Germany)
CSR rating
Maintained the highest Prime Status since 2011
Ethibel (Belgium)
CSR rating
Selected for the investment universe of Ethibel Pioneer and Ethibel Excellence (February 2016)
CDP (UK)
Environmental rating
Included on the Climate Change A List (October 2016)