Konica Minolta Receives Grand Prize for Environmental Report
(Minister of the Environment Award)
– Awarded the Grand Prize for Two Consecutive Years –
Tokyo (February 27, 2017) - Konica Minolta, Inc. (Konica Minolta) has been selected as a winner of the Grand Prize for Environmental Report (Minister of the Environment Award) in the 20th Environmental Communication Awards hosted jointly by the Ministry of the Environment and the Global Environmental Forum. This is the second consecutive year that Konica Minolta has won this prestigious prize, following the Grand Prize for Measures against Global Warming Report (Minister of the Environment Award) in the 19th Environmental Communication Awards.
This Grand Prize has been awarded for the Konica Minolta CSR Report 2016 and the Konica Minolta Environmental Report 2016 in recognition of their power to communicate, excellence of overall structure and abundance of information, and also the orderly arrangement of data that enables easy reference.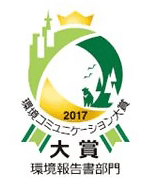 Environmental Communication Activities at Konica Minolta
Any organization, if acting alone, can make only a limited contribution to the resolution of global environmental issues. To make a more meaningful contribution, it is imperative to join efforts with external parties, such as business partners, customers and local communities. With this understanding, Konica Minolta has been working with external stakeholders to create new values and grow together under its Medium-Term Environmental Plan 2016.
Specifically, Konica Minolta has been proactively providing external stakeholders with information on its global environmental activities and achievements, thereby creating opportunities to work with them.
1.Disclosing Information through the CSR Report and the Environmental Report
Konica Minolta offers information on its main environmental activities in five languages; namely, Japanese, English, Chinese, German and French in the Konica Minolta CSR Report 2016, and discloses more detailed information on its official website, thereby disseminating information widely to its stakeholders in countries and regions closely associated with its business activities.
Separately from the CSR Report, Konica Minolta also published the Environmental Report 2016. This annual report is dedicated to environmental issues and consists of 93 pages in which a wealth of information on Konica Minolta's basic policy and activities the company undertook in fiscal 2015 is provided in a well-organized manner.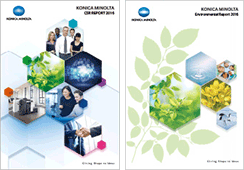 2.Working in Collaboration with Business Partners and Customers
To assist business partners and customers undertaking environmental activities, Konica Minolta shares with them the pool of know-how in environmental management that it has accumulated over the years for business development and cost reduction. Konica Minolta strives to involve more stakeholders in its environmental efforts by occasionally organizing briefing sessions on environmental management and factory tours in Japan and China.
In addition, the company has launched a digital environmental management training tool called "biz-Library" in Japan, with the belief that it can make a far greater contribution to the environment by digitalizing its know-how of environmental management and offering it to more companies.
3. Communication with Shareholders and Investors
Konica Minolta strives to win the trust of its shareholders and investors by properly disclosing non-financial information in addition to financial data. To be specific, Konica Minolta has announced its inclusion in SRI indexes, such as the DJSI World, and introduced its environmental activities at general shareholders' meetings. Last year, the company held a briefing on its environmental, social and governance (ESG) efforts for investors and analysts.
Under the brand proposition "Giving Shape to Ideas," Konica Minolta aims to become a sustainable global company vital to society and will contribute to solving social challenges by creating values to enhance the quality of society through its business activities.
About Environmental Communication Awards
The Environmental Communication Awards program is a commendation program hosted jointly by the Ministry of the Environment and the Global Environmental Forum with a view to motivating businesses towards enviornmental management and environmental communication and enhancing the quality of environmental information disclosed by recognizing superior environmental reports and environmental activity reports. A total of 338 entries were submitted to the 20th Environmental Communication Awards – 217 in the environmental report category, and 121 in the environmental activity report category.