Konica Minolta and SICK enter a Strategic Alliance in further development of advanced LiDAR-Technology
Tokyo and Waldkirch, Germany (March 28, 2017) - Konica Minolta, Inc. (Konica Minolta) and SICK AG (SICK) today announced that they have signed a strategic alliance agreement.
Overview of Alliance
As a first step, Konica Minolta will supply a modified version of its independently developed 3-D LiDAR to SICK on an OEM basis. SICK has added to this its AppSpace platform which is focusing on Sensor Intelligence for Factory and Logistics automation markets. Furthermore, the two companies have started joint development of products and solutions, drawing on the broad and complementary technology portfolio of both companies, in order to offer novel value added sensor solutions for the fast growing automation market.
Purpose of Alliance
Konica Minolta has been developing service solutions in the condition monitoring market with combination of its 3-D LiDAR and other hardware, which utilize its strengths in optical engineering and image processing technologies. In such as building automation, security, and autonomous driving, a realization of safe and secure manufacturing by using highly accurate and reliable hardware as well as data analysis is urgently needed. SICK, a worldwide leader of sensor solutions for industrial applications provides innovative products and solutions which set standards in the field of sensor technology all over the globe. Through the alliance Konica Minolta and SICK aim to strengthen their solution businesses along with further developing the mass production of 3-D LiDAR and other sensing technologies.
Prospects of Business Development
Konica Minolta and SICK have also started a sensor and sensor solution joint development of further products in the area of 3-D LiDAR.
3D LiDAR
Konica Minolta's 3-D LiDAR delivers wide-view and high-accuracy 24-line scan capability, as well as 3-D moving object recognition. The company looks ahead to develop industry system solutions such as high security field including condition monitoring and digital manufacturing and digital marketing fields by utilizing these technologies.
SICK AppSpace
With SICK AppSpace, the company is presenting an open platform for programmable sensors from SICK. The SICK AppSpace eco-system offers system integrators and original equipment manufacturers (OEM) the freedom and flexibility to develop their application software directly on the programmable SICK sensors to fit their specific tasks. This makes it possible to implement tailor-made solutions for individual customer needs.
About Konica Minolta
Konica Minolta, a leading technology company with its original optical and sensing technologies, has been accelerating transformation into a digital company which addresses social issues based on business insight and offers a broad range of solutions utilizing its industrial optical systems that create customer value proposition by making challenges at the workplace visible. Along with independent development of sensors and cameras, such as 3-D LiDAR, the company has taken steps to acquire new technologies by partnerships, alliances and M&As, including the acquisition of majority stake in Germany-based MOBOTIX AG in May 2016. Combining its own and MOBOTIX's technologies, Tokyo-based Konica Minolta works to provide an integrated video data platform that can visualize challenges at offices, manufacturing sites, commercial facilities, hospitals and care facilities. In a long run, Konica Minolta aims to offer its unique revolutionary services and solutions in various industries to create better social infrastructures in the IoT era.
About SICK
SICK is one of the world's leading producers of sensors and sensor solutions for industrial applications. Founded in 1946 by Dr.-Ing. h. c. Erwin Sick, the company with headquarters in Waldkirch/Germany ranks among the technological market leaders. With more than 50 subsidiaries and equity investments as well as numerous agencies, SICK maintains a presence all around the globe. In the fiscal year 2015, SICK had more than 7,400 employees worldwide and achieved Group sales of just under EUR 1.3 billion.
In line with its brand claim "Sensor Intelligence." the SICK Group focuses on creating added value for customers from a wide range of target industries with high-tech sensor solutions. SICK offers these solutions globally as serial products, systems including software, or individual services. The SICK Group supports factory automation, logistics automation and process automation. Factory automation represents automotive industry, consumer goods, electronics and solar industries as well as i.e. drive technology. Logistics automation designs and optimizes the entire logistics chain by automating material flows or making sorting, picking, and warehousing processes more efficient, faster, and more reliable. Process automation provides tailored system solutions and services for analysis and process measurement technology.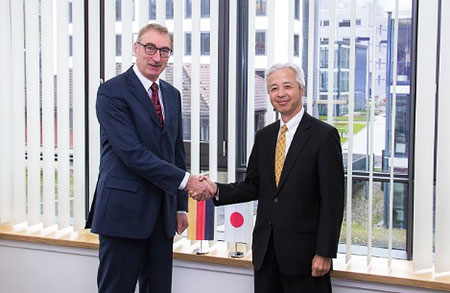 Left: Reinhard Boesl, Member of the Executive Board, SICK AG
Right: Yuji Ichimura, Executive Officer, Executive General Manager, Business Development Headquarters, Konica Minolta, Inc.