Konica Minolta Delivers Message on Environmental Contribution in Global Publication for G7 Italy Summit
- Konica Minolta's Digital Innovation Converges with Social Contribution -
Tokyo (May 23, 2017) - Konica Minolta, Inc. (Konica Minolta) is pleased to participate in the publication, G7 Climate Change The New Economy (CCTNE), with a four-page advocacy, focusing on its responsibility in accelerating environmental contribution with our stakeholders.
In this article, Shoei Yamana, President and CEO of Konica Minolta addresses the importance of cooperation by introducing how Konica Minolta shares its environmental management knowledge with other companies and communities. He also mentions that Konica Minolta's environmental management will be one of the factors that enable us to grow into a company that creates new value for society that can survive through industries' changes.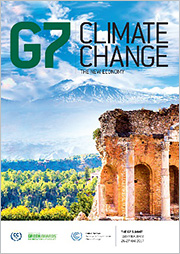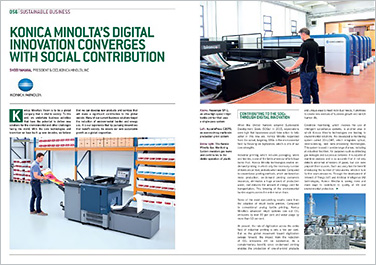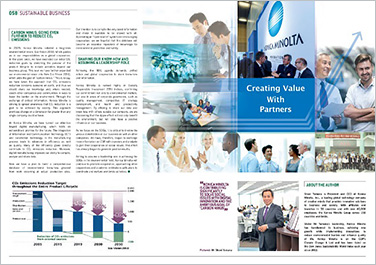 "Achieving the Sustainable Development Goals (SDGs) agenda demands unified action and global cooperation to share knowhow and information," he says. "Aiming to assume a leadership role in achieving the SDGs in the environmental field, Konica Minolta will continue to promote cooperation."
The four-page spread, doubling the number of pages from previous issues, stands out for the global technology company's commitment to environmental protection and quality of life improvement.
CCTNE is the flagship magazine published by London-based World News – Climate Change The New Economy Ltd. for the annual G7 Summit and the Conference of the Parties (COP) convention.
The print version of CCTNE is made available to a broad range of world leaders, global corporate business leaders and universities, among others, in time for G7 summit in Italy.
The magazine is also distributed to attendees for G7 summit at selected hotel rooms and first- and business-class passengers of 18 international airlines and departure lounges at the gate. In addition to 20,000 copies of distribution, the magazine is available online for the public.