Konica Minolta to Start Collaboration with SCREEN GA in the Sale of a Mid-Range Digital Label Printer Model
Tokyo (September 25, 2017) - Konica Minolta, Inc. (Konica Minolta) has reached an agreement with SCREEN Graphic Solutions Co., Ltd. (SCREEN GA) to collaborate in the sale of its mid-range digital label printer model.
Starting from the release of bizhub PRESS C71cf in the Japanese market in October 2017, SCREEN GA will offer Konica Minolta's on-demand toner-based label printers both in Japan and overseas under the dual brands* of Konica Minolta and SCREEN GA as soon as the company is ready.
*Konica Minolta offers the digital label printers under the sole brand of Konica Minolta.
Collaboration with SCREEN GA
With the launch of bizhub PRESS C71cf in 2016, Konica Minolta started actively developing its business in the growing label and package printer market. Taking advantage of the added value of digital printing, Konica Minolta is offering the product to printing companies interested in entering the label printing market and local brand owners planning to manufacture labels themselves in addition to label manufacturers, to help them open up new business opportunities.
By collaborating with SCREEN GA, which entered the label printing market earlier, Konica Minolta aims to explore new markets, both domestic and overseas, especially in Asia, leveraging the sales channels of SCREEN GA around the world.
In the field of digital commercial printing, Konica Minolta has been working with SCREEN GA for some time now, bringing greater efficiency, business opportunities and new value to the commercial printing industry. By facilitating the connectivity of the products of the two companies, Konica Minolta has been accelerating its effort to achieve seamless hybrid workflows for increased user-friendliness in offset printing and digital printing. Both companies are now ready to expand their collaboration to the field of label printing.
Value offered by bizhub PRESS C71cf
A highly productive compact machine, bizhub PRESS C71cf is ideal for small-lot label printing with short lead time, while delivering print quality almost equal to that of offset printing. This product can meet new needs for high-quality on-demand label printing that has been previously possible only by expensive high-end digital printing systems.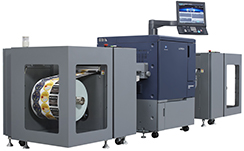 For More Information