Konica Minolta to Showcase Its Solutions for Innovative Workstyle at CEATEC JAPAN 2017
Offering a Variety of IT Services Including Workplace Hub Combined with RPA
Tokyo (September 26, 2017) - Konica Minolta, Inc. (Konica Minolta) will showcase Edge IoT platform, Workplace Hub, and other cutting-edge solutions at CEATEC JAPAN 2017, an international CPS/IoT exhibition to be held at Makuhari Messe from October 3 to 6, 2017.
In May 2017, Konica Minolta announced a new Medium-Term Business Plan, SHINKA 2019, in which it declared its vision to become a digital company with insight into implicit challenges, capable of predicting potential issues for customers, creating solutions together and assisting customers in achieving innovative workstyle. At CEATEC JAPAN 2017, the Konica Minolta booth will have four sections, focusing respectively on office solutions, healthcare solutions, industrial solutions, and security & marketing solutions, to show how the company can help customers develop solutions, while presenting on the stage its workstyle and lifestyle ideas for society in the future.
Konica Minolta's Exhibition at CEATEC JAPAN 2017
Konica Minolta will showcase solutions for innovative workstyle in the following categories, including Workplace Hub designed for office solutions.
Office solutions
Solutions designed to meet specific workplace needs, using Edge IoT platform, Workplace Hub, combined with RPA* will be showcased, along with ideas for innovative workstyle for customers.
Healthcare solutions
Solutions for innovative workflow will be showcased to enhance the work efficiency of nursing care staff working at care facilities through the combined use of sensors and smartphones, along with solutions for home medical care currently under development.
Industrial solutions
Konica Minolta's industrial solutions are designed to create synergistic effects of reducing production losses, maintaining factory facilities and enhancing productivity through the automation of product inspection processes and visualization of machine conditions in factories. These solutions also enable centralized data management and analysis and visualization of data, thus making it possible for customers to foresee problems, improve quality and reduce cost.
Security & marketing solutions
These solutions make it possible to visualize unsafe behaviors that have not been detected and the effectiveness of promotion materials by optimizing technology for the monitoring and real-time analysis of human movements for security and marketing applications.
*RPA stands for Robotic Process Automation, meaning automating manual works such as data entry by using a software robot.
Konica Minolta booth at CEATEC JAPAN 2017
COMMUNITY Area : C105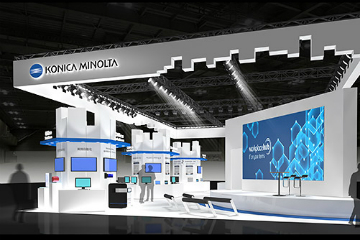 (The rendering is for visual purposes only.)
Konica Minolta remains committed to developing its business activities and continuing to offer new value to businesses and human society.