His Royal Highness the Grand Duke Henri of Luxembourg Visits Konica Minolta Planetarium "TENKU"
December 22, 2017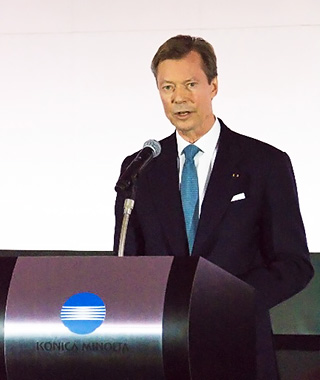 On November 29, 2017, Konica Minolta Planetarium Co., Ltd. (Konica Minolta) had the honor of welcoming His Royal Highness the Grand Duke Henri of Luxembourg to the Konica Minolta Planetarium "TENKU" (TENKU). The purpose of the visit was to attend the Luxembourg-Japan Space Conference held at TENKU, organized by the Ministry of Economy of Luxembourg and others.
His Royal Highness was welcomed with great applause by participants of the Conference, both Japanese and Luxembourgian, as he entered TENKU. The event began with the full-dome projection of a starry sky image which Konica Minolta had developed for the opening, which His Royal Highness watched in a relaxing special crescent-moon seat.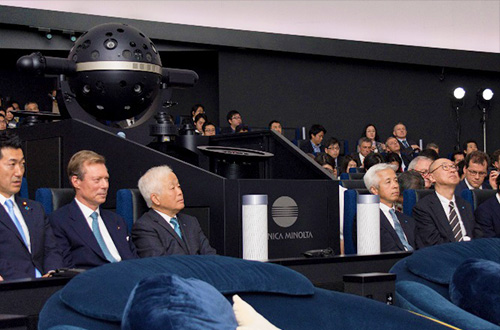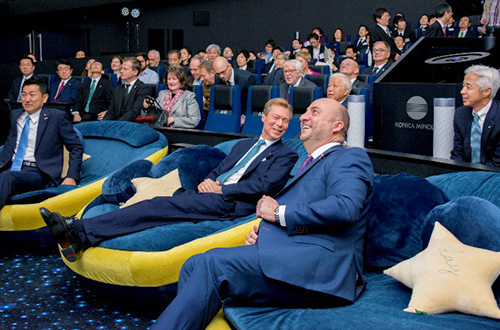 On this day, a ceremony for signing a mutual cooperation memorandum between Luxembourg and Japan was also held. Overall, the event was a great success, impressing both Conference participants and media persons. To start the event, Konica Minolta provided a 360° image of a starry sky for projection, which His Royal Highness and other participants enjoyed very much.
Konica Minolta's Directly-operated Planetariums
Konica Minolta has been engaged in every aspect of the planetarium business, from developing and manufacturing optical planetarium and full-dome projection systems to content production as well as facilities construction and management, offering products and services tailored to the size and program content of planetarium facilities for various purposes, ranging from education to entertainment.
In 2004, Konica Minolta opened its first directly-operated planetarium theater, Konica Minolta Planetarium "MANTEN", followed by Konica Minolta Planetarium "TENKU" in 2012 where the above event was held.