Message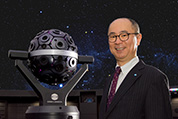 Keisuke Mochida
President of Konica Minolta Planetarium Co., Ltd.
When was the last time you looked up at the night sky?
A longing for the infinite expanse of the universe has long inspired the spirit of exploration and adventure that has contributed to many advancements in science. The sheer scale of universe sometimes evokes strong emotions or a sense of comfort, touching our heartstrings and enriching our sentiments.
Konica Minolta launched the first Japanese-manufactured planetarium in 1957, with the ultimate goal of reproducing a realistic starry sky. Since then and for over 60 years, we have pioneered and improved the faithful reproduction of the starry sky by drawing upon our vast technical knowhow, as well as our passion to provide customers with a real connection to the seemingly endless universe. Our most recent planetarium produces a truly realistic representation of "bright stars shimmering in the dark sky". It is our mission to offer our customers an even greater variety of enjoyable experiences by integrating world-class optical projection systems with digital projection technologies.
We not only manufacture and install planetarium projection systems and create programming for many science museums and facilities, but we also operate several planetarium theaters that appeal to patrons of all ages. Konica Minolta Planetarium is the world's only planetarium equipment manufacturer that also directly manages planetarium theaters. In addition to Konica Minolta Planetarium "MANTEN" in Sunshine City (Ikebukuro, Tokyo) and "TENKU" in TOKYO SKYTREE TOWN® (Oshiage, Tokyo), we opened the KONICA MINOLTA PLANETARIA TOKYO with twin domes, a VR attraction and a cafe in Yurakucho, Tokyo in December of 2018.
We continually provide customers with new, exciting ways to enjoy planetariums. More than 8,000,000 visitors in total have visited these theaters. We primarily screen two types of programs in these facilities. One of the programs invites customers to enjoy gorgeous starry skies or immersive images that express the world of music through collaboration with popular artists. The other program is the "Healing Planetarium" which uses fragrant, relaxing aromas so guests can sit back and unwind after a busy day. Furthermore, the newly opened PLANETARIA TOKYO embraces the concept of "Meeting Outer Space and Precious Things" in a stunningly stylish environment and offers exclusively unique ways to enjoy the planetarium and its full dome imagery. Examples include planetarium programming that can be synchronized with a theatrical performance or with music, as well as the design and production of various special events. Guests may also enjoy drinking inside the theater.
The full potential of immersive imagery has not yet been realized and is expanding as infinitely as the universe. At Konica Minolta Planetarium, we continually pursue our evolution as a corporate enterprise that contributes to society by not only utilizing leading edge technologies, but also through innovation. We proudly provide these services as a member of the Konica Minolta Group, ever mindful of our corporate philosophy: "The Creation of New Value".