Message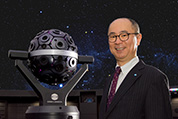 Keisuke Mochida
President of Konica Minolta Planetarium Co., Ltd.
Every person feels a longing for or a fear of the infinite expanse of the universe in some way. It has inspired the spirit of exploration and adventure and contributed to the progress of science. The sheer scale of universe sometimes brings strong emotion or a sense of comfort, touching our heartstrings and enriching our sentiments. We, Konica Minolta, launched the first Japan-made planetarium in 1957. We have pioneered the reproduction of the starry sky for over 60 years with our passion and technical knowhow, and provided a connection to the massive universe for our customers.
Our most recent planetarium presents not only a realistic starry sky but also a variety of enjoyable projected experiences by integrating digital projection technologies. In addition to installing planetarium projection systems and programs at many science museums and facilities, we directly manage two theaters: Konica Minolta Planetarium "MANTEN" in Sunshine City (Ikebukuro, Tokyo) and "TENKU" in TOKYO SKYTREE TOWN® (Oshiage, Tokyo). These theaters showcase the new planetarium's capabilities through programs such as a starry sky expressing the world of music through a collaboration with popular artists, or a "Healing Planetarium" that uses relaxing aromas.
At the end of 2015, as the third renewal of MANTEN, the latest planetarium machines have been installed and we have aimed to enhance our space so that customers can feel more relaxed and enjoy the starry sky featuring our brand-new facility and seating. Thus far, about 4 million customers have visited MANTEN in total. TENKU, opened after MANTEN, has been operating for 4 years and has already welcomed about 2 million customers.
The potential of planetarium full-dome projection is expanding as infinitely as the universe. It's our sincere desire to induce various feelings and emotions in our customers through visual experiences and by thinking out of the box. We, Konica Minolta Planetarium, continually pursue our aim to become a corporate enterprise contributing to society through unique innovation as a member of Konica Minolta Group under our corporate philosophy of "the creation of new value".